Lynn Doyle, Assistant Brewer at Unified Beerworks Brewery and Taproom in Malta, reflects on the courses she has taken in the Craft Beer Brewing and Craft Spirit Distillation degree programs at SUNY Schenectady, and she is quick to point out that learning the fundamentals of brewing and distilling was just as important as the hands-on production work.
"It's easy to learn the process of how to brew, but if you don't understand the background and science to it, you won't be successful at producing a beer that tastes good and has the characteristics that you want in it," Lynn explained, as she prepares to graduate with dual degrees this spring. "All of the classes from 'Fundamentals of Beer and Brewing' to 'Beers of the World' give you a breakdown of what hops do to a beer and how grains impact a beer. You get more in-depth with each class and with those processes so that when you start hands-on, you understand why things are done the way they are."
Education That Supports Industry Growth
The craft beer brewing industry in New York State has experienced continual growth, with more than 500 licensed breweries statewide – an increase of 12% since 2018.
To meet that demand, students like Lynn, who are in degree and certificate programs within the School of Hotel, Culinary Arts, and Tourism, are gaining invaluable experience by learning hands-on and meeting professionals in the industry. For example, students in the College's Craft Beer Brewing programs are taking classes on-site at Frog Alley Brewing Co., learning the steps and processes of small batch craft on equipment at the brewery, as well as gaining experience in warehousing, marketing, and sales. In the Craft Spirit Distillation programs, students take their production courses at Schenectady Distilling Company, Inc. Last year, students made an Earth Day Honey on Rye, a honey spirit aged in rye barrels, and this year students finished it and bottled it. This semester they are working on creating a canned cocktail.
In addition to the degree and certificate programs, SUNY Schenectady offers the only NYS Department of Labor approved, paid Brewing and Distilling Apprenticeship in the state so that students can expand their skills through hands-on training. Students can then seamlessly enroll in the College's Craft Beer Brewing and Craft Spirit Distillation degrees and certificates with up to 12 credits earned through the apprenticeship.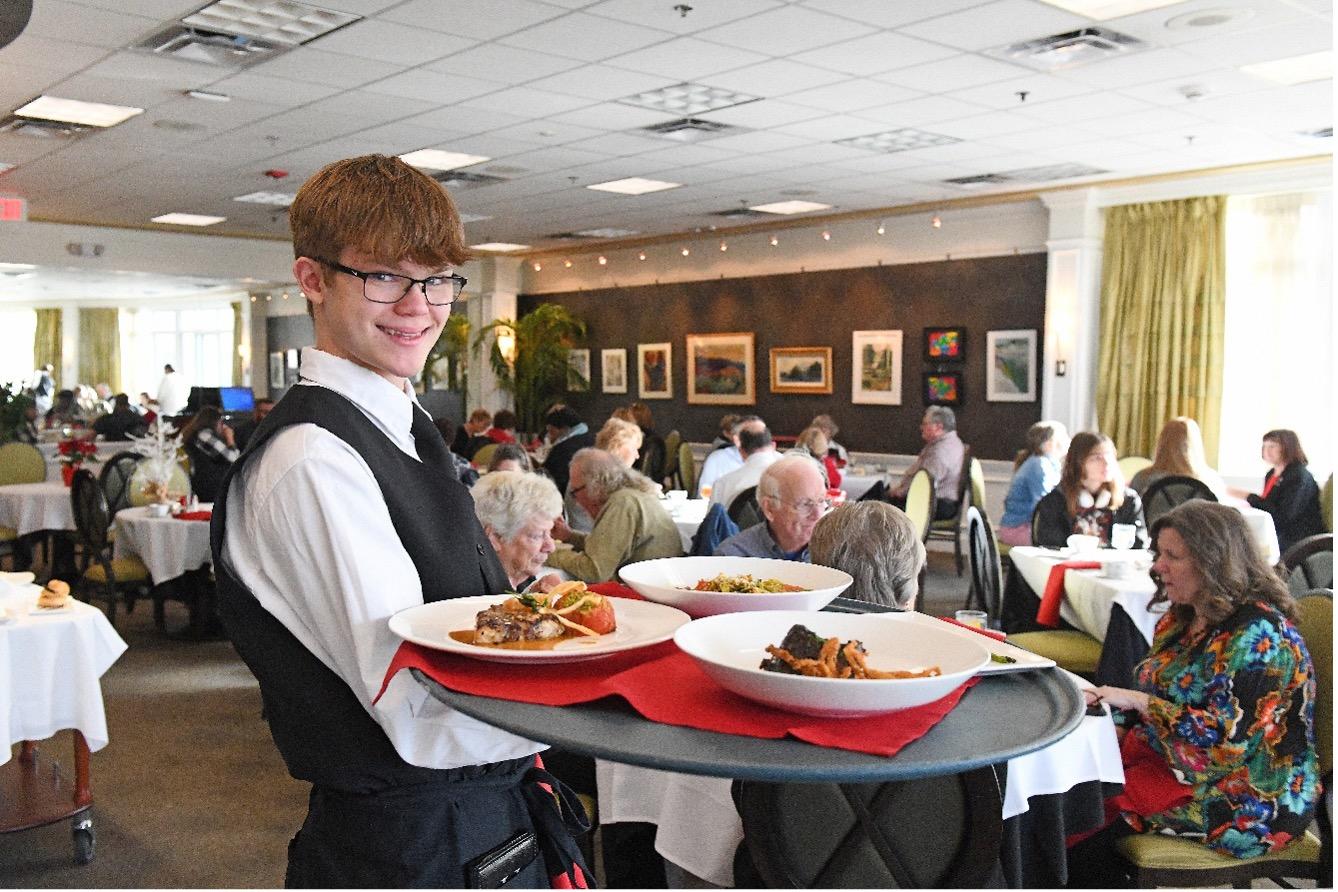 Gaining real-world experience in state-of-the-art classrooms is a pillar of SUNY Schenectady's Hotel, Culinary Arts and Tourism program. Students train in culinary technique, dining room operations and service, baking, and culinary a la carte service with an eye toward locally sourced farm-to-table menus. They create and serve the public for lunch and dinner seasonally in the Casola Dining Room – a Capital Region favorite for gourmet cuisine that was ranked in the Top 10 of the "best overall restaurants in Upstate New York" by OpenTable in January 2023!  Student-prepared artisanal charcuterie is sold at The Boucherie and baked goods are available at the bakery Pane e Dolci. All three are located on campus in Elston Hall.
(Left) SUNY Schenectady students with finished desserts in the Culinary Baking Lab.  (Center) Seasonal plates prepared and served by students at the Casola Dining Room. (Right) Working with chocolate in the Joan R. Dembinski '10 Chocolate and Confections Lab. (Photos by Liz Lajeunesse Photography)
The College expanded its culinary offerings further, opening the Joan R. Dembinski '10 Chocolate and Confections Lab located in the Mill Artisan District in downtown Schenectady. The new Confections Lab enables students to learn the process of making chocolate from start to finish using raw cocoa beans, as well as how to make confections from chocolate and sugar. They also learn how growing conditions in different regions across the world impact the flavor of the beans. 
"The bean-to-bar chocolate movement has been growing in popularity and our students learn the entire process," said Chef Vanessa Traver, Certified Executive Pastry Chef and Assistant Professor, who teaches in the lab. 
This unique experience prepares SUNY Schenectady students for careers in bakeries as pastry chefs and chocolatiers, as well as other roles in the Culinary and Hospitality fields that require exceptional knowledge of chocolate and confections. The new Confections Lab is home to a roaster, winnower, nib grinder, melanger, and sifter, as well as enrobing, tempering, and conching machines. The lab features three large monitors and cameras that follow Chef Traver so as she's teaching at the front of the lab, students will follow along at their stations. 
(Left) Shown at the Schenectady County Airport are Brendan Conway, Air Traffic Control major, and Brooke Manley '17, SUNY Schenectady Faculty Member and Air Traffic Controller at Albany International Airport. (Right) SUNY Schenectady student Brendan Conway gaining hands-on training in the Schenectady County Airport Control Tower. (Photos by Geoff Redick, left, and Karen Tanski, right)
SUNY Schenectady is one of only two colleges in the nation to offer the Air Traffic Control Tower Operator certificate. Students learn both ground control and local control in the tower at the Schenectady County Airport to gain the experience they need to complete a Control Tower Operator (CTO)-Facility Rating. Brooke Manley, who graduated in 2017 with her degrees in Air Traffic Control and Aviation Science, was hired by the FAA after she completed an internship at the airport and graduated. She is now an Air Traffic Controller at Albany International Airport and teaches at the College.
"The Air Traffic Control program at SUNY Schenectady is very rare and it's an excellent opportunity," she said. "With this program, you earn the CTO and that is the requirement from the FAA to be able to work. You can get right into the workforce. Students go through this program and after the internship, they are able to work at private towers."
Interested in flying?  Aviation Science students at the college soar to new heights as they earn flight time toward completing their Private Pilot Certificate and Instrument Rating, a Commercial Pilot Certificate, and a Flight Instructor Certificate, all in conjunction with their A.S. degree.  Many students are eligible for financial aid, making the college an affordable option for becoming a licensed pilot.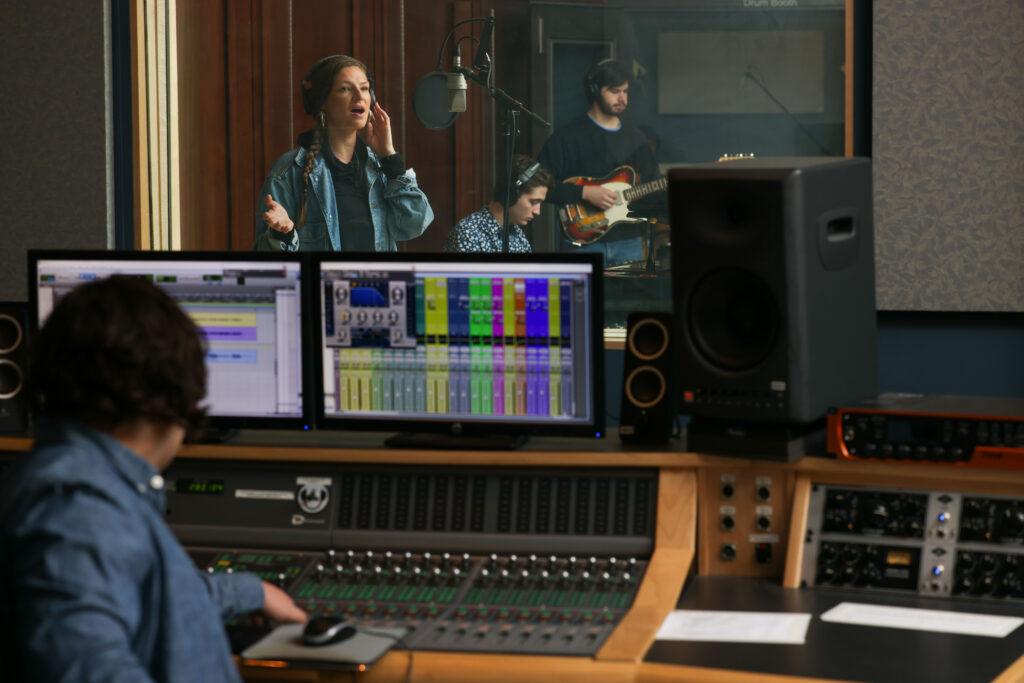 In the nationally-accredited School of Music at SUNY Schenectady, students are performing in ensembles in the Taylor Auditorium; learning from highly respected performers, scholars, composers, and music industry professionals; recording professional musicians, bands, and their own music in the state-of-the-art Vianna-Brignola Recording Studio; and transferring to some of the finest music schools and conservatories.
An outstanding source of inspiration is alumnus Charlie Post '93, sound engineer with the Chicago Symphony Orchestra and two-time GRAMMY Award winner!
"SUNY Schenectady provided me with the education and musical foundation on which I've been able to enjoy a career in the music industry. Post continued, "The School of Music really is a hidden gem in Schenectady and the greater Capital District."
The SUNY Schenectady School of Music offers degrees in Performing Arts: Music and Music Audio Technology and certificates in Music and Digital Music and Beat Production.  
Helping the Local Community
With more than 60 academic programs at SUNY Schenectady, the College is focused on providing an enriching educational experience, connecting students with opportunities to reach their dreams, and helping achieve equity throughout the community.
The College recently added Microcredentials – which are short, competency-based credentials designed to provide in-demand skills, know-how, and experience to increase one's value on the job market. Stackable microcredentials can also provide a pathway to a certificate or to a degree. SUNY Schenectady has introduced four new microcredentials: Global Business and Transportation to support jobs in supply chain management; Fundamentals of Baking and Confections; Behavioral Health; and Child Development. Specialty training and personal/professional enrichment courses are also offered through Workforce Development and Community Education and are a perfect way to level up current skills, gain career advancement, or re-career transitioning in a post-Covid job market.
Whether you're looking to enroll in a degree or certificate program, start on a new path, or just take a class or two to gain new skills, SUNY Schenectady offers innovative education with tremendous opportunities to obtain hands-on experience. Discover SUNY Schenectady, located at 78 Washington Avenue, Schenectady, N.Y., 12305. Fall classes start on August 28.