Alumnus at Dogfish Head Craft Brewery and student at Speckled Pig Brewing Company share how learning the science behind brewing, hands-on experience prepared them for the industry.
Equally as exciting and satisfying as trying a new beer for the first time and quickly discovering it's now in your list of favorites is "talking beer" with talented brewers, all of whom have different stories about how they entered the $28.4 billion craft beer industry. Students and alumni from SUNY Schenectady's Craft Beer Brewing degree and certificate programs are no exception, gaining invaluable experience at breweries in New York's Capital Region, and working in breweries all over the country.
James Hanley, who graduated in 2018 with his associate degree in Craft Beer Brewing, and Pete Woznack, a second-year student currently in the program, were both working in careers that left them wanting more when they decided to switch gears and enroll in the SUNY Schenectady's Craft Beer Brewing degree program. Hanley is now a Brewer III at Dogfish Head Craft Brewery in Milton, Del., and Woznack is the Assistant Brewer at Speckled Pig Brewing Company in Ballston Spa, N.Y., while he finishes his degree.
After earning his degree in Engineering Science, Hanley was working for a small engineering firm in upstate New York. After two years, he "fell out of love with engineering" and was searching for something that would make him feel energized about going to work every day. Through a fortunate stroke of serendipity, his next engineering project focused on developing energy improvements for a local brewery. He spoke with the owners about their beers and business, and was hooked.
A home brewer for several years, James decided to switch careers. After graduating from SUNY Schenectady's program, he worked as the Head Brewer at Old House Vineyards in Culpeper, Va., a 10-barrel brewhouse. In October 2021, he started as a Brewer at Dogfish Head, a 200-barrel brewhouse, affiliated with the Boston Beer Company, and was promoted to Brewer III in June 2023.
1. Take us inside Dogfish Head Craft Brewery and what it's like working there as a Brewer.
There are benefits to working in a production brewery. Working on a team is a lot different than being one person wearing a lot of hats. It was a big change at first. You collaborate with people and work with other people to fix problems. In terms of production, we have a mix of automated and manual processes, such as adding ingredients to brew during the process. For example, for our Sea Quench Ale, it is blended sour ale with limes and sea salt, and a lot of that is all manual adds. We are running a tight shift over here, five days a week. We are there 24/5. On low volume weeks we are making 20 brews a week. During peak season, it's 40 to 45 brews a week. There is no time for empty vessels.
Being able to come in, start the process from grain into the brewhouse, into the cellars, through filtration and then into a final product and seeing that on the shelves is a nice feeling. Being able to see people enjoy the product in our tasting room and knowing that I had a hand in making it is great.
2. What beers have you worked on?
There are so many: Blue Hen Pilsner, Sea Quench, Citrus Squall, Punkin' Ale, Hazy Squall, Namaste, Crimson Cru, 60 Minute IPA, 90 Minute IPA, and Slighty Mighty, to name a few.
3. How did the degree program at SUNY Schenectady and internship prepare you for your career?
I learned about the brewing side of things with courses like Fundamentals of Beer and Brewing, but then I gained much more of the technical knowledge from the courses about the science behind brewing. The classes helped me understand the business and inventory side of the industry and that set me up with knowledge of how to manage inventory.
I did an internship at Rare Form Brewing Company in Troy for six months. That gave me a really strong foundation and showed me that in the brewing industry, you're not brewing all the time, but you always have a task to do whether it's related to the production or to housekeeping regarding the equipment.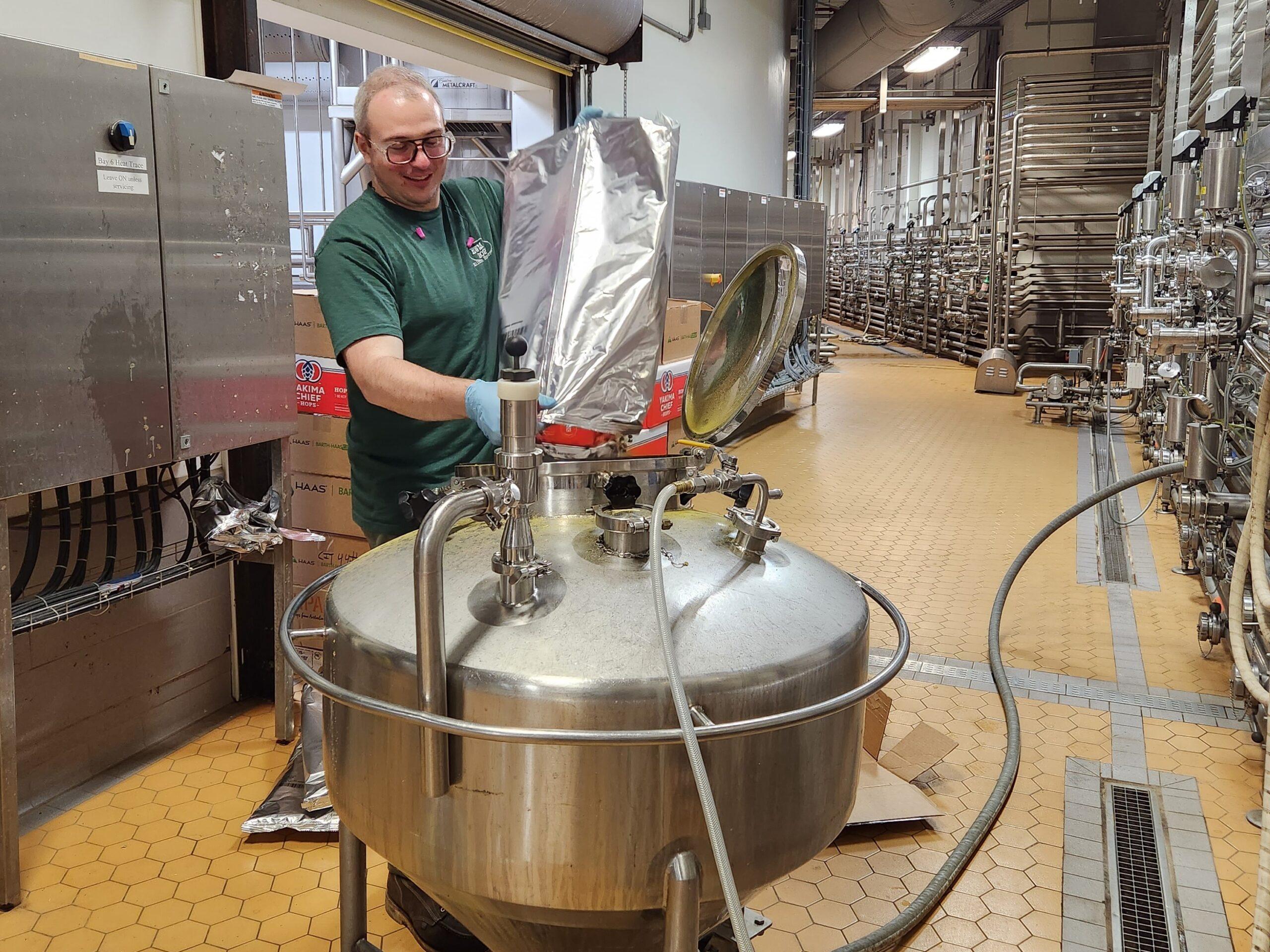 4. You started as a home brewer and then decided to pursue brewing as a career. Tell us about how you first got into brewing.
I started like a lot of people do, as a home brewer who picked it up from my Dad. He had the equipment sitting in the basement, so I decided to try it. My first batch didn't go well, but it was fun. I built upon it as a hobby. I joined one of the local home brew clubs in Saratoga and got really into it. There's chemistry in everything and creativity which really piqued my interest. I looked around at where I could use my skills. I joined the SUNY Schenectady program and here I am today.
5. What would you say to someone who wants to follow their passion for brewing as a career choice?
Take the leap! Go for it.
Like James, Pete Woznack decided to switch careers after several years in customer service and as an Area Manager for a home improvement vendor. After working through the pandemic and realizing he wanted a change, he decided to follow his passion for "all things beer" and go back to school for a degree in Craft Beer Brewing. He's now in his second year at SUNY Schenectady and working as an Assistant Brewer at Speckled Pig Brewing Co. in Ballston Spa, N.Y., after starting there as an intern. He plans to graduate in May 2024 and continue attending SUNY Schenectady to pursue a second degree in Craft Spirit Distillation.
6. First things first, we heard that you recently had your own solo beer debut at Speckled Pig Brewing Co. What is it and tell us how it felt to have it featured?
I made a Lemonade Shandy for the summertime, something light and crisp. They let me design, brew, and market the whole thing from start to finish. We just rebrewed it for the second time. We got seven kegs out of our first brew and it was gone in a month and a half. It turned out to be really popular in our tap room and rooftop bar. My mother, who doesn't even drink beer but once or twice a year, loved it.
7. Do you have another one in the works?
I'm a little biased, but the Speckled Pig has really good beers for any occasion and any mood you're in. I'm always coming up with ideas. I'm the new guy who wants to try everything and try making something new. As soon as they give me the go ahead, I'm going to come up with something good.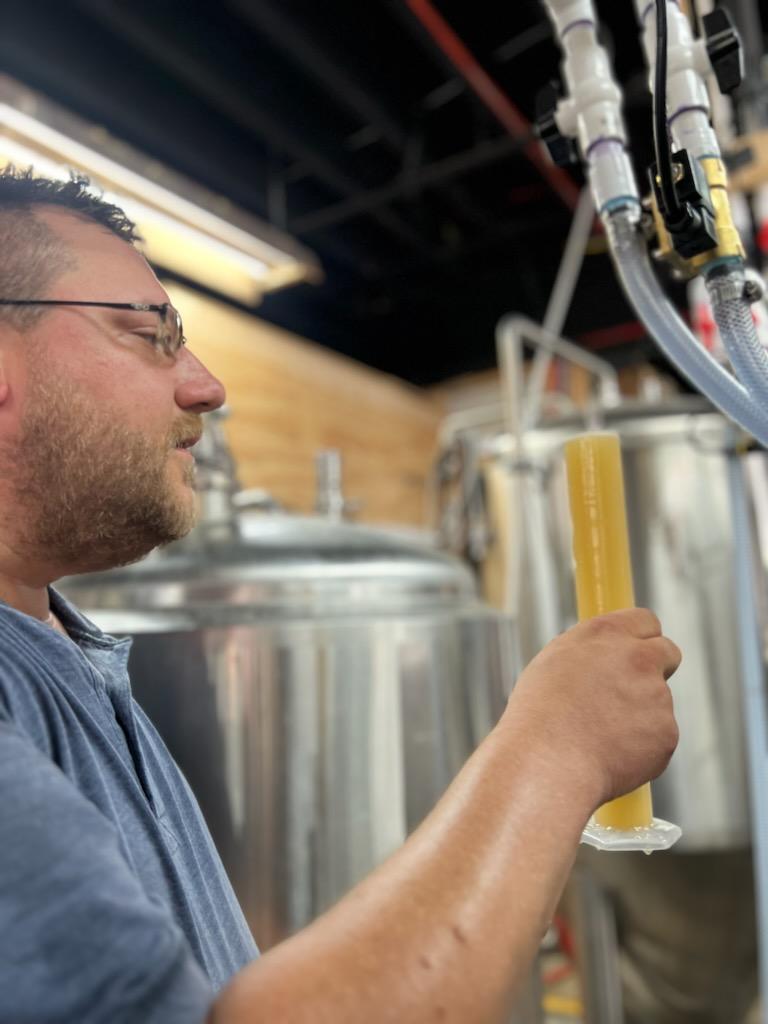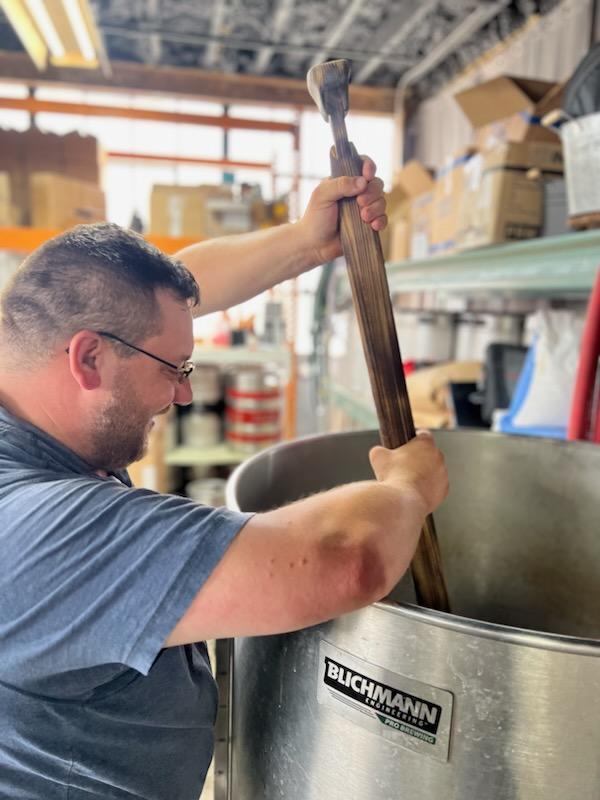 8. How did you become interested in the brewing industry?
My brother bought me a home brew kit. When you start out, you don't have the experience or knowledge, but I've been growing and learning ever since. I started out with little things on the stove and now I have a nice home brew kit. It's just fun. It's about giving people good beer to drink.
9. What have you liked about the Craft Beer Brewing degree program at SUNY Schenectady?
Everybody in the program is extremely knowledgeable and I like the fact that the professors are involved in the industry. Everyone I've been learning from has been doing it for a long time. They know everything and more about beer, customer service, and sales, and they are great at linking people up for internships and employment. I've had hands-on experience. Our classes are upstairs at Frog Alley Brewing Co. in Schenectady and they are a fountain of knowledge. They go above and beyond to help us learn how to make beer. Anytime we want to go down and watch them do something, they welcome us and say, "Jump on in."
10. What are the important things to remember as a new brewer?
Once you get the process down, it's kind of universal. Then, you're just working on learning equipment at different stages at different breweries.
11. You obviously have a passion for brewing. What do you especially like about it?
The social aspect is wonderful. I love meeting new people. I want to talk to people about beer. The tap room with people gathering together to enjoy something together is amazing. I love hearing people say, "This is good." And then I get to tell them I made it, and it adds another element to it. My family is sick of hearing me talk about beer and brewing all the time. (Laughs) The local community has been very supportive of the Speckled Pig. The craft beer scene in general is very community based. People in your neighborhood are coming in and enjoying the beer. It's very nice to know that my family is here (in our tap room), and my friends are here and they're going to try something that I've made.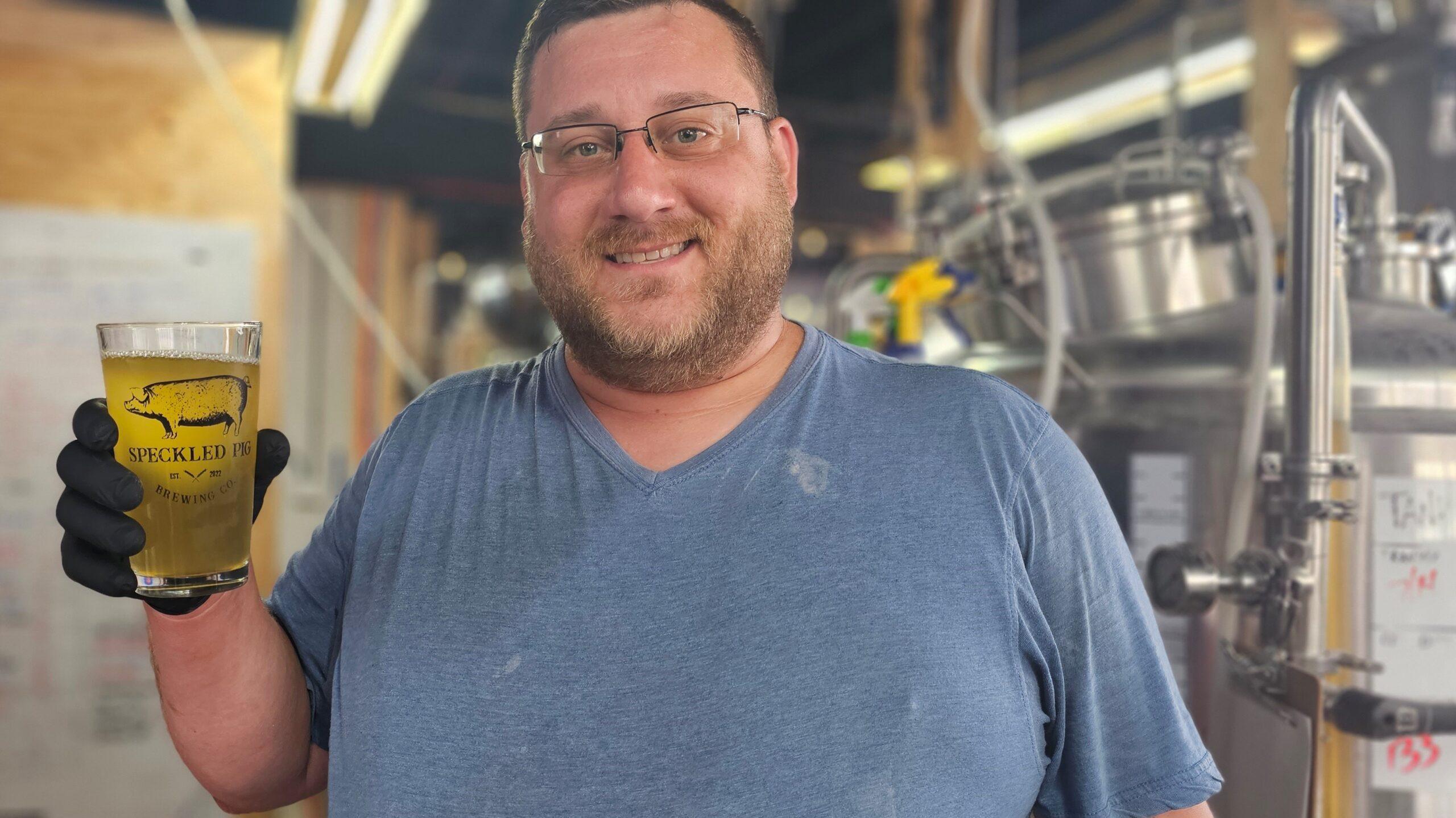 12. What's next for you Pete?
I plan to continue working at the Speckled Pig which has been amazing. I also work at The Albany Distilling Company on the weekends. It's brought about another interest in me to continue with the spirit making as well as the brewing, so I'll be going to SUNY Schenectady for their degree in Craft Spirit Distillation.
The paths that lead students to SUNY Schenectady's Craft Beer Brewing program are as diverse as the beers they produce through hands-on learning and internships. Alumni of the Craft Beer Brewing degree, certificate, and apprenticeship training programs are sharing their love for the industry, brewing skills, and knowledge in breweries across the country. If you are interested in learning more about SUNY Schenectady's Craft Beer Brewing program, please contact Admissions at 518-381-1366 or [email protected]. Note: Most courses in the Craft Beer Brewing degree and certificate programs are available in the evening. Fall 2023 classes start on Monday, Aug. 28!