Green Wolf Brewing Co. is located at 329 Main Street in rural Middleburgh, NY, situated within the heart of the Schoharie Valley. Its Public House is built within a beautifully restored 19th century red brick building.  A perfect craft beer destination, Green Wolf invites you to road-trip out and enjoy a pint. We also offer a wide selection of local wine, hard cider, guest beer, and spirits.  As their website states, "We are the quintessential corner pub. Whether you are Black or white, gay or straight, child or senior citizen, liberal or conservative, all are welcome at The Green Wolf Public House. You can even bring your dog!"
Naturally, we wanted to learn more.  So, we jumped in the truck, cruised the 45 minute drive to the brewery, and sat down with founder Justin Behan, drink his beer, and ask him…7 QUESTIONS.
TBM: When you were getting started, was there a brewery, or breweries, that you looked up to as inspiration for Green Wolf Brewing Company?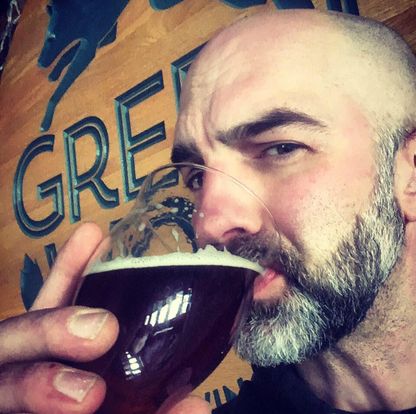 JUSTIN: Although I had favorite craft breweries – large and small – in the early 2000s like Ommegang, Southern Tier, The People's Pint (Greenfield, MA), Berkshire Brewing Co., and Dogfish Head, it was the wide-open exploration and experimentation of home brewing that really fired my imagination. I mean, you're like a wizard in your own kitchen – even with the most basic home brew kits. Keep things clean, treat your yeast well, and within a few weeks, whoala – you have beer!
TBM:  We heading to a Fourth of July house party. You are the DJ.  What bands are we listening too?
JUSTIN: For a party? That would narrow it down to a crunchy mix of Spoon, LCD Soundsystem, Spacehog, Big Star, The Meters, The Pretenders, and Richard Thompson.
TBM: Aside from Green Wolf brews, what other beers would we find in your fridge on the regular?
JUSTIN: Anything interesting my head brewer, Bernie, picks up for me. In which case, it's often from West Kill. However, I do like picking up whatever looks interesting at the Honest Weight Food Co-op's small-but-eclectic selection of regional, national, and imported brews.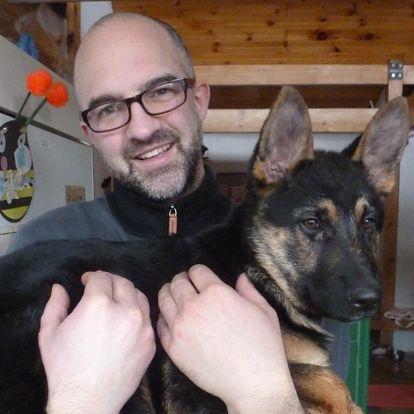 TBM: Wife? Kids? Pets? 
JUSTIN: I live with my partner, Tracy, ten-year-old daughter, Aven, a dog, and a cat in a timber-frame, straw-bale house we built.
TBM:  Outside of brewing beer, what other hobbies or activities do you enjoy?
JUSTIN: I'm a WNBA and MLB fan. My teams are the New York Liberty and Chicago White Sox. I enjoy collecting women's basketball and baseball cards – perhaps too much. As well, I'm a singer-songwriter and essayist.
TBM: If you could sit down and share a beer with 3 historical or iconic characters, who would they be, and why?
JUSTIN:
George Harrison. His music is so unique and soulful. I would have loved to talk to him about his mixed feelings with fame and society.
Sami Whitcomb. She's a guard with the New York Liberty and one of my favorite players. Sami presents herself as really down to earth. If she walked into the tap room, I probably would be at a loss for words, though.
Oscar Charleston, one of the best Black professional baseball players of all time. Had baseball been integrated in the 1920s and 1930s, he'd be as much of a household name as Babe Ruth.
TBM: If you had a paragraph to say whatever you'd like to Capital Region Cider/Craft Beer Enthusiasts, what would you say? 
JUSTIN: For me, being in this business is as much about creating a welcoming, fun place to visit as it is creating tasty beer. As a small, community-based business, it's important for Green Wolf to tell a story, convey that narrative, and allow you to discover it for yourself.