Eugen Simor, who came to Texas via California, first tossed around the idea for his Alamo Beer Co in the fall 1997, though it was not until five years later that he would send forth into the world his first beer: Alamo Golden Ale. At the time Simor did not have his own brewery, so he contracted with nearby (ish) Real Ale Brewing just up Highway 281 in Blanco, Texas. Real Ale gave Simor a few of their beers as options for Alamo Golden Ale, and ultimately, he chose their already popular Fireman's 4 Blonde Ale for his Alamo Golden Ale. A few years later, Real Ale would tweak this recipe so that Golden Ale was unique.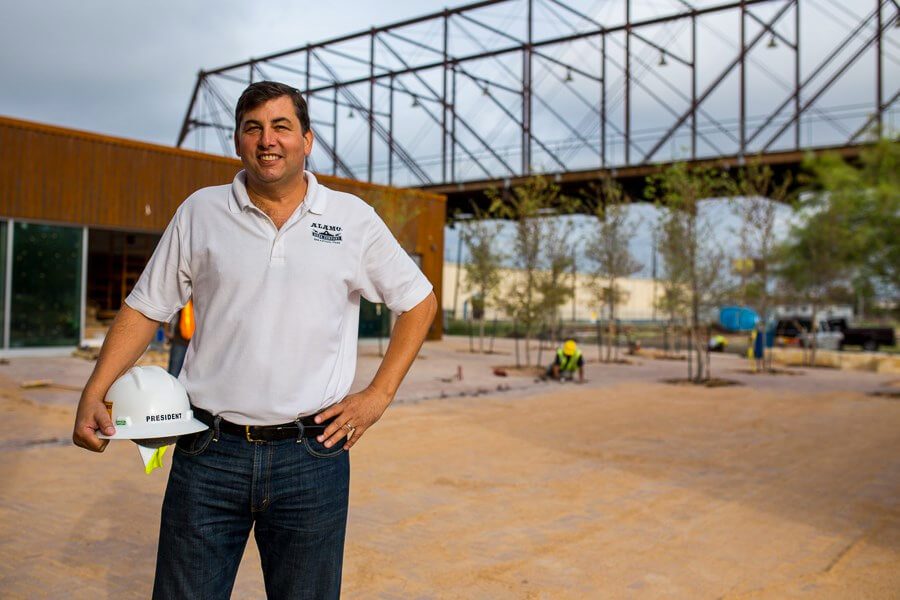 Simor would spend the next decade growing the local San Antonio market, enabling him to expand distribution into West and South Texas, as well as Austin and Houston. Though these days Alamo has returned to focusing on just the greater San Antonio market. 
In 2014, Simor opened his own brick and mortar brewery just east of downtown San Antonio, and began brewing that fall after 11 years of pushing his contract-brewed Alamo Golden Ale. Alamo Beer Co opened to the public on March 6, 2014, on the 179th anniversary of the Battle of the Alamo, boasting a large tasting room and outdoor biergarten. Ever the showman, Simor exclaimed "Remember the Alamo," to an ecstatic crowd, and in doing so Simor brought back the name Alamo Beer to San Antonio. Alamo Beer had originally been brewed by the Alamo Brewing Association in the late 1800's, not all that far from the brewery's present location. 
Under the oversight of Director of Operations Gregg Spickler, and Lead Brewer Neal Meyers, the year-round beers coming from the brewery currently include:
Fans are also treated to a few seasonal beers throughout the year like 'Cherry Street Wheat', a cherry flavored Belgian-Style Witbier; and 'Hayz Street IPA'), a nice and approachable hazy IPA.
In the years leading up to the 2014 opening Simor faced quite a few challenges, as his brewery location sat right near a San Antonio landmark: The historic Hays Street Bridge (with their beer's name a play on the hazy IPA style and the Hays Street Bridge). Though Simor owned the lot next to the bridge, which had been restored not long before his opening, he received many a protest from residents in the neighborhood surrounding his property who were opposed to any change in the well-established neighborhood. 
"THE BENEFITS TO THE SURROUNDING COMMUNITY ARE HUGE"
"This had been a struggle for over a decade. The benefits to the surrounding community are huge," Simor said of his dismay at opposition from the Hays Street Bridge Restoration Group, which included many neighborhood residents, and even some cyclists who in previous years had no issues drinking free beer on the vacant lot each year for events held during San Antonio Beer Week.
Simor worked a deal with the City of San Antonio and bought the land on the other side of the bridge (and next to his land) to build his brewery. This allowed Simor to use land he already owned as a parking lot for brewery guests. With numerous delays and no resolution on the protests in sight, Simor began construction on his brewery, though on the original lot, making modifications to the building height, and proximity to the bridge. Design of the brewery complex was given to local design firm Lake|Flato Architects, which was also instrumental in the recent restoration of the Pearl Brewery complex.
Simor soon received support from then District 2 council woman Ivy Taylor, and then San Antonio Mayor Julian Castro, allowing Alamo Beer to receive a unanimous vote from the city council, and who was then allowed to proceed with construction of the more than 18,000 square-foot brewery which included solar panels on the roof in the shape of The Alamo itself. The property features three separate structures: the brewery and bottling building, the beer hall, and an administration building. 
The outdoor German-Style bier garden has plenty of room for visitors, with a decidedly Texas feel to it, and a kitchen with a full menu for those needing to lay a base. Visitors are greeted by high glass windows that face the bier garden, and the lights of the Hays Street Bridge high above highlight the gleaming brewing equipment inside.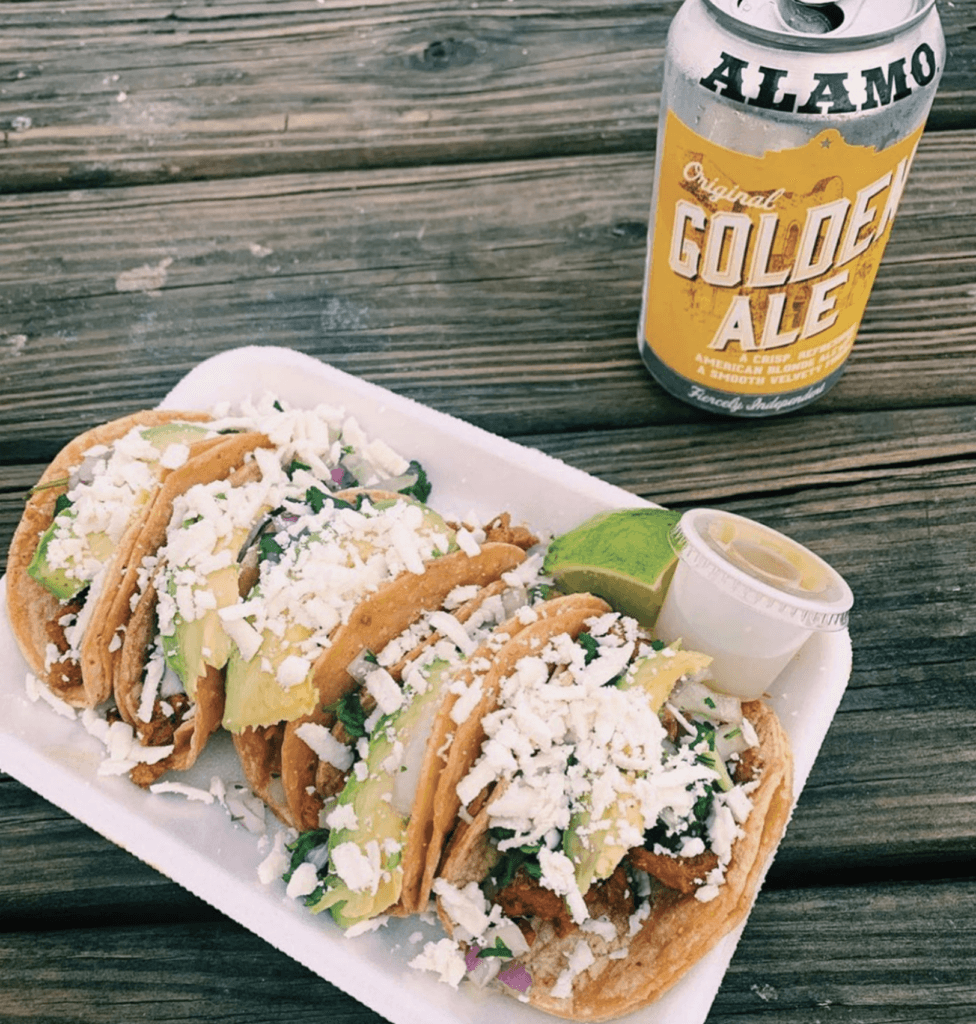 EXPANDING THEIR PORTFOLIO
Though beer is the focus, and the passion, Alamo Beer Co also dabbles in contract brewing a few other delectable delights. Weed Beer, a branch of lifestyle Weed Cellars brand of wines, has jumped into the beer market with Weed Golden Ale, and Weed Light and contracted with Alamo Beer for production, though the brand handles its own distribution.
Alamo has also dipped its toes into soda production (I know, Coke, pop, or soda pop for some), with the contract making of Southside Craft Soda, a brand out of San Antonio Texas hatched by two San Antonio locals. Flavors include: Texacola, Beeville, Limoncito, and Root Bexar.
Regional Texas seltzer favorite, Shotgun Seltzer out of Austin, is brewed exclusively at Alamo Beer, and takes up a decent portion of their production. Though Shotgun Seltzer has used a couple of breweries for production, they have now settled on Alamo Beer for full production.
Not be left out of the hard seltzer game, Alamo has its own hard seltzer in the works, with an approach very different from others in the market. Though the brewery wants to keep the details a secret for now.
SIDE GIGS
In addition to the contracted Weed Beer, and their regular portfolio, Alamo Beer has launched a couple of brewing side projects that enable them to experiment with ideas outside of the Alamo portfolio of beers, like the weekly 'Brewer's Barrel" tap room only beers, highlighting one to two keg batches of whatever tickles their fancy. Many of these have made it into Alamo's self-distributed Basement series which debuted in 2020, and has included:
Like with their Basement series, Alamo's barrel program seeks to show beer aficionados, and newbies alike, that they have more in their repertoire than just their production beers. One of which, their Bourbon Barrel Aged Russian Imperial Coffee Milk Stout (also a Brewer's Barrel), went to the Denver Rare Beer Tasting during the Great American Beer Festival in 2019 though under the Alamo Beer brand.
"For so many years the beer nerds, I don't think realized that Alamo does something besides our production beers," says Simor. "The fact that we're doing the barrel aged program and the limited Basement Series, that's basically a batch of beer that's going on in the marketplace."
Alamo Beer is located at 202 Lamar St, with the tasting room and Bier Garden open Wednesday/Thursdays 5-10pm, Friday/Saturday noon-10pm. Stop on by, have a pint, and 'Remember the Alamo!"