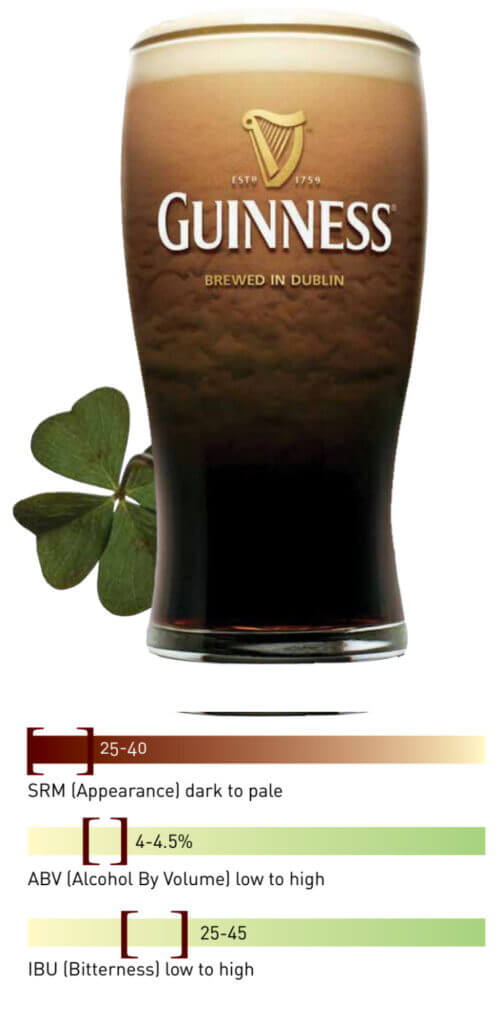 Origin: Dublin, Ireland: Late 1800ish
History: Dry Irish Stouts evolved from attempts to capitalize on the success of London porters, and reflected a fuller, creamier, more "stout" body and strength. Irish stout diverged from London Porter in the late 1800s, with an emphasis on darker malts. Guinness was among the first breweries to use black patent malt for porters and stouts in the 1820s.
Appearance: Jet black to very deep brown with garnet highlights. May appear black – should be actually a very dark shade of ruby. A thick, creamy, long-lasting, tan- to brown-colored head is characteristic when served on nitro, but don't expect the tight, creamy head on a bottled beer.
Aroma: Moderate coffee-like aroma typically dominates; may have slight dark chocolate, cocoa and/or roasted grain secondary notes. Esters medium-low to none. Hop aroma low to none, may be lightly earthy or floral, but is typically absent.
Flavor Profile: Moderate roasted grain or malt flavor with a medium/high hop bitterness. The finish can be dry and coffee-like to moderately balanced with a touch of caramel or malty sweetness. Typically has coffee-like flavors, but also may have a bittersweet or unsweetened chocolate character in the palate, lasting into the finish. Balancing factors may include some creaminess, medium-low to no fruitiness, and medium to no hop flavor (often earthy). The level of bitterness is somewhat variable, as is the roasted character.
Bitterness: MEDUIM/HIGH: 25 – 45 IBU
Commercial Examples: Guinness Dry-Irish Stout, Murphy's Irish Stout, Harpoon Boston Irish Stout
Recommended Food Pairings: Oysters, Ham, Chocolate Desserts