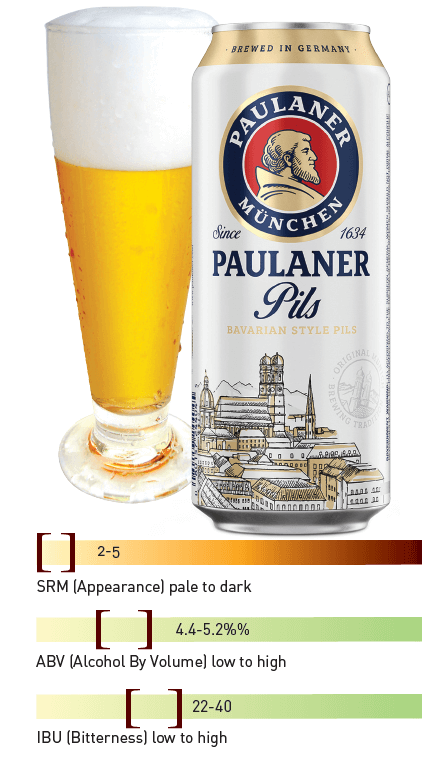 Origin: Munich, Germany, Around 1870
History: Adapted from Czech Pilsner to suit brewing conditions in Germany, particularly water with higher mineral content and domestic hop varieties. This style became more popular after WWII as German brewing schools emphasized modern techniques. German Pils, along with its sister beer, Czech Pilsner, is the ancestor of the most widely produced beer styles today.
Appearance: Straw to light gold, brilliant to very clear, with a creamy, long-lasting white head.
Aroma: Medium-low to low grainy-sweet-rich malt character (often with a light honey and slightly toasted cracker quality) and distinctive flowery, spicy, or herbal hops. Clean fermentation profile. The hops are moderately-low to moderately-high but should not totally dominate the malt presence. One-dimensional examples are inferior to the more complex qualities when all ingredients are sensed.
Flavor Profile: Medium to high hop bitterness dominates the palate and lingers into the aftertaste. Moderate grainy-sweet malt character supports the hop bitterness. Low to high floral, spicy, or herbal hop flavor. Dry to medium-dry, crisp, well-attenuated finish with a bitter aftertaste and light malt flavor. Some versions have a soft finish with more of a malt flavor, but still with noticeable hop bitterness and flavor, with the balance still towards bitterness.
Bitterness: 22-40 IBU's
Commercial Examples: König Pilsener, Left Hand Polestar Pils, Paulaner Premium Pils, Tröegs Sunshine Pils
Recommended Food Pairings: Muenster, Havarti, and Monterey Jack cheeses; salads; light seafood; salmon; tuna; trout; asparagus; Asian food; Mexican food; spicy food