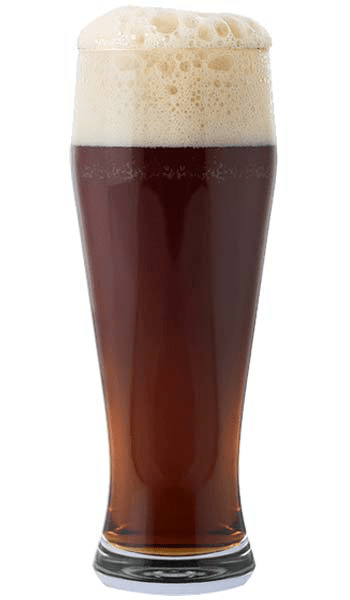 STYLE: Munich Dunkel
ORIGIN: Munich, Germany 1830
HISTORY: The classic brown lager style of Munich which developed as a darker, more malt-accented beer than other regional lagers. While originating in Munich, the style became popular throughout Bavaria (especially Franconia). Franconian versions are often darker and more bitter.
APPEARANCE: Medium amber to dark brown, often with a red or garnet tint. Creamy light tan head, clear.
SRM: 14-28 (show SRM Color Scale)
AROMA: Rich, elegant, deep malt sweetness, typically like bread crusts (often toasted bread crusts). Hints of chocolate, nuts, caramel, and/or toffee are also acceptable, with fresh traditional versions often showing higher levels of chocolate. Clean fermentation profile. A slight spicy, floral, or herbal hop aroma is acceptable.
FLAVOR PROFILE: Dominated by the soft, rich, and complex flavor of darker Munich malts, usually with overtones reminiscent of toasted bread crusts. Mild caramel, toast or nuttiness may be present. Very fresh examples often have a pleasant malty-chocolate character that isn't roasty or sweet. Burnt or bitter flavors from roasted malts are inappropriate, as are pronounced caramel flavors from crystal malt. Hop bitterness is moderately low but perceptible, with the balance tipped firmly towards maltiness. Hop flavor is low to none; if noted, should reflect floral, spicy, or herbal Germantype varieties. Aftertaste remains malty, although the hop bitterness may become more apparent in the medium-dry finish. Clean fermentation profile and lager character.
BITTERNESS: 18 – 28 IBU's
ABV: 4.5 – 5.6%
COMMERCIAL EXAMPLES: Ayinger Altbairisch Dunkel, Hacker-Pschorr Alt Munich Dark, Dinkel Acker Dark. *If you find a LOCAL commercial version…BUY IT!
RECOMMENDED FOOD PAIRINGS: Bratwurst, Bockwurst, Weisswurst. Rueben sandwich or just about any sandwich containing bacon. Strong flavored vegetables such as Brussels sprouts pair well.