Bound by Fate Brewing is a prime example of the ever-expanding creativity in the Capital Region's craft beer scene. Paired with its restaurant, Haan Lao at Bound by Fate, the only Laotian restaurant between New York City and Montreal, this establishment has made quite a splash in Village of Schuylerville and beyond.
The brewery is the realization of a decade-old family dream. "We talked for years about how cool it would be to open our own place and put out beer the way we wanted to do it," said co-owner Brett Demler.  
Brett and wife Pam Pradachith-Demler were living in northern California where Brett was homebrewing and managing a homebrew shop while Pam worked in operations, strategy and finance in the nonprofit sector. Every year, they would vacation with family on Long Beach Island, dreaming about owning their own brewery. Brett's brothers, also co-founders of Bound by Fate, were both working in the beer industry, Ryan as a professional brewer and Evan in sales and production.
"California was insurmountable to think about opening a brewery there," Pam said, noting the exorbitant real estate prices and a saturated brewery market. New York State's farm brewery legislation was one factor that drew them to New York, as well as the fact that all three boys were born in Schuylerville and grew up in Burnt Hills. "New York State farm brewery legislation was really an opportunity to support something that was grounded in our value to support agriculture," Pam said. Being close to family, especially now that they are raising their own three children, was another huge draw.
"Schuylerville was the right time and place," Pam said, so she and Brett packed up and moved their family to New York.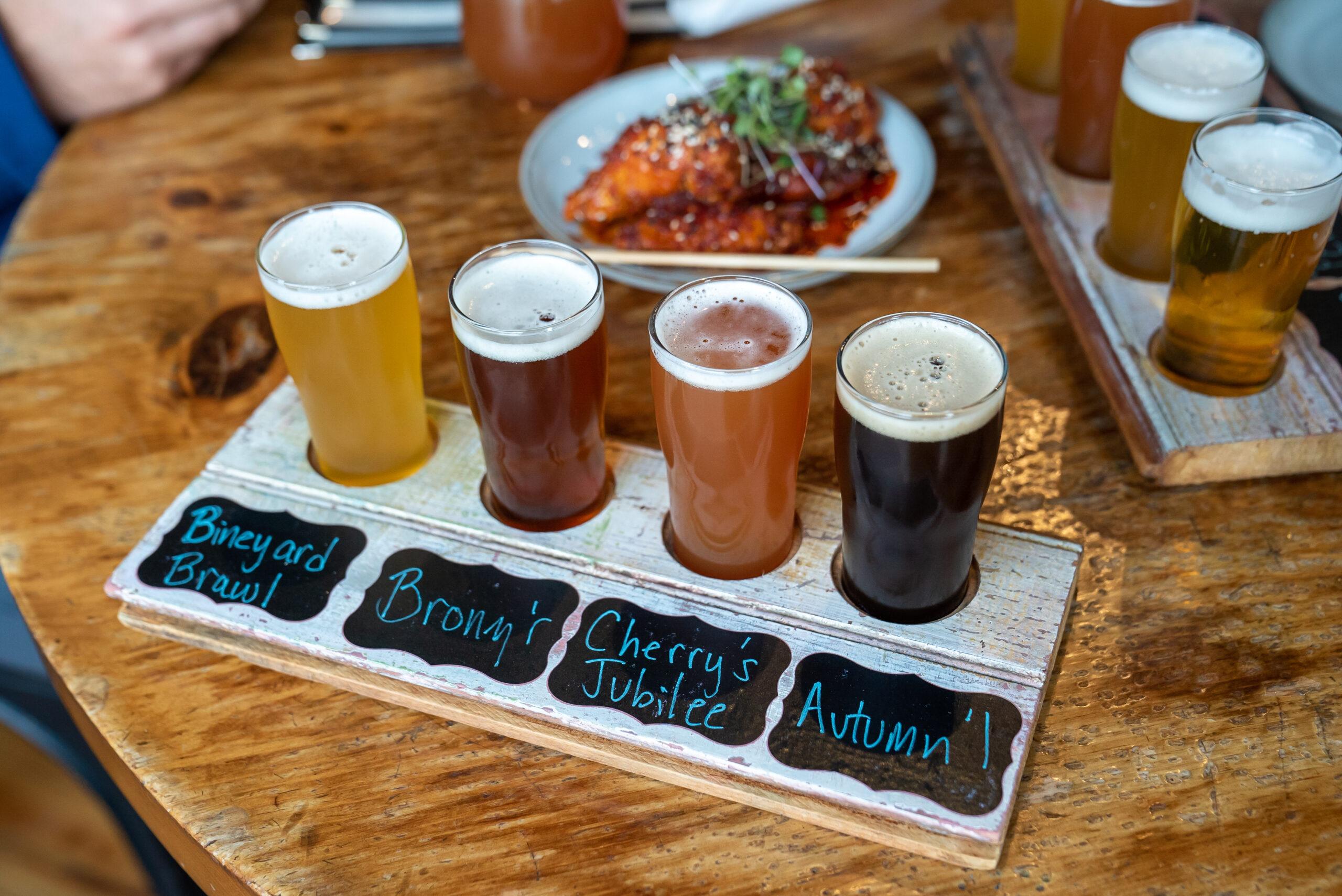 The family found a property in an 1842 house, carriage house and cottage where three generations could live together. They converted the carriage house into a brewhouse, starting out with Brett's homebrewing system. In the meantime, the space formerly occupied by Revolution Café in an 1860s building on Ferry St. became available. In January 2019, the family incorporated the business and began renovating both locations themselves. "It was definitely a labor of love and a lot of sweat equity," Pam said. About a year later, they opened their doors to beer lovers.
Just after the brewery's soft opening in February 2020, a major ice storm hit, leaving the business without power for six days. "We stayed open by getting the last generator from Aubuchon, and member of the community brought cords," Pam said. "It was the first time that showed us that this was the right community to open in," she said, noting its overwhelming support in the storm's aftermath. Now, they celebrate this memory each year with a "Beer by Candlelight" event.
Family members thought that would be the worst storm—literally and figurately—that they would have to weather as new business owners, but after doing what Pam describes as "incredible" business in the first six weeks of opening, the COVID-19 lockdown hit, forcing them to close their doors. At the time, the business had no plans to package beer for sale. Wasting no time, they contacted friends in the industry to borrower a crowler machine, and an aunt later purchased one for them. They packaged the beer and sold it lemonade-stand style during the three-month forced shutdown. Customers pulled up and the Demlers loaded crowlers into the trunks of their cars. "That kept our lights on," Pam said. "During that time, we just had to pivot."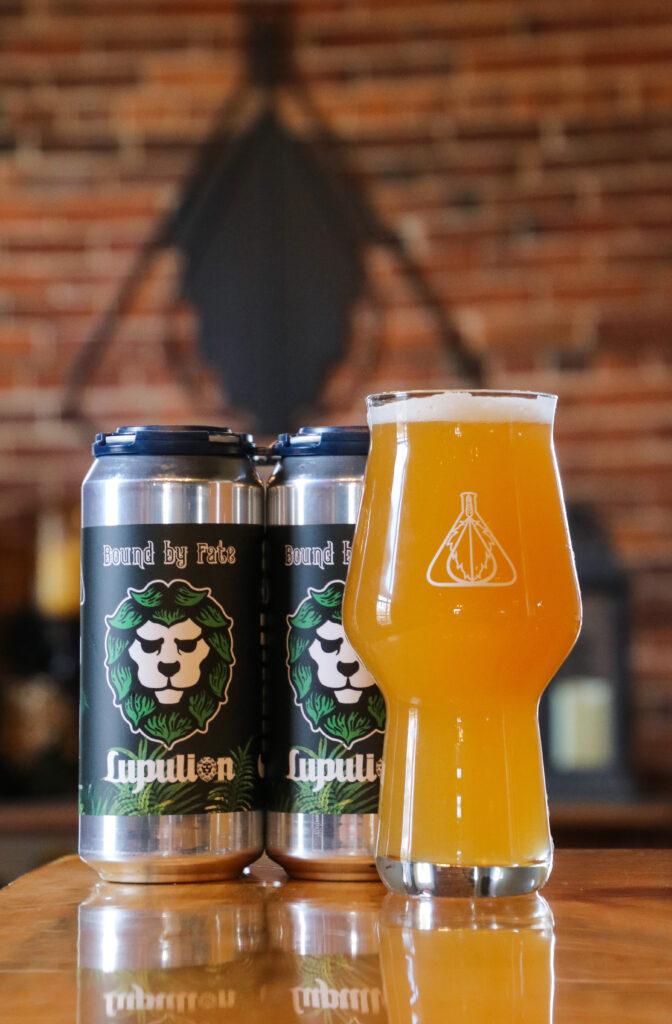 That turned out to be the first of several deviations from their intended path. The pandemic accelerated the family's original business plan, which involved expanding the taproom and adding a kitchen perhaps five years in. "We did it all in two years," Pam said.
The family went into extreme DIY mode during lockdown. They added 3,000 square feet to the taproom by taking over a space that used to be an optometrist's office adjacent to the former café. Pam learned how to lay hardwood flooring as she redid the floor with antique oak planks in keeping with the old style feel of hard wood and exposed brick. They took down the wood on one wall only to discover an entire wall of antique tin squares, which they left in place. Other accents include old, weathered French doors that came from the porch of their home. They mounted them on one of the walls behind the bar and painted them with the brewery's name. They repurposed some of the shiplap from the carriage house, using it as paneling for some of the walls as well as crafting it into beer flight paddles. Juxtaposed with the old, farm-style elements are industrial hooked pendant lamps and a Sputnik-style chandelier, giving the space an "industrial-farm" look.
The family expanded outdoor seating on the deck, setting up long, rough-hewn tables with metal barstools and church pews for seating. There is also seating right along the railing that overlooks the pond behind Bound by Fate, an idyllic site to enjoy a finely crafted pint, especially in the warmer weather. The brewery welcomes dogs on the deck, and it is a favorite place for cyclists to enjoy a beer, as it is right near the Champlain Canalway Trail, a 7-mile section of the Empire State Trail.  
Between space for 30 at the large U-shaped bar that is the centerpiece of the taproom, 40 at indoor tables and room for 60 people outside, Bound by Fate can accommodate a sizeable crowd.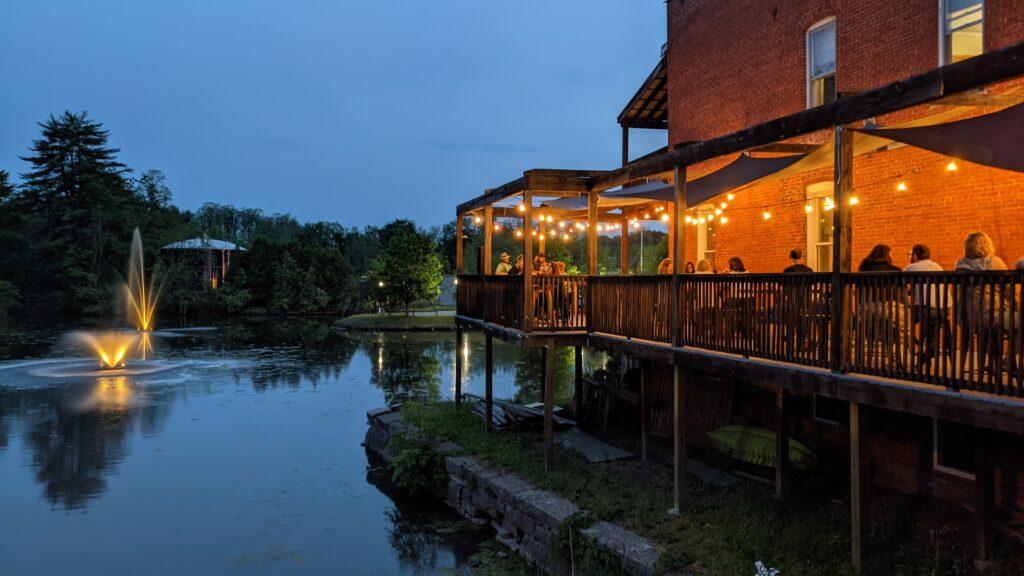 Brett serves as Bound by Fate's brewer, creating about three dozen beers since the brewery's opening, with eight to ten on tap at any given time. "Most of the beers are just based on classic styles that I really like, and I have my own vision for how it tastes," he said.
Beer drinkers will find a variety of different styles and flavors. "There's something for everybody," Brett said. "As a New York farm brewer, I pride myself in putting out a good variety of a lot of classic styles that you could recognize as classic styles. I'm achieving those flavors, but using a majority of New York State ingredients, which has some limitations. I kind of consider myself an irreverent traditionalist. When we make a classic style, for example, a German style, we're finagling to use a variety of New York malts and other malts from around the world, but also achieving those flavors." [Currently farm breweries are required to use at least 60% NY-grown hops and 60% of other ingredients must also be grown in New York. Legislators sought to increase that percentage to 90% in 2024, but a bill signed in July of this year extended that deadline to 2029 to give suppliers a chance to increase production.]
On tap, customers will find a range of beers to suit experienced as well as novice craft beer drinkers. "Cherry's Jubilee," is a cherry and vanilla-flavored sour ale. "'Bronz'r,'" an amber lager, has been a really big hit," Brett said. "It's amber in color, but so crisp and light in flavor. It's a popular year-round beer."
"Boat Bridge" is a malt-forward session ale reminiscent of an English brown ale, the brewery's nod to the rich heritage of the area as the turning point of the Revolutionary War at the Battle of Saratoga when Major General John Burgoyne surrendered to the Continental Army.
"Autumn" is an American brown ale,  and "Bettina," is an Italian pilsner is named for a great-grandmother. Pam calls "Kegasus," a cream ale, a "gateway to craft beer." "It's fresh and delicious and a little more approachable to people who like a Bud," she said.
The brewery's top seller is the first hazy juicy ale it brewed, called "Lupulion." The name is a play on the word "lupulin," the yellow gland of the hops plant where the acids and essential oils that give hops its flavor and aroma are stored.
Brett clearly likes to experiment with the different strengths and flavors of American hops. "What crazy fruit flavors could we pull out of this or that?" he asks. "I like to explore all the different flavors we can pull out. That's the reason we have a variety of hoppy beers. The exploration of what you can pull out of different varieties of hops is really exciting."
Lupulion was the start of a series of hoppy beers, including the session hazy ale "Lupulynx" with peach and citrus aromas, and "Lupuleopard," a creamy-bodied beer with papaya, mango flavors. "Lupulioness," its double.
Bound by Fate staff even went to Indian Ladder Farms Cidery & Brewery to pick fresh hops to make a collaborative beer, "Bineyard Brawl," a fresh hop ale.
Brett likes to keep his beers sessionable, with most having an ABV of 5% or less, so that people can try different flavors. Enthusiastic beertenders guide customers in making selections and encourage them to try different offerings.
Brett currently brews on a one-barrel system. An upcoming electrical system upgrade to the restored carriage house turned brewery will allow Bound by Fate to start using the 3.5-barrel Fronhofer Design Traveler brewing system it recently purchased. Some community members showed up with equipment to help move the new system into the brewery with an inch clearance to spare.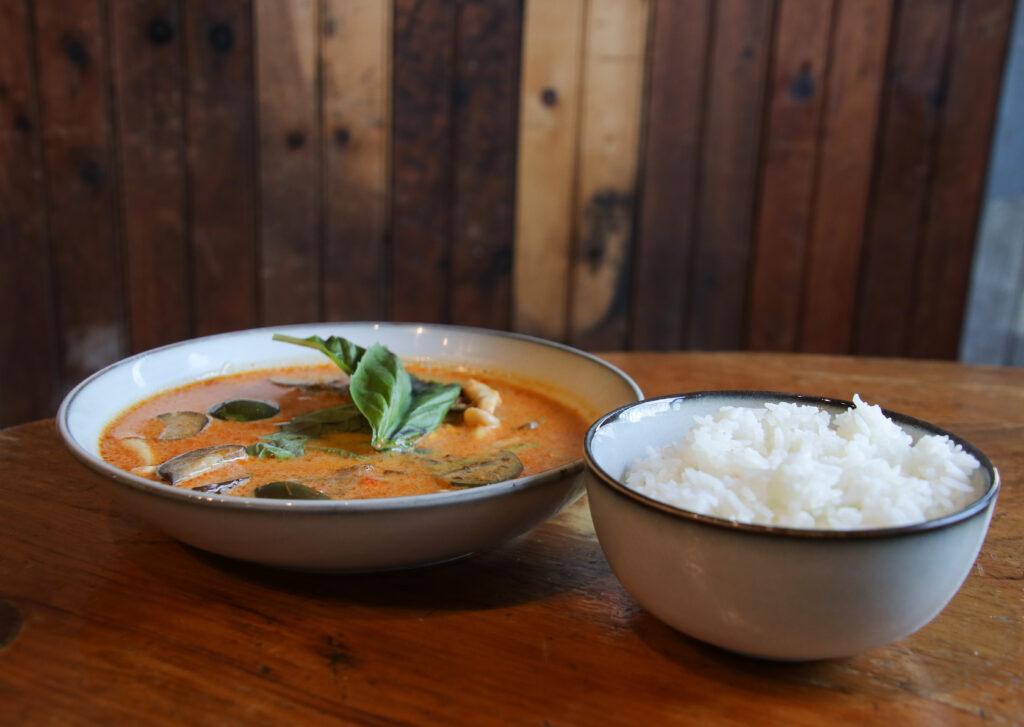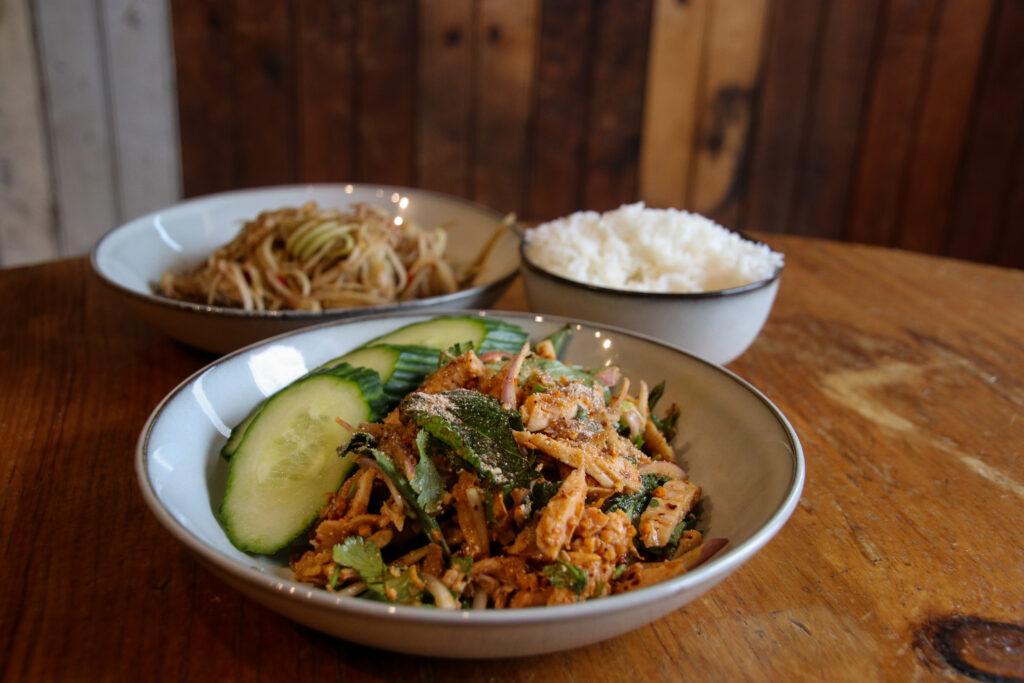 Great Beer Deserves Great Food, Sooner Rather Than Later
The no drinks without food mandate also fast-forwarded Bound by Fate's business plan. This time, Pam's family came into play to join the Demlers. Pam was born to a Laotian family in a refugee camp in Nakhon Phanom, Thailand after her family fled Laos. The family eventually immigrated to the United States. Pam's sister, Seng Luangrath, became a pioneer in bringing Laotian cuisine to American tables, opening a group of restaurants in Washington, D.C.
Seng, a James Beard-nominated chef, visited Pam and her family in March 2021 when the food served with alcohol mandate was still in place. She suggested doing a Laotian food pop-up event, which she orchestrated using a few Instant Pots and a steam table. "The line was out the door and around the corner," Pam said. It signaled the family that the community was ready for Laotian food, something that the Demlers hadn't been sure about, given the less than 1,500-person population of the small village. The family then took a year to build a full kitchen for the brewery.  
Seng worked with Pam, who now oversees the kitchen, to create a menu and consults with her to develop new recipes for seasonal menu changes. "Part of this story for us is that these are our family recipes that my sister has been working on for the last decade to perfect," Pam said. Seng's son, Boby Pradachith, also a chef in the D.C. area, served as the opening chef when Haan Lao officially debuted in March of this year.
Tables are available on a first come, first served basis. Customers are invited to order at the bar, and staff delivers food and beer to the table. The menu gives names in both English and Lao. It definitely offers some out-of-the-ordinary menu items with authentic Laotian flavors. There are appetizers like crispy cauliflower (chuenh phakkad dok) with spicy soy glaze and beef jerky (siin haven) that has been marinated with lemongrass and ginger, served with pickles and siracha. The green papaya salad (tam muck houng) has red chili, Thai eggplant, garlic and lime. Entrées include spareribs (thom kem) and roast chicken (ping gai), dishes cooked with Laotian spices and seasonings. Two curry dishes that can be augmented with a choice of protein—chicken, shrimp, brisket or tofu–round out the menu. The cuisine's bold flavors balance well with Bound by Fate's beers, Pam said.
Pam sees the kitchen as an opportunity to introduce foodies to craft beer and craft beer lovers to Laotian cuisine, as well as a chance to share her family's heritage with customers. "What we learned surprisingly and since the kitchen has opened is that people are hungry for something new. It has been such a gift to share that with our community," she said.
The atmosphere at Bound by Fate radiates connection. Friends run into each other at the bar, and colleagues gather after work for a pint or two. Pam greets customers like old friends. This is exactly how the family envisioned the place to be when they were planning it. In Pam's words, they asked themselves, "How can we create a space for community where we are right now, where we're so polarized?" Then they went about "creating a space where people could meet their friends and neighbors and enjoy great beer," Pam said.
Brett and Pam also value having a role in the greater communities of which they are a part. "Beer is a celebration of agriculture," Brett said. You can see that in the logo he designed for Bound by Fate, an Erlenmeyer flask with hops, water and barley inside, a nod to the alchemy of beer making. "Pre-prohibition, New York State was one of the biggest hops purveyors in the world. We're working with farmers to bring back an industry that can produce some of the best hops in the world."
Pam partnered with Erika Anderson of Unified Beerworks and Megan Veltman of Indian Ladder Farms to found the Upstate New York Chapter of the Pink Boots Society, an organization dedicated to assisting and encouraging female professionals in the fermented and alcoholic beverage industry advance their careers and education.
For a novel experience, check out Bound by Fate's revolutionary combination of great craft beer and Laotian cuisine at 31 Ferry St, Schuylerville, 518-507-6246, boundbyfatebrewing.com.