It takes the love of great beer and no small amount of determination to launch a brand-new business in the middle of the pandemic, but that is just what Bob Newberry and his business partner George Powley did on July 2, 2020 when they opened the doors of Bye-I Brewing Company in Cohoes, NY.
Now open at full capacity, the pair brew about three batches of beer per week. Their beers have been so well-received that they are preparing to expand their brewing capacity with the addition of a four-barrel system that they purchased from Fidens Brewing Company in Colonie. "Those guys over there have been great to us—very helpful," Newberry said.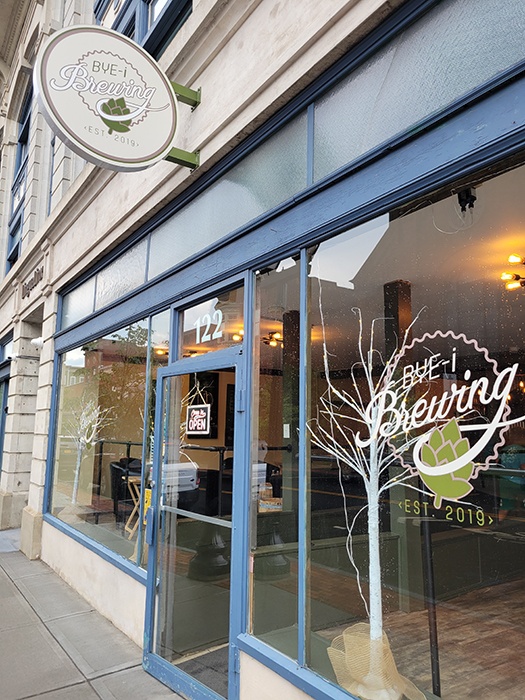 The establishment's unusual name stems from an inside joke. Powley and Newberry worked together on many home-improvement and construction projects at friends' homes and when Powley would ask Newberry if he had measured something, Newberry joked that he cut it "by eye." When it came time to name their brewery, they altered the spelling and adopted "Bye-i" as its name.
When they brew, however, nothing is done "by eye." The pair pay close attention to ingredients and measurements as they experiment and perfect their offerings.
The brewery currently has 10 beers and one hard seltzer on tap. Each are brewed in its two-barrel brewing system with seven fermenters situated right across from the bar in its tasting room. There are a variety of styles to suit all tastes including the citrusy American "Bye"-iPA; the customer favorite BoozeBerry Blonde made with blueberries; the American pale watermelon wheat, 1 in A Melon; the Lime-A Sour—the brewery's version of a margarita; the 131 Pale Ale, which is Newberry's favorite and the first beer they ever brewed; and the Taylor Tot Chocolate Coffee Stout. A nod to Newberry's daughter who inspired the whole venture by gifting her dad a home brewing kit for Christmas five years ago. The hard seltzer is not flavored and is intended to be infused with whatever flavor the customer prefers. The menu also features wines from Galway Rock Winery in Burnt Hills and Capoccia Vineyards & Winery in Niskayuna.
Customers can see an ingredient list for each beer in the taproom's tables. Newberry and Powley embedded the actual grains right into the surface of the tables, which they crafted from repurposed cable spools using pipes for legs. Roughly 85 to 90 percent of the ingredients they purchase come from local farms and are purchased through Convergence Craft, Inc. in Albany. "As we produce new beer, we make more tables," Newberry said.
A combination of customers' input, trends, market research and their own tastes is what dictates what beers they brew. Bye-i is Powley's full-time job while Newberry works developing software for his own web development company in addition to brewing.
FUNKY LIGHT FIXTURES WITH EDISON-STYLE LIGHT BULBS HANG OVERHEAD
Their construction experience came in handy when they were preparing to open the brewery and now they are renovating an adjacent garage to house the new brewing system. Except for some of the plumbing and electrical work, the pair did all the construction themselves creating a style Newberry dubs "an industrial farmhouse look."
In the front section of the taproom, there are seating areas with comfy black chairs and barrel tables. Funky light fixtures with Edison-style light bulbs hang overhead. The lighting style continues with pendant lights over the bar, hanging from a rough-hewn beam out of an old barn. Continuing with the barn theme, Newberry and Powley built a set of barn doors out of rough-cut wood they purchased at Valente Lumber in Averill Park. These doors open to a room where they can host private parties.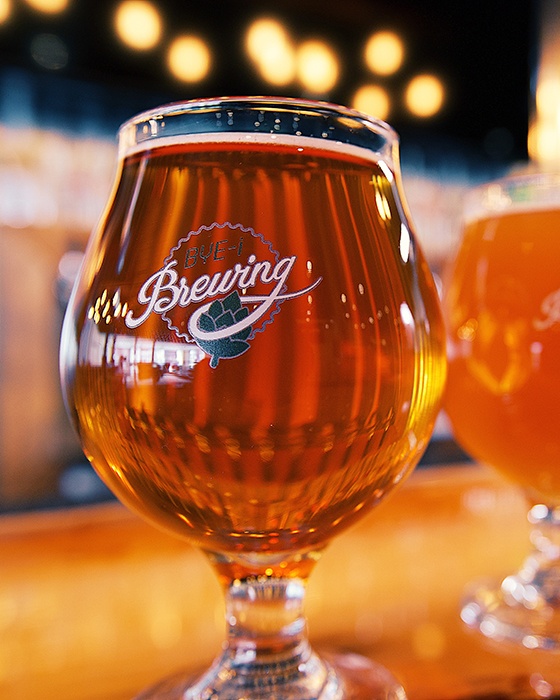 They built the bar themselves in a "river" style, with a section of blue pigment down the middle, mimicking the Mohawk River. There is corrugated metal over the taps and below the bar area, where pipes serve as foot rails.
Even though they are housing the new brew system in another part of the brewery, they plan to keep the current brewing system in the taproom. "People like to see it," he said.
Another DIY project for the pair was its serving implement for flights of beer. It is L-shaped, crafted from two pieces of wood with an L-shaped black metal pipe perpendicular that serves as a handle.
The walls of the taproom feature chalkboard-style artwork depicting the patents of various beer-related items, such as a beer bottle, beer mug, keg, and beer cooler.
Men should be sure to check out the restroom. It illustrates in grand style the brewers' sense of humor with a urinal crafted from a beer keg and labeled "Beer recycling center."
The building has apartments over the brewery, and Bye-i gives tenants a $1 discount off every beer.
Bye-i does not have its own kitchen yet, but Newberry and Powley have partnered with various restaurants in Cohoes to offer abbreviated menus from which customers can order. Bye-i places the order and picks up the food, bringing it to the brewery. Each night the taproom is open, Thursday through Sunday, it features a chosen restaurant. The mainstays of these partnerships are Joe's Tavern, Café Monacle, Café Con Mel, Anthony's Italian Restaurant, Signal 30, Lidia's Empanadas and during the last football season, Inferno Pizza.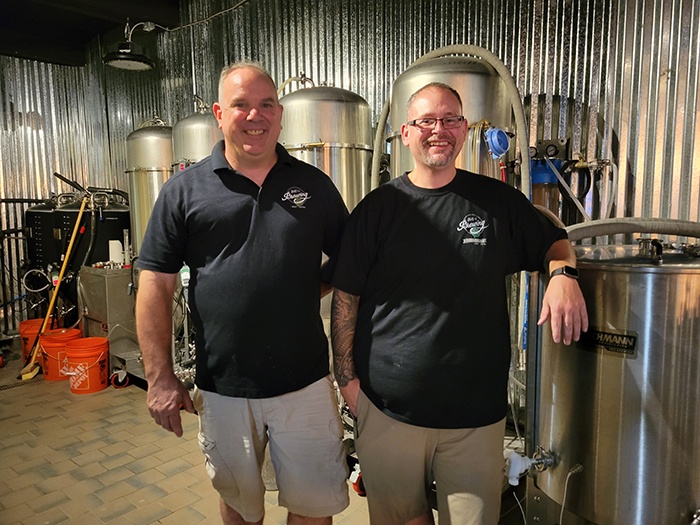 OPENING AT THE HEIGHT OF THE COVID-19 PANDEMIC HAD ITS CHALLENGES
Opening at the height of the COVID-19 pandemic had its challenges, including checking the news every day to see what rules might have changed that impacted their business. The pandemic did, however, allow the brewery to have a long soft opening, which gave Newberry and Powley a chance to learn about the business, which was new for both. They started out with four beers and have worked their way up to 11 on tap.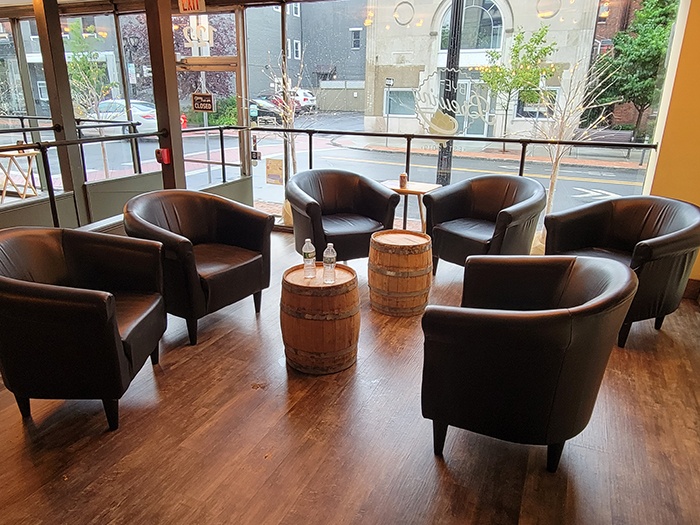 Customers can purchase crowlers which are filled on demand, and Bye-i has a signature double-insulated metal growler (think Yeti on steroids) that customers can purchase to take beer home with them.
In addition to coming to the taproom, customers can find Bye-i offerings at the Waterford Farmers Market on Sundays, where they sell out every week, as well as on the menus of Joe's Tavern in Cohoes, Farmhouse Tap + Tavern in Altamont, and Jack's Oyster House in Albany.
Through the first week of October, Bye-i participates in the City of Cohoes' "Eat in the Street," where the streets are closed off and establishments move their tables out into the street and serve customers there. Bye-i is also a popular place to grab a pint before or after the city's "Rock the Block Concerts" where different bands play on five consecutive Thursdays in July and August. "They just have a lot of things going on for one of the smaller cities," Newberry said. The city's economic development and revitalization efforts are two of the reasons that Powley and Newberry chose Cohoes for their business.
Dealing with customers directly is Newberry's favorite aspect of the business, and part of what he believes makes Bye-i unique. "You can talk directly to the brewers—the creators—about the beer," he said, noting that he likes to hear customers' reactions when they take a first sip of a new beer. The atmosphere is relaxed and friendly, and between the great beer, interesting décor, and welcoming staff, Newberry and Powley seek to make a visit to their brewing company "an experience."
Check out Bye-i Brewing Company at 122 Remsen St., Cohoes, www.byeibrewing.com.