Photos by Heather L. Meaney and Upside Collective
When Laura Clough began taking Craft Beer Brewing courses at SUNY Schenectady, she was a returning adult student looking for a career change. However, through the close bonds she formed with other students, mentoring by her professors, and the hands-on opportunities to dig deeper into the world of craft brewing while she was still a student, she soon learned that her journey at the College was turning out to be much more. 
"I spent way too long committed to a job that I didn't enjoy," said Clough, who graduated from SUNY Schenectady in 2019 with her A.A.S. degree in Craft Beer Brewing and is now a Brewer at Frog Alley Brewing Co. in Schenectady. "My previous job wasn't interesting or challenging, and I realized that it was actually impacting other areas of my life, so I decided to make an abrupt left-hand turn in the middle of my life and enroll at SUNY Schenectady. As it turns out, craft beer may have saved my life! It's the perfect combination of career and passion. It gives me a chance to be creative, a way to be connected to a community of enthusiasts, and endless opportunities to learn and travel."

Following Industry Growth
The craft beer brewing industry in New York State has experienced continual growth, with more than 500 licensed breweries statewide – an increase of 12% since 2018.
To meet that demand, students like Laura, who are in degree and certificate programs within the School of Hotel, Culinary Arts, and Tourism, are gaining invaluable experience by learning hands-on and meeting professionals in the industry. For example, students in the College's Craft Beer Brewing and Craft Spirit Distillation programs are taking classes on-site at Frog Alley Brewing, learning the steps and processes of small batch craft on equipment at the brewery, as well as learning about warehousing, marketing, and sales. Most recently, SUNY Schenectady launched a new Brewing Apprenticeship, with plans to provide brewing education across the state.
Gaining real-world experience in state-of-the-art classrooms is a pillar of SUNY Schenectady's Hotel, Culinary Arts and Tourism program. Students train in culinary technique, dining room operations and service, baking, and culinary a la carte service with an eye toward locally sourced farm-to-table menus. They create and serve the public lunch and dinner seasonally in the Casola Dining Room – a Capital Region favorite for gourmet cuisine, artisanal charcuterie at The Boucherie, and baked goods at Pane e Dolci, all located on campus.

The College expanded its culinary offerings further in September 2021, opening the Joan R. Dembinski '10 Chocolate and Confections Lab located in the Mill Artisan District in downtown Schenectady. The new Confections Lab enables students to learn the process of making chocolate from start to finish using raw cocoa beans, as well as how to make confections from chocolate and sugar. They also learn how growing conditions in different regions across the world impact the flavor of the beans. 
"The bean-to-bar chocolate movement has been growing in popularity and our students learn the entire process," said Chef Vanessa Traver, Assistant Professor, who teaches in the lab. 
This unique experience prepares SUNY Schenectady students for careers in bakeries as pastry chefs and chocolatiers, as well as other roles in the Culinary and Hospitality fields that require exceptional knowledge of chocolate and confections. The new Confections Lab is home to a roaster, winnower, nib grinder, melanger, and sifter, as well as enrobing, tempering, and conching machines. The lab features three large monitors and cameras that follow Chef Traver so as she's teaching at the front of the lab, students will follow along at their stations.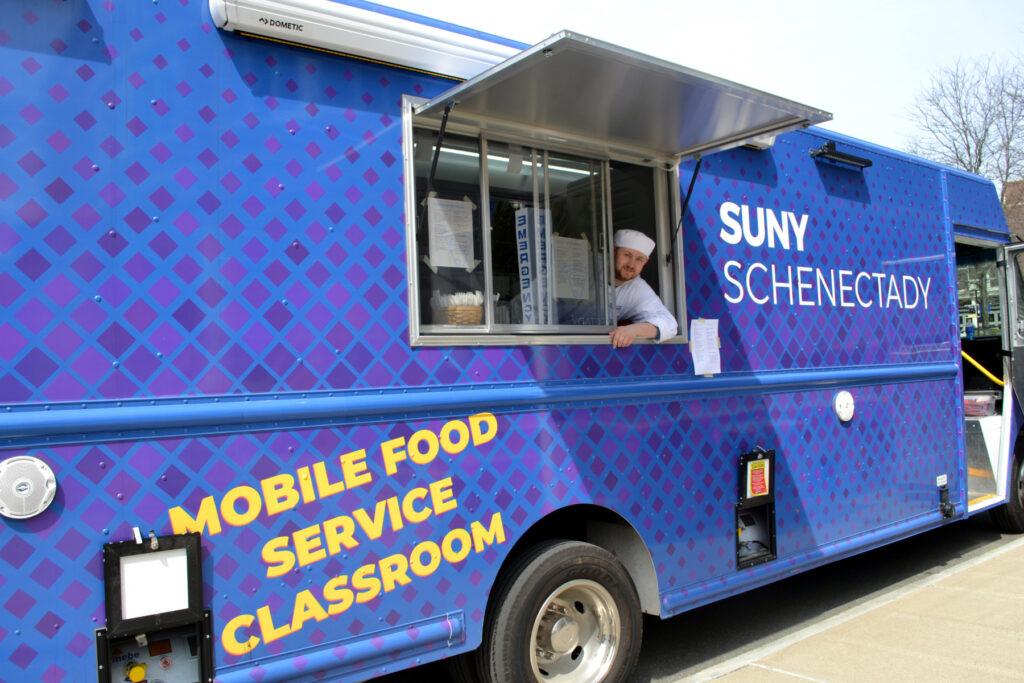 With summer in full swing, the College's Food Truck is back on the move, traveling to events all over the Capital Region with its students in the Mobile Food Service program acquiring the knowledge and skills critical to working in, and operating, a mobile food truck business.  Students learn about sourcing, sales, sanitation, and more while cooking up a menu that rotates weekly and fully preparing the truck for each location appearance. After 17 years as a nurse, Kathy Darmetko decided it was time for a change. Pairing her love of cooking and desire to have her own food truck, she is one of the students learning all aspects of the business while earning her certificate during the summer session.
The College also provides exciting opportunities to complete culinary internships on location at Churchill Downs at the Kentucky Derby and at Walt Disney World. In May, students and faculty traveled to Italy for 17 days of cooking classes, culinary excursions, and cultural awareness, learning from chefs and touring restaurants, farms, and vineyards in Nettuno, Asti, Parma, and Trieste, as part of the Marco Polo Institute Program Abroad in Italy.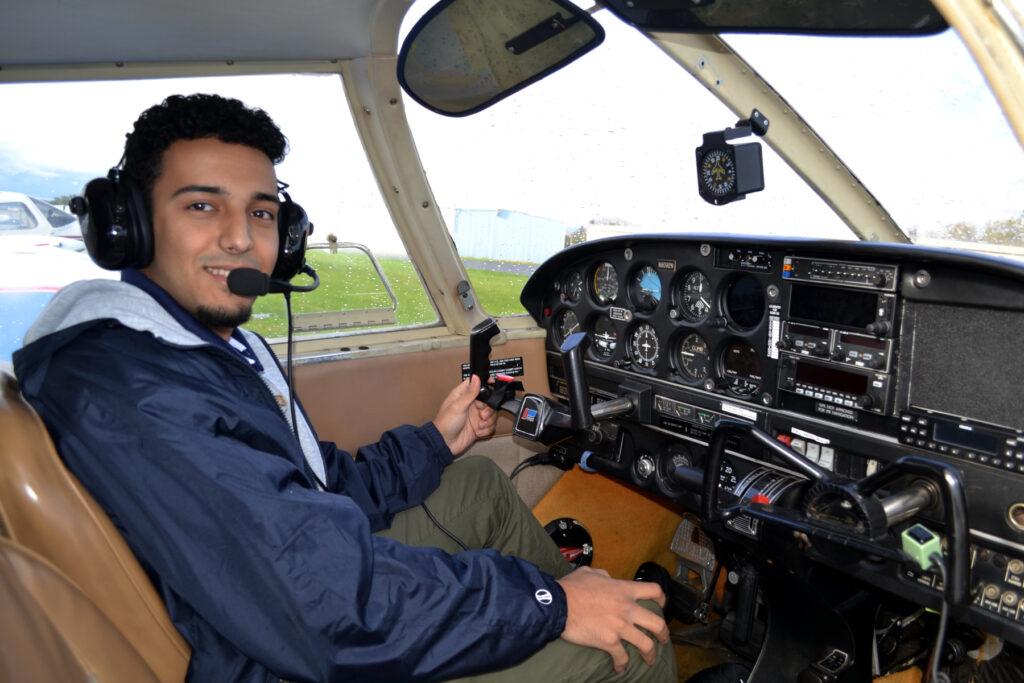 Aspiring pilots in the Aviation Science program are soaring high at the Schenectady County Airport while earning flight time toward their Private Pilot Certificate and Instrument Rating, Commercial Pilot Certificate and Flight Instructor Certificate in conjunction with their associate degree. For those who prefer to keep their feet planted on the ground, students in the Air Traffic Control degree program learn to handle normal and emergency situations through simulated scenarios and actual control of live aircraft traffic at the Schenectady County Airport Control Tower. In June, the College broke ground on a new Flex Pod Airport Hangar, which will be ready for students at the end of October 2022.
"With the new hangar, our students and faculty will have their own space at the airport for the planes they use for flight training, as well as classroom space for courses including those in Aviation Law and Meteorology," said Dr. Steady Moono, College President "This is a significant addition to the College's academic facilities and we are excited about what lies ahead for our students and faculty in the Aviation Science program."
Helping the Local Community
With more than 60 academic programs at SUNY Schenectady, the College is focused on providing an enriching educational experience, connecting students with opportunities to reach their dreams, and helping achieve equity throughout the community.
The College recently added Microcredentials – which are short, competency-based credentials designed to provide in-demand skills, know-how, and experience to increase one's value on the job market. Stackable microcredentials can also provide a pathway to a certificate or to a degree. SUNY Schenectady has introduced four new microcredentials: Global Business and Transportation to support jobs in supply chain management; Fundamentals of Baking and Confections; Behavioral Health; and Child Development. Specialty training and personal/professional enrichment courses are also offered through Workforce Development and Community Education and are a perfect way to level up current skills, gain career advancement, or re-career transitioning in a post-Covid job market.
Whether you're looking to enroll in a degree or certificate program, start on a new path, or just take a class or two to gain new skills, SUNY Schenectady offers innovative education with tremendous opportunities to obtain hands-on experience. Discover SUNY Schenectady, located at 78 Washington Avenue, Schenectady, N.Y., 12305.  Fall classes start on August 29.