Spencer Deehring and Tristan Perry were walking hand in hand in Austin, Texas after leaving a downtown gay bar when they said a group of men attacked them in what police later investigated as a hate crime.
The couple said the assault happened shortly before 2:30 a.m. after they had left a nightclub called Rain. They were holding hands and laughing when they heard a man yell a homophobic slur as he was passing them.
"He said it loud enough for the two of us to hear, expecting a reaction from us," said Deehring, who said he and his boyfriend both verbally defended themselves.
Then, he said, about four or five men came up behind them and began punching Perry in the face until he fell to the ground. One person kicked him in the head as he was lying unconscious, he said.
The couple was taken to a local hospital. Perry had serious injuries, including a major concussion, internal bleeding, chipped teeth and a broken nose. Deehring said he had a minor concussion and several lacerations.
While this scene may seem like a world away, having happened in Austin, Texas, similar instances like this one, where members of the LGBT community are being attacked while out enjoying themselves at local bars, are happening across the country, and, yes, right here in the Capital Region. 
Capital Region Safer Bars partners with In Our Own Voices to Educate Bar Owners and Staff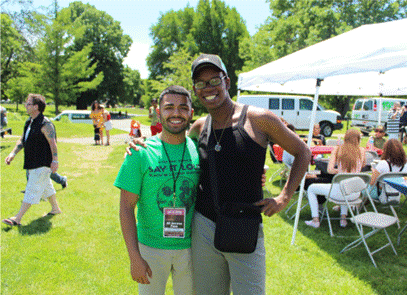 Now, Capital Region Safer Bars has partnered with a group called In Our Own Voices to bring attention to this all too common plight, and to help educate bar owners and staff to identify potential problems before they happen and how to prevent these assaults.
Capital Region Safer Bars is a coalition of local bars and restaurants who are dedicated to creating safe and thriving nightlife communities. Safer Bars are bars that have a higher standard for the customer's experience.
Bars, breweries and restaurants that participate in the Safer Bars program are leaders in their community. 
They prioritize patron comfort and safety and understand that a good time out is one where patrons don't have to worry about experiencing harassment and violence. In fact, Safer Bars regard such behavior as unacceptable. They take responsibility for creating a bar vibe that is inclusive, welcoming, and comfortable for all patrons and they take pride in the fact that by doing so, they are committing to a higher standard of customer service and experience, and community wellness.
Capital Region Safer Bars is a part of a larger initiative across New York State that focuses on working with bars and restaurants to end sexual aggression and violence and to promote a safe and healthy nightlife experience.  
Albany and Schenectady County have partnered together to lead this initiative in the Capital Region. By working together with bars and restaurants across the region, they intend to create a nightlife community and culture that is safe, inclusive, and welcoming for all community members by empowering bar owners, managers, and staff to recognize, intervene, and prevent sexual violence.
Why Are Bars Important In Preventing Sexual Assault?
50% of sexual assaults involve alcohol use.
90% of acquaintance rapes involve alcohol use.
43% of sexual assaults involve alcohol use by the victim.
69% of sexual assault involve alcohol use by the perpetrator.
How Can Bars Help to Prevent this?
By learning how to recognize and intervene in sexually aggressive situations, bartenders and other bar staff have the opportunity to make a large impact in ending sexual assault.
People are more likely to intervene in problematic situations when they have the skills to do so.
The goal of bystander intervention is always safety and de-escalation.
Research shows that the use of bystander intervention tactics can prevent problematic situations from becoming violent.
How Does Capital Region Safer Bars Help Bars Prevent Violence?
They offer free, evidence-based, bystander intervention training that teaches bartenders and other bar staff how to be active bystanders by giving them the tools to safely and effectively intervene in aggressive situations.
Bar staff who take this training are better able to detect early warning signs that a situation may become unsafe and are better able to intervene and prevent violence.
What is "In Our Own Voices"?
In Our Own Voices (IOOV) serves the needs of Lesbian, Gay, Bisexual, & Transgender People of Color, our Friends and Families. Their vision is to set the standard for National People of Color LGBT organizations.  It is the Mission of In Our Own Voices to work for and ensure the physical, mental, spiritual, political, cultural and economic survival and growth of Lesbian, Gay, Bisexual and Transgender people of color communities. They seek to develop the leadership of LGBT POC, strengthen the voices of LGBT POC in order to effectively communicate their perspectives within the larger community, increase their capacity for combating oppression and marginalization.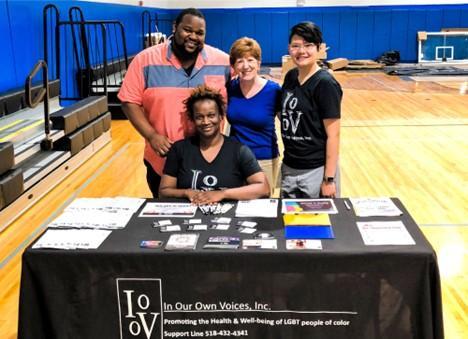 In Our Own Voices, Inc. utilizes a three pronged approach to meet the needs of our communities that includes direct services, training & technical assistance, and systems level advocacy.
Direct Services:
Advocacy
Counseling & Emotional Support
Emergency Assistance (i.e. Food Pantry, Emergency Financial Assistance)
Support Groups
Linkages and Referrals
HIV & Hep C Testing
Community Events
Training & Technical Assistance: Training topics include but are not limited to: Diversity & Inclusion, Cultural Competence/Relevancy, Agency/Organization Assessments, LGBT Awareness (beginning, intermediate, and advanced), Historical Trauma and its Impact on Marginalized groups (i.e. People of Color, LGBT communities, etc.), Implicit Bias & Strategies to Interrupt Bias, Transgender Inclusion, Sexual Health, Domestic Violence, Sexual Assault, Advocacy when working with Diverse Populations (i.e. LGBT, People of Color, Elders, Sex Workers, Immigrants, Youth), and more.
Systems Level Advocacy: Advocating on a local, statewide, and national level to ensure that the voices and experiences of LGBT POC are at the table and amplified.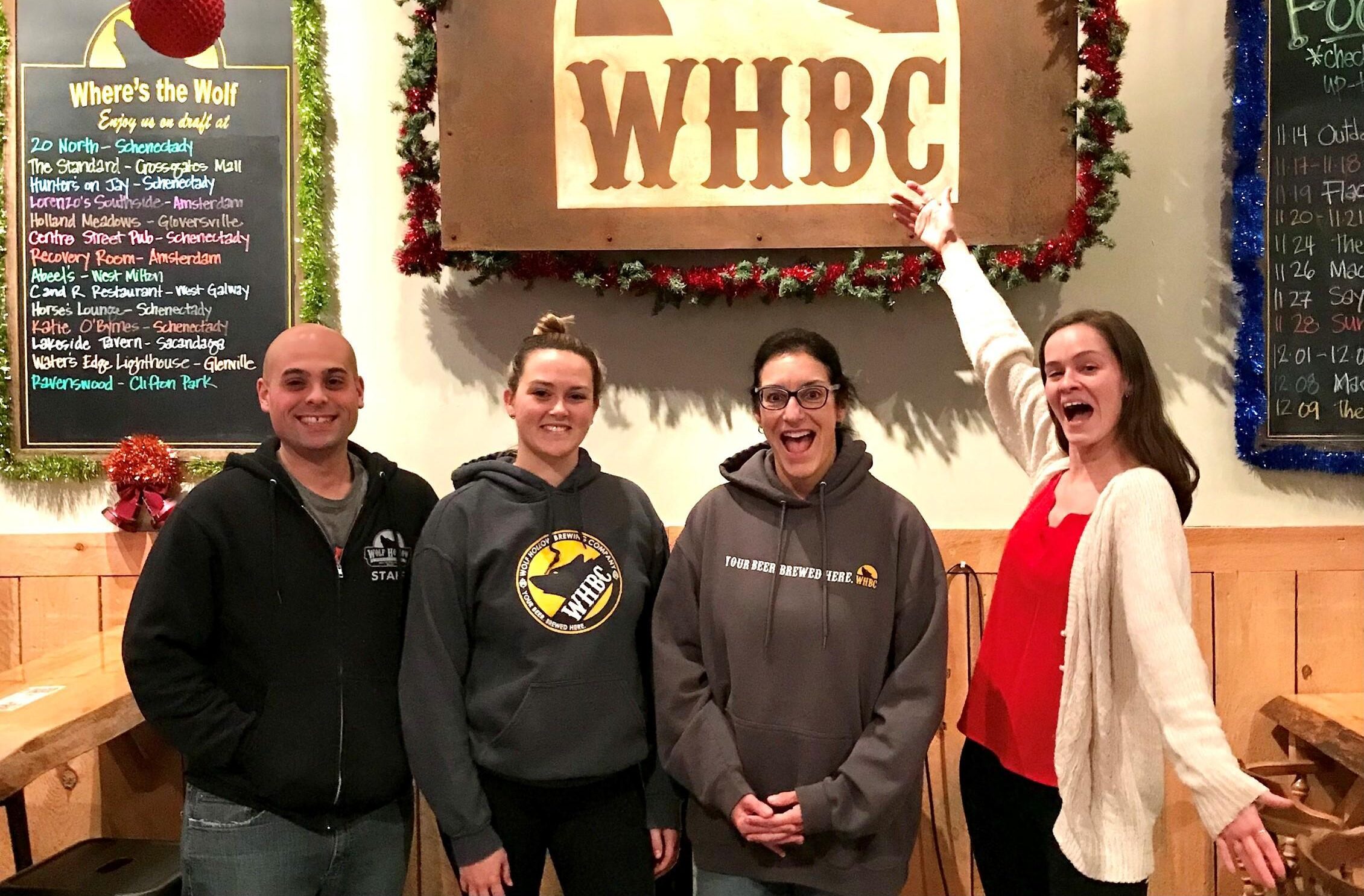 As a bar owner or manager, you and your staff work hard to create a fun and welcoming atmosphere in your bar. Sexually aggressive and violent behaviors, which are more likely to occur in alcohol-serving establishments, can quickly destroy the atmosphere that you and your staff work so hard to create. Bars and restaurants from across New York State are creating a new standard for customer safety and experience by participating in the Safer Bars movement to prevent sexual aggression, harassment, and violence in their nightlife establishments.  We look to work together to assure what happened to Spencer and Tristan won't happen in your bar, brewery, or taproom.
Are you ready to raise the bar in customer safety and experience? Make your bar a member of Capital Region Safer Bars today!