How often do you get a chance to sip a cool pint of fresh craft beer while gazing out on the fields where Mother Nature grew the very ingredients used to create your drink? If you visit Dancing Grain Farm Brewery in Moreau, the answer would be every single time.
Customer Tom Stayer of Gansevoort who spent an evening relaxing at the farm with a group of friends summed it up like this: "It's local, and it's such an awesome location," he said. "It's hard to top the views."
While it is a great place to unwind as you enjoy the vistas, there's a rich story going on underneath the experience. Just about every element of the establishment, from its inception to every beer produced, has a tale to tell.
The farm itself is a main event at Dancing Grain as the brewery was born out of the Czub family's determination to save the family farm. Craft beer was the solution, and through a whole lot of sweat, hard work, business prowess and creative problem solving, the family has created the craft beer industry's equivalent of an estate winery where customers enjoy the freshest beer made from grains grown on site while taking in stunning views of the farm's 24 acres of cultivated fields.
Brewery founder Rachel McDermott, née Czub, grew up tooling around her family's farm alongside her father and uncle. She left the farm to attend Cornell University as her father and his father had decades before. After college, she launched what she calls her "big girl career" as an investment banker, first in Houston and then New York City.
However, seven years later in 2016 after finding little joy and value in that work, she returned home to the farm where she was amazed at how big it had grown. But residential home builders and solar farm developers threatened that growth as they sought land to expand their own business enterprises. Like many other farmers, the Czub family found itself squeezed for acreage. McDermott explains that many farmers in New York State own a portion of their land, leasing the rest, and the available land as farming was dwindling.
About the time she returned, owners of a former dairy farm in Moreau offered the family the option to purchase the land they had been leasing. If they did not purchase the entire 308-acre farm themselves, they would lose the right to farm there, and it was land that they needed to grow their crops and keep the farm viable.
The Czub family decided to purchase the farm, and Rachel, drawing on her business experience, got the idea to make the farm more profitable by producing crops that are more valuable than the traditional crops her family had grown, specifically, crops used in craft brewing and distilling. "That's how the brewery came to life," she said. "That pound of grain that was worth 25 cents is now worth eight bucks. This is our way of kind of pushing back."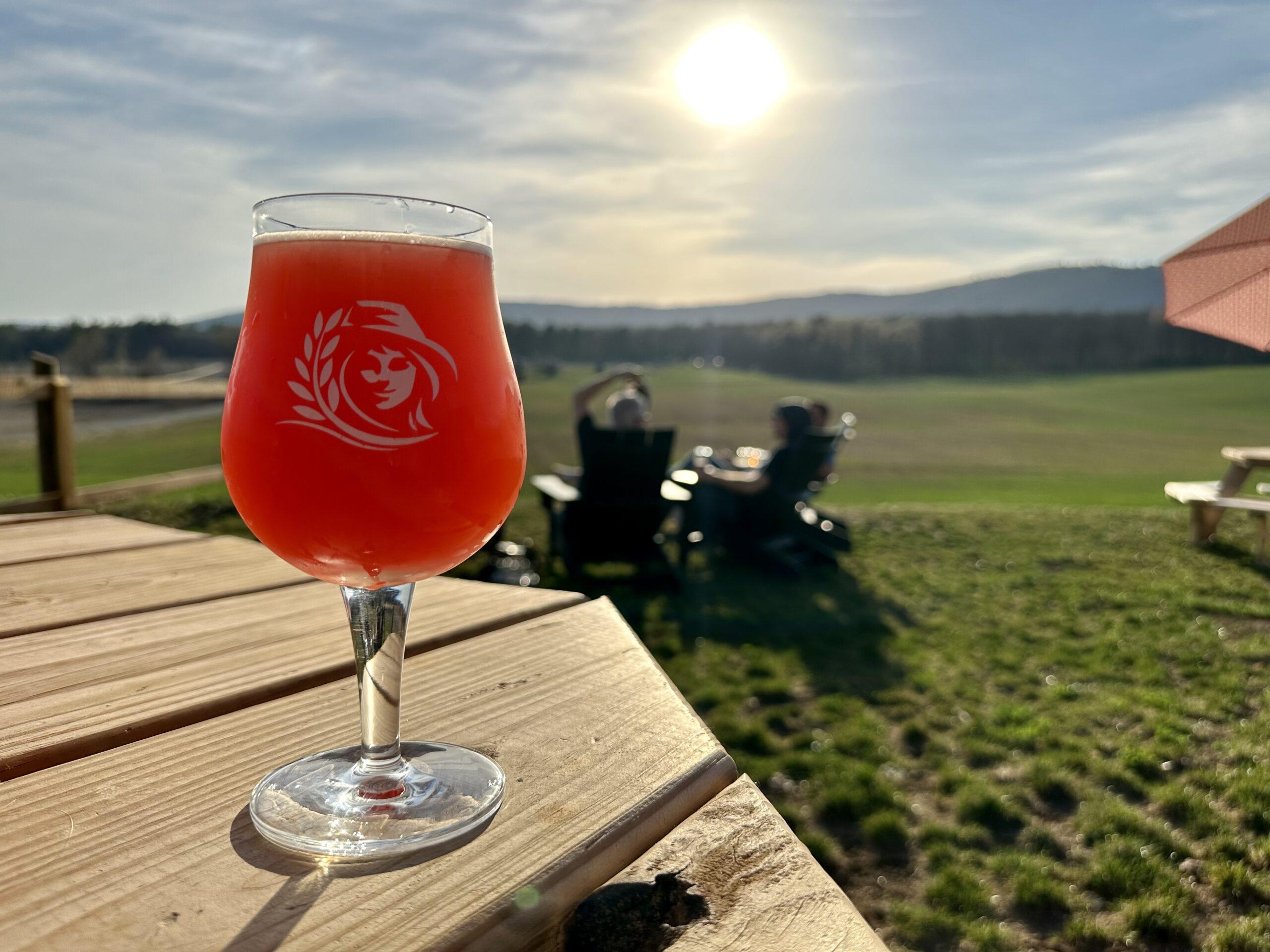 This pushback is a boon for craft beer lovers as Dancing Grain digs into the farm-to-glass concept, helping not only its own family, but other farmers as well as it explores which grains make for successful crops. "We launched a five-year trial that we funded ourselves to figure out what is going to grow best for us," McDermott said. This came after they found that the genetics of the barley available to them were no longer suitable for the new business venture.
Drawing on the expertise of the Cornell College of Agriculture and Life Sciences that is working on breeding new varieties of barley for the craft brewing industry, they set out to find the best fit for Dancing Grain, a goal that was not for the faint-hearted. According to Cornell, the brewing markets have one of the most stringent sets of quality standards of all the small grain markets. In addition, the humid climate in New York and in some years, the weather, decrease the chances of success. For example, this year, the ground never froze. "One year everything worked, and the next there were catastrophic losses due to drought or rain or viruses that result from the damp climate," McDermott said.
Perseverance paid off, and McDermott has found two varieties of barley that work well—Violetta for winter barley and Robust for spring.
Visitors to the Dancing Grain will find a variety of beers on tap including sours, kölsch, stouts, ales, IPAs and porters, each made with farm fresh ingredients grown right on property or at nearby farms.
"I think of our beers as a canvas for what our farm and other New York State farms can produce," McDermott said. Intentionally planted commodities as well as ingredients such as mint and Nasturtium flowers foraged from the woods drive the flavors and types of beer they brew.
"We tend to focus a little bit more on beers that really show off what we do as a farm brewery," she said. For example, the farm makes its staple beer, "Cream of the Crop" cream ale, with Robust barley, the family's own corn, and New York Cascade hops. "It's pretty basic, but it's awesome," McDermott said. "It's crushable. It's inspired by those days in the shop when my dad and uncle were working on crops and it might have been a super-hot day or a really long day. It's clean, it's clear, it's crisp, it's refreshing."
Dancing Grain uses its ales and lagers to highlight the herbs grown on the farm. "We put a lot of herbs into our beers because they offer a different level of complexity, and they show off different products of our farm," McDermott said.
Since they started brewing in July 2021, they've produced 30 different beers, with a menu heavy on beers that showcase farm-grown ingredients. "We have more lagers and ales on tap than IPAs. IPAs don't tell our story in the same way that other beers do," she said. But IPA lovers need not worry. The menu does include IPAs, such as its session IPA "Gumbelievable."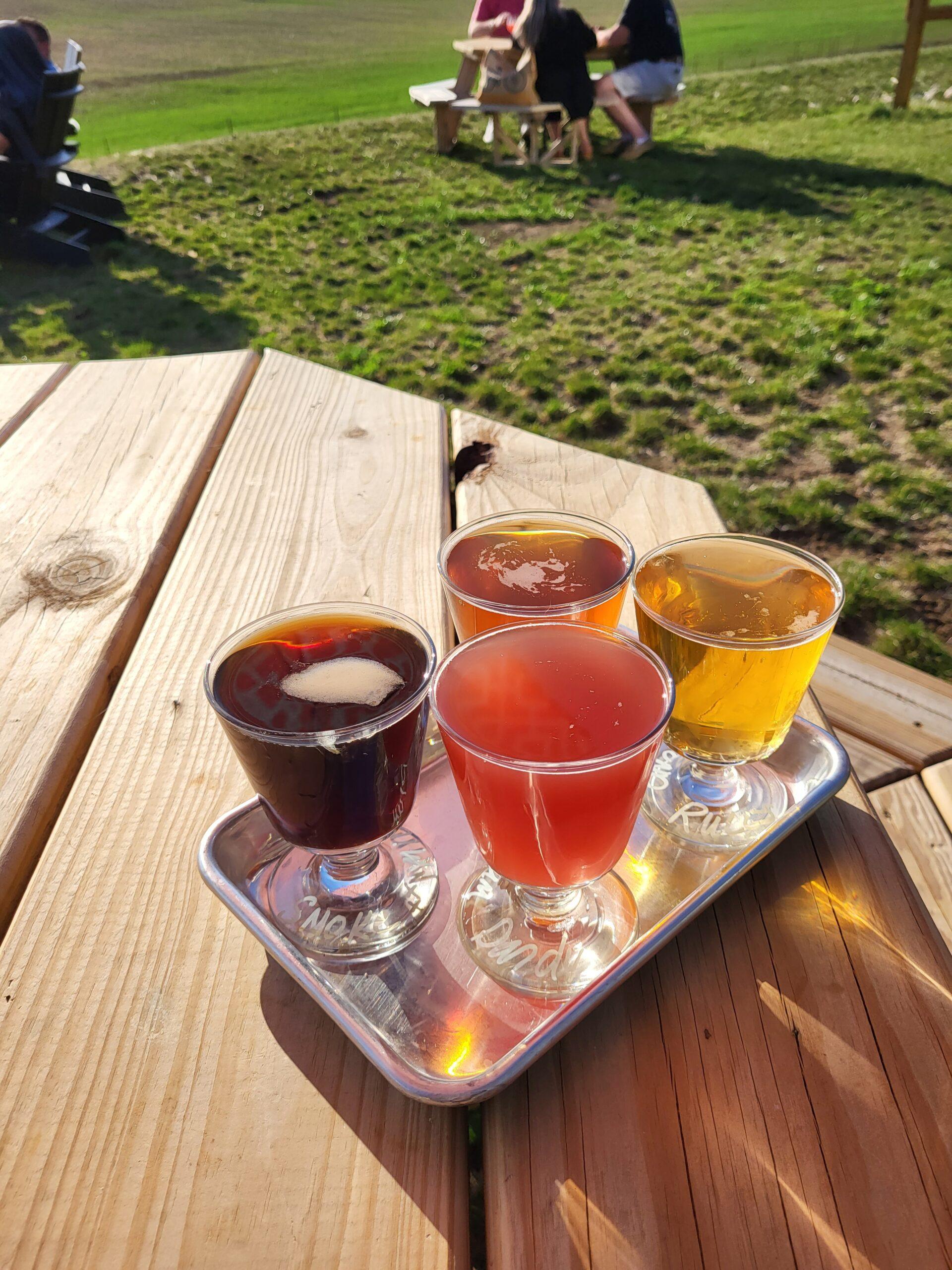 Like crops, many of Dancing Grain's beers are seasonal. The beer available on tap is determined by what plants and other ingredients are in season. "We kind of let Mother Nature dictate what we can produce in a way, to an extent," she said, admitting that this can be frustrating if an ingredient doesn't grow back or is out of season. For example, one of its most famous beers to date was a blueberry sour, which customers still request. However, they have to wait until blueberries are in season because of the brewery's high standard of using only the freshest ingredients. "There's a lot I do on a daily basis to ensure that things are kept fresh," she said. "It's not for the faint of heart; it's a job, but it's worth it. It really does come forth when you make your beer."
The pumpkin beer planned for fall is a case in point. Head brewer Chris "Duffy" Dufrain won't be using cans of pumpkin puree to impart the popular fall flavor. Rather, he'll be using pumpkins grown by Rachel's husband and son that they'll roast for four hours until they become caramelized. "It's going to taste like a beer that's a little elevated by the caramel from the pumpkins," McDermott said.
This is one of the aspects that Dufrain thoroughly enjoys about creating the beers. "If they don't have it on the farm, Rachel knows someone who does have it," he said. "It's great to have that type of freedom and accessibility. It's so liberating."
What's available dictates what beers Dufrain will be brewing six months out. For example, now he's thinking about what beer to make with the purple carrots that will be harvested later in the summer. He clearly enjoys the creativity that this aspect of working for a small brewery affords him. "I've got steady eddies that I keep on tap, but I've got an open fermenter," he said. Here, he can try out new recipes. "It's something that a lot of brewers don't get to do," said Dufrain, who worked at large-scale brewery Single Cut in Clifton Park for four years before eventually making his way to Dancing Grain.
McDermott and Dufrain work hand in hand in flavor development. She'll tell the brewer what types of flowers, herbs and vegetables she's planting as well as what ingredients she can source locally. "We go to all local sources to get ingredients if we don't have them ourselves," McDermott said. The local aspect is paramount. "Really, the beer that we have and we're focusing on producing is hyper locally focused. The water comes from the ground; the grain is in our backyard. Our beers tell the story that really good beer can be made in your backyard, and we get feedback that the beer is fresher or crisper."
Dufrain works his magic in an area located directly behind the counter where customers order their drinks. This is the space that was the farm's former shop where they fixed tractors. Large bay windows flipped vertically provide a view of the fields for those working inside and a glimpse of the gleaming tanks of the 3.5-barrel Fronhofer Brewhouse with four 7-barrel and four 3.5-barrel fermenters for customers seated at tables on the patio.
The brewery's rural setting provided big challenges for brewing. "Building a brewery in a rural setting turned out to be more complicated than I imagined," McDermott said. There was no sewer or three-phase power, the preferred power for brewing systems. With the help of Fronhofer's employees, they were able to reverse engineer the brewing system and switch it to single-phase power in order to have it work in Dancing Grain's location.   
Along with the freshest ingredients, it's clear that Dufrain infuses the beer with pure love of the art of brewing. "I'm very fortunate to have wound up in the place I'm in now," he said. "I still have to pinch myself. I'm super happy, and I'm not taking it for granted. This is what I want to do, and this is what I'm doing." If you visit the taproom, you might catch the bearded Dufrain seated quietly in a corner watching people enjoy the beer. It's one of his favorite parts of his job.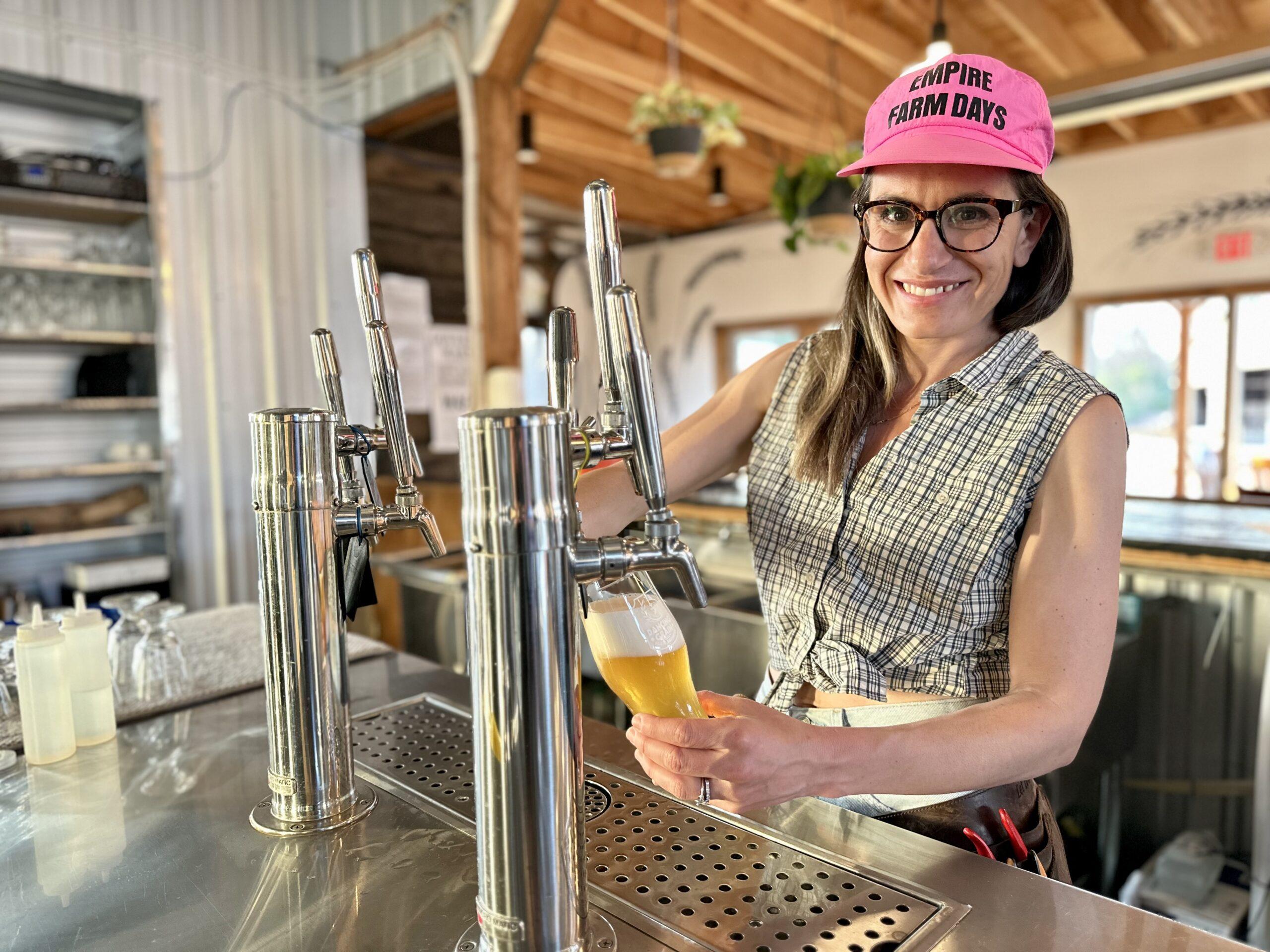 ECO-FRIENDLY EQUALS GORGEOUS
Much of McDermott's extensive transformation of the farm has been largely focused on sustainability. "These beers are cleaner, and not just in your glass—they're better for the environment," she said. "Pretty much, there's no waste here, so everything is composted. It gets returned back to the soil." At summer's end, she'll be considering other sustainable elements such as malting on site and bringing in renewable forms of energy. "Hopefully in the future, we'll take our vertical integration further and actually malt on site," she said. Currently, Subversive Malting + Brewing in Catskill and Valley Malt in Holyoke, Massachusetts malt Dancing Grain's barley.
Part of Dancing Grain's efforts towards sustainability is purposely not distributing its beers. "Distribution is one of the biggest environmental sucks, carbon sucks," McDermott said. "You have to come here to get it."
She wants people to visit to experience not only the fresh craft beer but also the farm itself. "You're coming to our home," she said. "It's kind of the idea of becoming part of the family. The farm family tradition doesn't have to be blood. It could be anybody that cares about the environment and where their food and beverages come from."
A large screen TV above the counter shows footage of the farm in various aspects of production and cultivation. Customers can even get their own hands dirty in McDermott's seed starting workshops. "We want people to engage with the farm and know that they're part of the farm and that they're making a difference," she said. "We want people to know when they come here that every dollar they spend goes to keeping this place going. That's our mission—the reason we make beer—and it's very personal."
The trip is worth it, especially in late summer when the fields are ablaze in vivid golden sunflowers. These are actually a cover crop that had the unintended benefit of being wildly popular with customers. "People are nuts about them," McDermott said. "They've been calling all winter asking about them." Planting cover crops is a sustainable farming practice that improves soil health, slows erosion and controls weeds and pests, among other benefits. The sunflowers bring up micronutrients that will eventually be tilled back down into the soil, making it richer for next season's grain crops.
Customers can enjoy the views from an open taproom that seats around 50 at high-top tables or in outdoor spaces including seating vignettes furnished with Adirondack chairs, low-top tables, and octagonal picnic tables with huge umbrellas. "You're sitting here looking over beautiful farmland…It's comforting," said Brian Langdon of Saratoga Springs who came to the farm with Stayer and other friends.
Along with a glass of beer, customers can grab a bite at a variety of different food trucks that are scheduled from March to October.
For the best experience, bring a hat and sunglasses. Come for the beer…and stay for the sunset. Fill a growler or purchase a crowler to take home. You won't be sorry.
Visit dancinggrain.com to learn more about upcoming events including beer dinners, sunflower field opening, food truck schedule, a special new beer release and OutCrops concert on May 27. Dancing Grain Farm Brewing, 180 Old West Rd., Moreau, 518-808-3432.