New Braunfels Brewing Company, named in honor of one of the town's earliest breweries, sits right off the town square in downtown New Braunfels, Texas
For owner-operator Kelly Meyer and his wife, Lindsey, starting a brewing company in the Texas Hill Country seemed like a good idea at the time. Nearly a decade before, when the Meyers owned a chain of fitness centers in New Braunfels, Meyer sat back to take stock of where he was in life. Not satisfied with hustling gym memberships anymore, the Meyers decided to ditch corporate life. They needed something fun.
"I had a passion for beer, Napa Valley Cabernet, and Scotch whiskey. I had considered doing one of those three," says Meyer. "I knew less about wine, but I knew about beer. I didn't know enough about whiskey, that's for damn sure, but you could make the argument that I didn't know anything about beer back in the beginning either."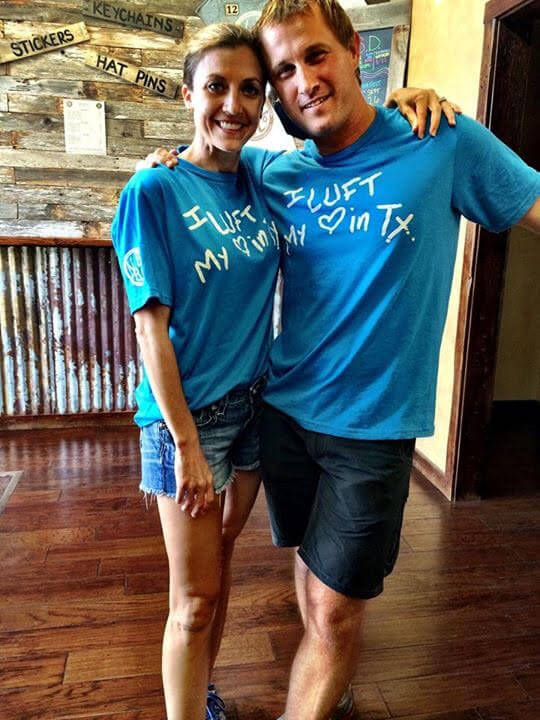 New Endeavors
One night, Meyer pitched the idea of a brewery to his wife. "At least three times she has told me that she regrets having said yes," says Meyer. "I pretty much started ordering shit the next day. I put a two-barrel system in my garage." Meyer would brew on that system every week for a year before he was ready.
That was 2011. Over the next year, Meyer and his wife continued to get their ducks in a row. They formed their LLC early in 2011. Meyer brewed over and over on the two-barrel trying to get the initial recipes right where he wanted them. "I think I read 40 science and beer business books," says Meyer, "and the recipe that I came down to that was actually written, was the LuftWeiss recipe. It was actually the first one I did."
Having procured a prime location in town in January of 2012, Meyer started the build out. His approach to the beer focused more on mostly-wheat or all-wheat beers. His plan was to brew all Texas wheat beers but sourcing 100% from Texas wasn't feasible. So, Meyer took his cue from the Alcohol and Tobacco Tax and Trade Bureau's American Viticultural Area requirements for wine labeling: "[no] less than 75% of the volume of the wine is derived from grapes grown in the labeled appellation of origin." Meyer decided to source 85% wheat from Texas and 15% wheat from other areas.
Though Meyer had to move away from predominantly Texas wheat for more consistency, he still uses as many local ingredients as possible.
Bumps Along the Way
Though practice often makes a consistent beer for a brewer, Meyer admits consistency was a challenge in the beginning, so he hired consultants to assist him. He eventually sold the original fixed 2-barrel system in August 2012 and ordered a 15-barrel system in October 2012. After getting the new system online, Meyer was able to begin brewing with it in May of the following year.
Meyer eventually landed an experienced brewer in Nathan Rice, who helped him nail down the consistency of his beers, as well as the fine art of blending. That's when things really took off.
Meyer's beers are exclusively spontaneously fermented and use mixed culture yeast. Traditional blending techniques employed create a balanced and preferred flavor profile. Consistently working to improve overtime allowed Meyer to take over sole brewing duties once Rice moved on to new opportunities.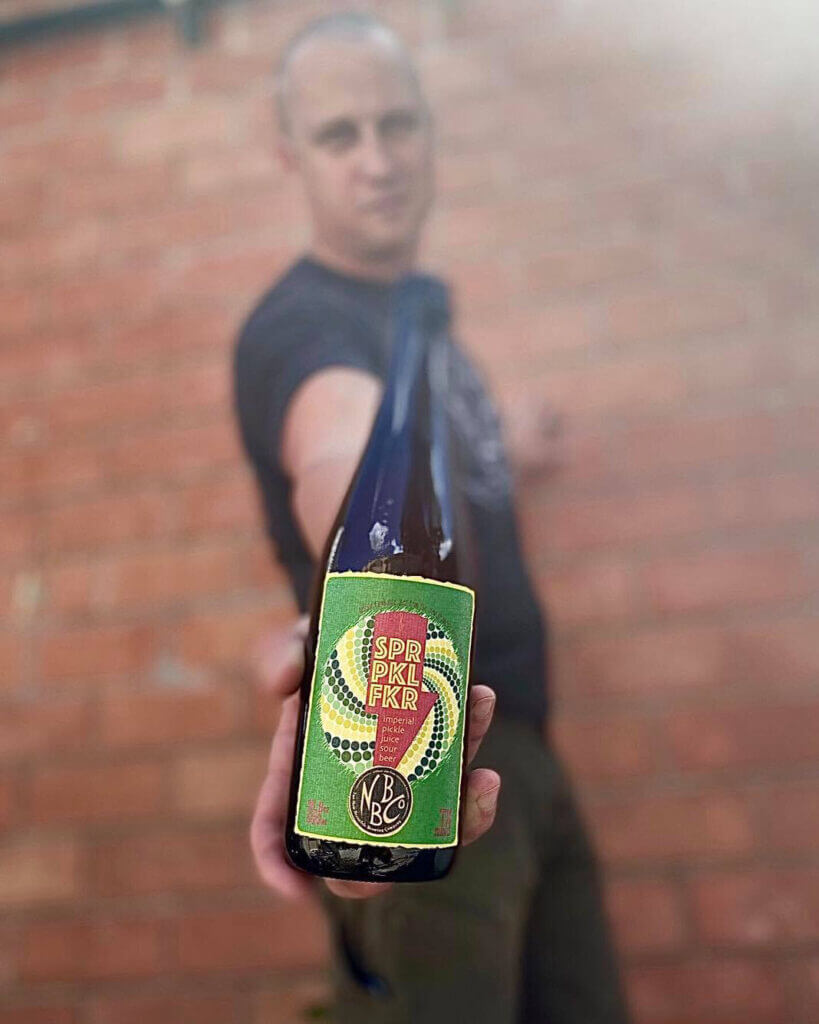 New Braunfels Brewing Creates a Unique Vibe…and Beer
Walk into New Braunfels Brewing's taproom Das Lokal on any given day—you'll immediately notice the focus on spontaneous, mixed yeast culture beers. Meyer showcases many of his beers in series that feature different fruits—the most popular being his Saison de series. Each of these beers uses his base beer Blondine, and often is re-fermented with fruit.
Meyer's beers are so popular that he created a beer club for customers known as the "Sour Junkie Society." Though Meyer dislikes the term "sour," many customers recognize it over the actual style's name. "The term sour is the racist slur of the beer world," says Meyer. "Just because we have acid present doesn't mean that there isn't more to love, more to explore, and more to appreciate."
In recent years, Meyer has become known for one beer in articulations: a pickle juice-based wheat beer known as PKL FKR. The beer idea started out as an inside joke at the brewery but then Meyer wanted to see if he could actually make it. The first keg was gone in an afternoon. "I wasn't going to brew it again," says Meyer. But soon, a plethora of customers were clamoring for him to make more. Meyer obliged, and it's now his flagship beer, far outselling all of the others.
New Braunfels Brewing distributes throughout Texas, as well as a few other states. Distribution may be small, but in Central Texas, you can find many of their beers on tap in bars and restaurants and bottled in stores. Meyer wants to expose areas outside New Braunfels to his beer, while remaining as local as he can.
What started out as just an idea for a different path in life has become a passion for Meyer, one that he chronicles in his new book, How NOT to start a F@ck!ng Brewery: Ten Lessons From The Front Lines of The Craft Beer Industry, which details the mistakes he's made, in hopes that others will learn from them.
"I've spent the last eight years trying to figure out how to run a successful brewery," says Meyer, "and damn, I did make some glorious mistakes."
As with many businesses in 2020, Meyer struggled to keep the doors open, modifying his business model however he needed just to stay open. Though he was happy to deliver to New Braunfels area residents, Meyer even personally delivered orders to customers in San Antonio, and as far away as Houston, Texas.
He made mistakes, sure, but he never gave up, and now things appear to be running smoothly for New Braunfels Brewing—pickle beer and all.