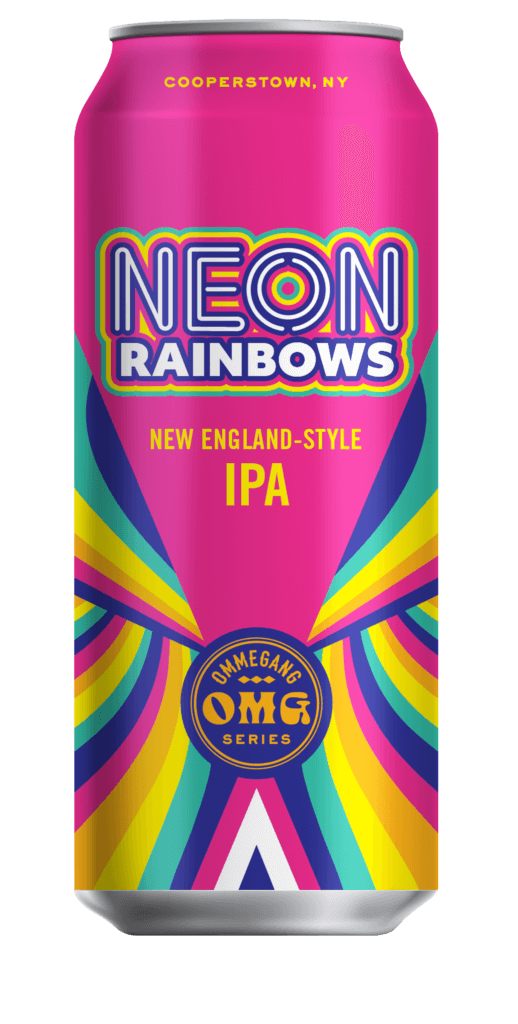 Located in nearby Cooperstown, NY, Brewery Ommegang has built their reputation since 1997 as one of America's premier craft breweries by brewing up a wide array of high quality, Belgian-style ales. However, as consumer craft beer trends shifted away from traditional styles such as Saisons and Belgian Trippels to pretty much anything IPA, Ommegang knew that they needed to be nimble. So, in 2018 Brewery Ommegang quickly adapted to the changing trends and the OMG Series of hazy IPAs was born, including the vibrantly flavored Neon Rainbows.
At the time, Neon Rainbows followed Hopstate NY as the second release in Ommegang's Farmstead Series, beers that drew inspiration from their home on the 140 acre site of the former Lynes Hop Farm in Cooperstown, NY. The double dry-hopped NEIPA began as a one-off experiment for the legendary Belgium Comes to Cooperstown festival, but it quickly became a local favorite. Originally brewed in tiny 15-gallon batches for special events, the breweries new canning line now allows for production batches small enough to ensure this delicate beer is delivered to Capital Region beer lovers at peak freshness. And beer lovers have noticed!
Bursting with juicy tropical fruit flavors and aromas and paired with a pillowy mouthfeel and low bitterness, Neon Rainbows is 6.6% ABV and 45 IBUs. The beer is brewed with pilsner malt and flaked oats for a smooth malt profile and creamy body. Neon Rainbows is so named for the rainbow of hop varietals in the recipe. The beer's aroma features tropical fruit, pineapple, mango, and strawberry with hints of melon, and the hop profile is juicy and citrusy thanks to Magnum, Mosaic, Simcoe, Citra, Centennial, and Topaz in primary hopping, and Mosaic, Simcoe, Citra, and Topaz dry-hopping.
Not only is the beer delicious, but the can itself was recently recognized as one of the "Best-Looking Beer Cans in America 2021" by Ceros Design Awards. "The many colors of the rainbow are inspired by the variety of hops used to brew it, and the wild flowing waves express how it feels to drink it," says Brewery Ommegang graphic designer Rebecca Stone.
Ommegang Neon Rainbows is now available year-round at your favorite craft beer retailer in 16oz cans, 4 pk cans, and on draft.