Just five months after its grand opening in late September 2022, Speckled Pig Brewing Company has been the go-to place to enjoy fine craft beer and wood-fired artisan pizza in Ballston Spa.
The new establishment is a joint project between the Elliott family of Ballston Spa and Larry and Mary Jo Heid. Several years ago, when the Heid's son, Connor, was taking brewing classes at Schenectady County Community College, he introduced Larry to homebrewing. "He and I started brewing together a lot, and I really got into it," Larry said.
The Heids spent their careers in Albany. Larry worked for the city and Mary Jo was an ultrasound technician at Albany Medical Center. When the pair found themselves with an empty nest, they were ready for entirely new second careers. That's when they decided to open a brewery in Saratoga County. "This is our mid-life crisis," Larry joked.
They had originally had their eye on Saratoga Springs, but after investigating, they felt that the brewery scene there was already saturated. That's when they turned their attention to the Village of Ballston Spa, which they surprisingly found devoid of breweries. Larry sought the services of long-time Ballston Spa real estate agent Kelly Delaney-Elliott of Elliott Property Services LLC to search for a location.
It just happened that the Elliott family had made a gutsy move at the beginning of the COVID-19 pandemic. They purchased an old, two-story, broken-down building at 11-13 Washington St. that had been vacant for decades. The building, originally constructed in 1901, housed a variety of businesses over the past century including a bicycle shop, a dress factory and a rental storage facility. When Elliott suggested the building as a location for the Heid's new venture, they were receptive to the partnership.
Let The Transformation Begin
Fortunately, Randy Elliott is a contractor and had the expertise to lead the renovation of the 6,000 square-foot building, and his son, RJ Elliott managed the project, which the families worked on together in an extreme DIY spirit.
It took about a year of hard work to bring the space into alignment with the partners' vision for a relaxed, comfortable place for families, friends and colleagues to gather. "The tap room is the focus of the business," Larry said. "Obviously, we wanted to have very good beer, and we wanted to have very good pizza, but we were concentrating on the taproom experience and the taproom environment."
To that end, there are several types of seating. They built tables out of thick, 11-foot slabs of lumber from Valente Lumber's custom sawmill. Larry cut off the ends to create small, square high-top tables, and then he turned the remaining section into long tables to seat eight people. Sometimes, two groups of four will share one of the long tables, giving the place a friendly, welcoming feeling. The bar, crafted from concrete, has barstool seating where customers enjoy a pint or two. Rounding out the seating is a small lounge area with a couch, chairs, and board games that families take back to their tables to play while waiting for a pizza.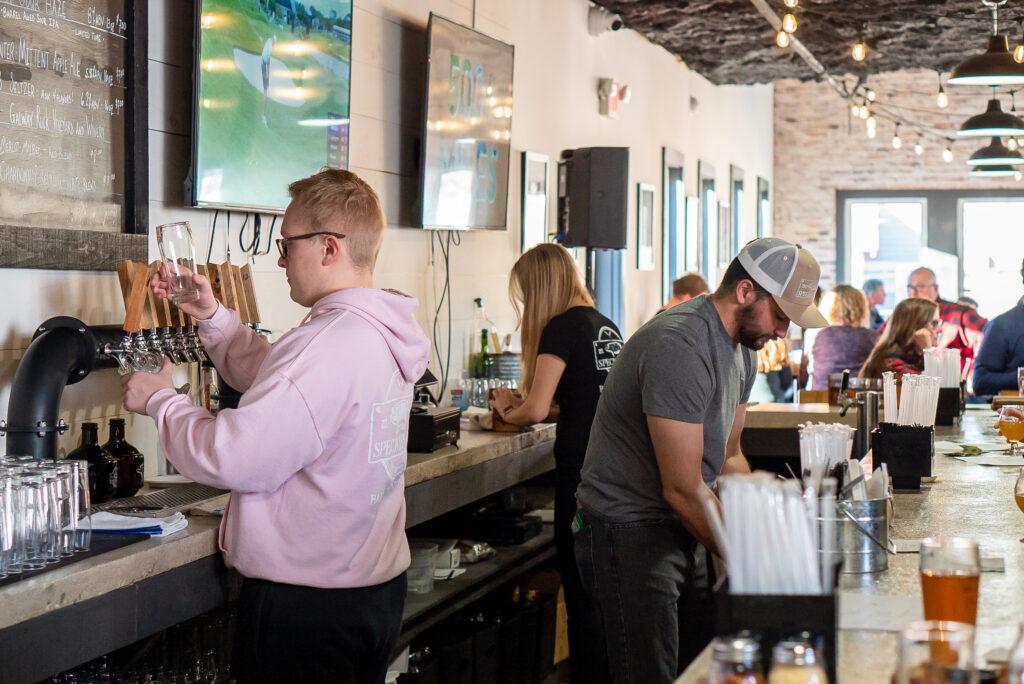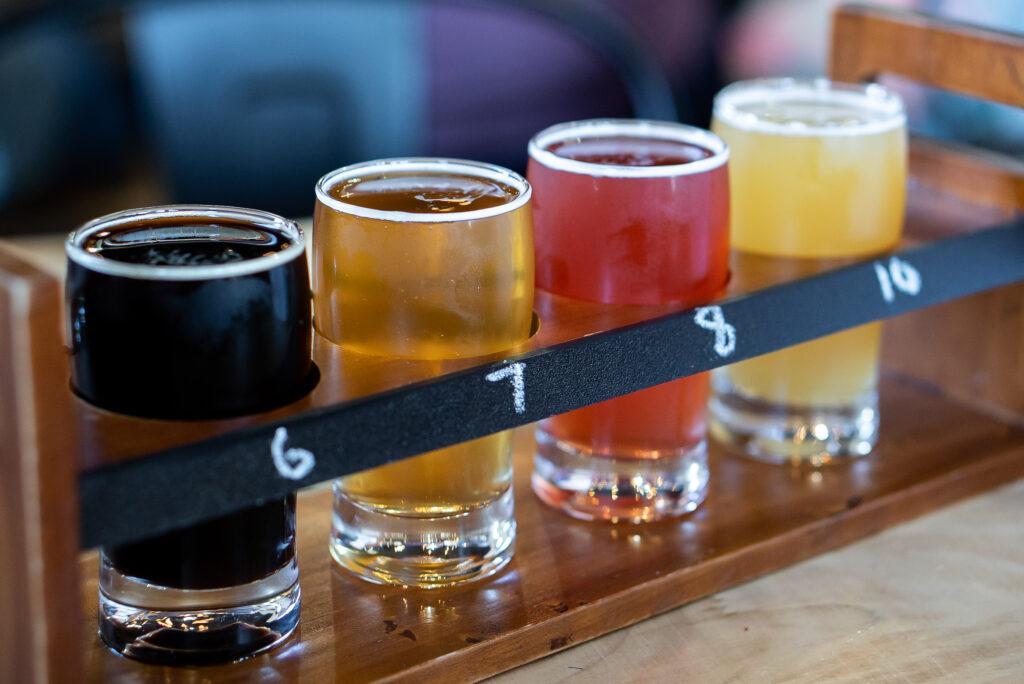 The Heids and Elliotts installed pine plank flooring save for a hand-laid mosaic of black and white tiles in front of the restrooms, and they painstakingly laid bricks, one by one, to create an exposed brick wall at the far end of the space, a nod to the building's historic character. They put up exposed black piping and hung industrial-style string lights from an extremely unique ceiling. To achieve acoustic quality in the cavernous room so that people would be able to carry on conversations comfortably, they sprayed foam insulation on the ceiling. However, instead of covering it up, Larry simply painted it black, transforming it into a surprisingly funky design element resembling the hardened lava you'd see after an eruption of Hawaii's Kilauea volcano.
There are other fun elements, too, like images of pigs burned into floorboards, beams and flight holders as well as two statues of pigs in front of the kitchen area just inside the entrance. For kids, there's the "Pig Pen," a just-for-kids area furnished with a low-to-the-floor table with games and coloring books.
"During the day, it's a great vibe," Larry said. On Saturday evenings, there is live music beginning at 6 p.m., and on Monday evenings, all 80 seats are full for trivia night.
Windows separate the taproom from the brewhouse, where head brewer Terry Halsted makes beer in a Blichmann 3.5-barrel system that he double batches and transfers to 7-barrel fermenters. Offering something for everyone's taste is the main goal. "When you come here, you're going to see the variety," Larry said.
Larry collaborates with Halsted to come up with flavors and decide what 12 beers Speckled Pig will keep on tap for customers to enjoy on-site or take home in growlers or cans. The flavors, Larry said, come from "creativity and trial and error."
There's the hazy NEIPA "Restitution," Larry's homebrew favorite, as well as two other NEIPAs. The brewery recently announce that it is going to start marketing Restitution to area bars and pubs through Saratoga Eagle Distributing.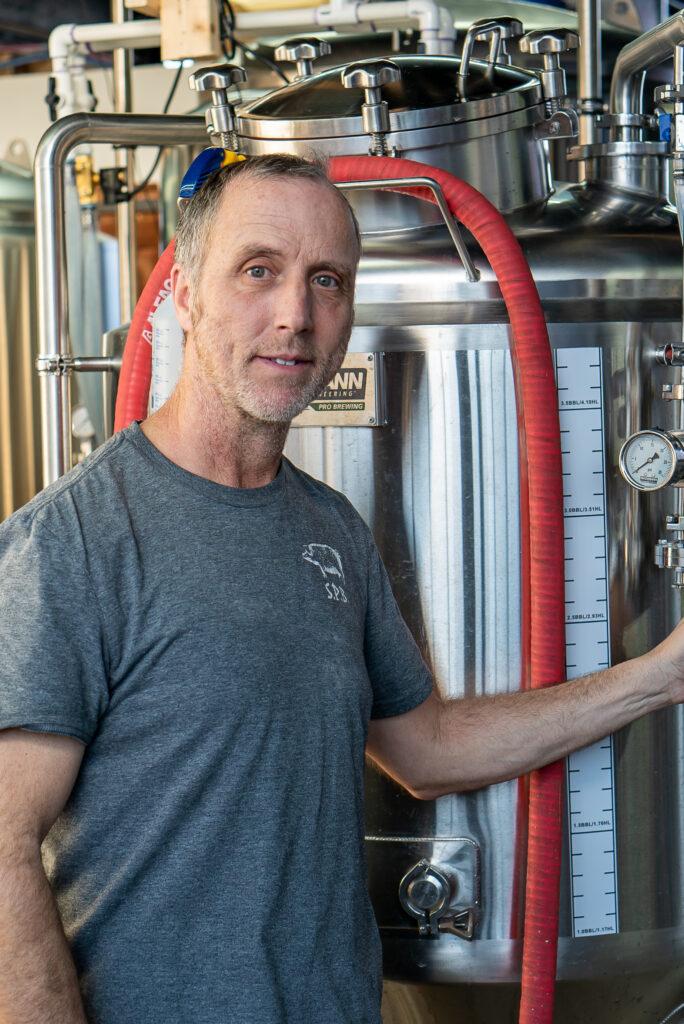 Other styles include an amber ale, a gose, and seasonal beers like the "Winter-Mittent Apple Ale." "Rebel Rose," a black cherry sour that has turned out to be very popular with customers.
Speckled Pig just made a very niche beer, "In a Sour Haze," a barrel-aged sour IPA. In contrast, they also offer an amber ale and a Czech pilsner that have a much wider appeal. The brewery is currently aging it's a popular cream ale in bourbon barrels to put on tap soon, keeping the offerings rotating and fresh.
Some of the stouts and porters, such as the "Peanut Butter Cup Porter" flavors are sparked by a collaboration with Coffee Planet, located just down the street from the brewery.
Speckled Pig has a New York Farm Brewery license, so 60 percent of its hops and grain must come from New York sources. It takes some ingenuity to get New York hops to mimic New Zealand or West Coast hops, for example, but Larry and Halsted manage to do it. Currently on tap is "Hindsight 2020," Ballston Spa's version of a West Coast IPA. "We've done some pretty good maneuvering to satisfy the requirements," Larry said.
The brewery also keeps its own hard seltzer on tap, which customers can order in a range of flavors.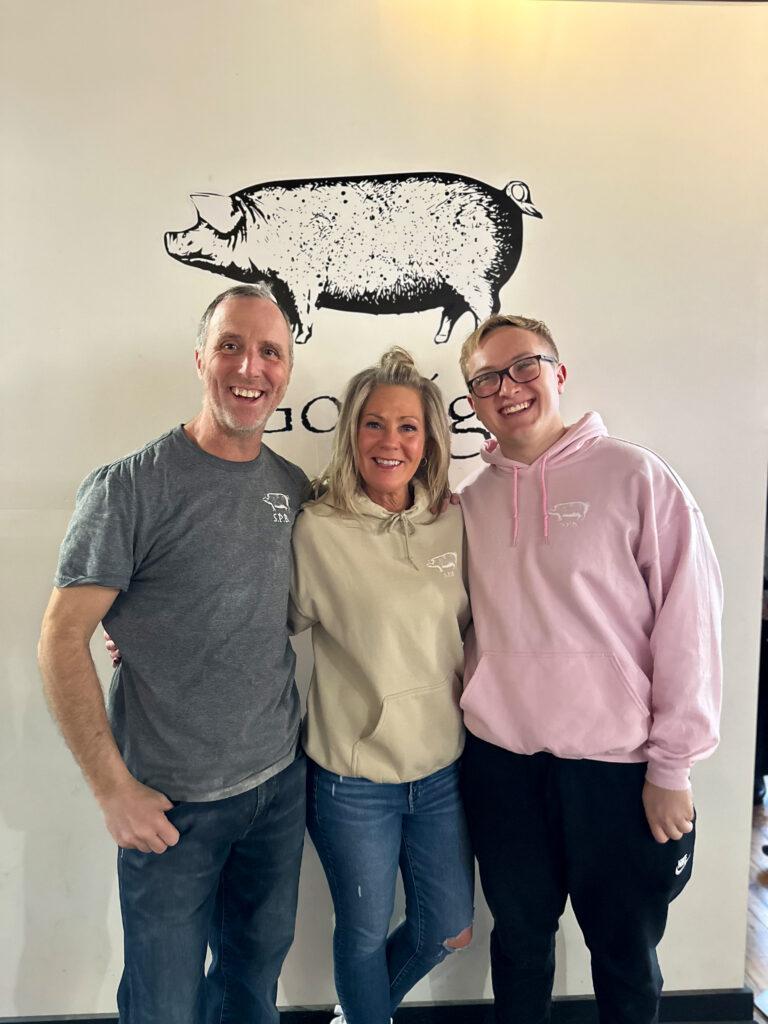 On the weekends, where the business sees 225 to 250 customers per day, waitstaff is nicknamed "flight attendants," because there are so many new people, a mix of locals and well as out-of-towners, coming in to try flights of beer. Hearing their reaction is one of Larry's favorite parts of owning a brewery. "It's very satisfying when people like your beers," he said. "I like when I overhear people say it. I actually try to listen when people are talking about the beers."
Homebrewing really opened Larry's eyes to the relationship between beer and agriculture, and it ended up inspiring the brewery's name. "As a regular consumer, you pick up a 6-pack of beer, and you don't give a thought to how it was made," Larry said. "Since I became a home brewer [and now brewery co-owner], I've realized what a connection to the farmers there is for beer."
When they were visiting farms to prepare for opening the brewery, they came across one farm with pigs, specifically, pigs with small spots. In Larry's mind, they were "speckled" pigs. They liked the sound of that name, and with it, they could pay homage to the farmers who grow the ingredients they use to craft their beer.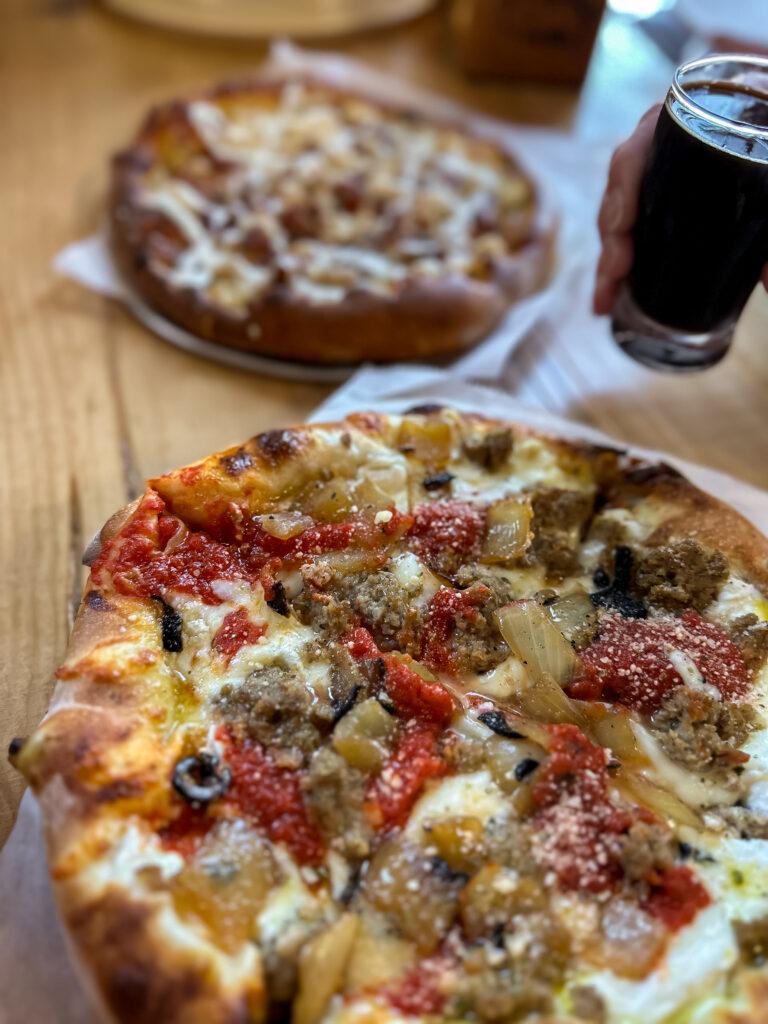 Along with the brewery's taproom-centric design came the decision to make pizza, creating a place where people could enjoy great beer and have a meal instead of having a couple of drinks and leaving to find a place to eat.
A large, eye-catching wood-fired pizza oven is likely the first thing that customers notice when they enter the brewery. On the weekends, a kitchen staff of at least three man the pizza oven, cooking up artisan pizzas from scratch. The menu features traditional flavors as well as some unique combination such as "The Figgy Piggy" with ricotta sauce, figs, mozzarella prosciutto, and arugula topped with a balsamic glaze or "My Boy Blue," a white pizza with blue cheese, mozzarella, smoked bacon, caramelized red onion, and apple with a rosemary-honey drizzle. Customers can also order big Bavarian pretzels, and the kitchen accommodates gluten-free crust and vegan requests.
The pizza has turned out to be just as popular as the beer. "I thought we would just be a brewery with pizza on the side," Larry said. "Sometimes it's like a pizzeria that has beer," he joked.
Be sure to go thirsty and hungry to Speckled Pig Brewing Company, 11 Washington St., Ballston Spa, www.speckledpigbrewery.com.