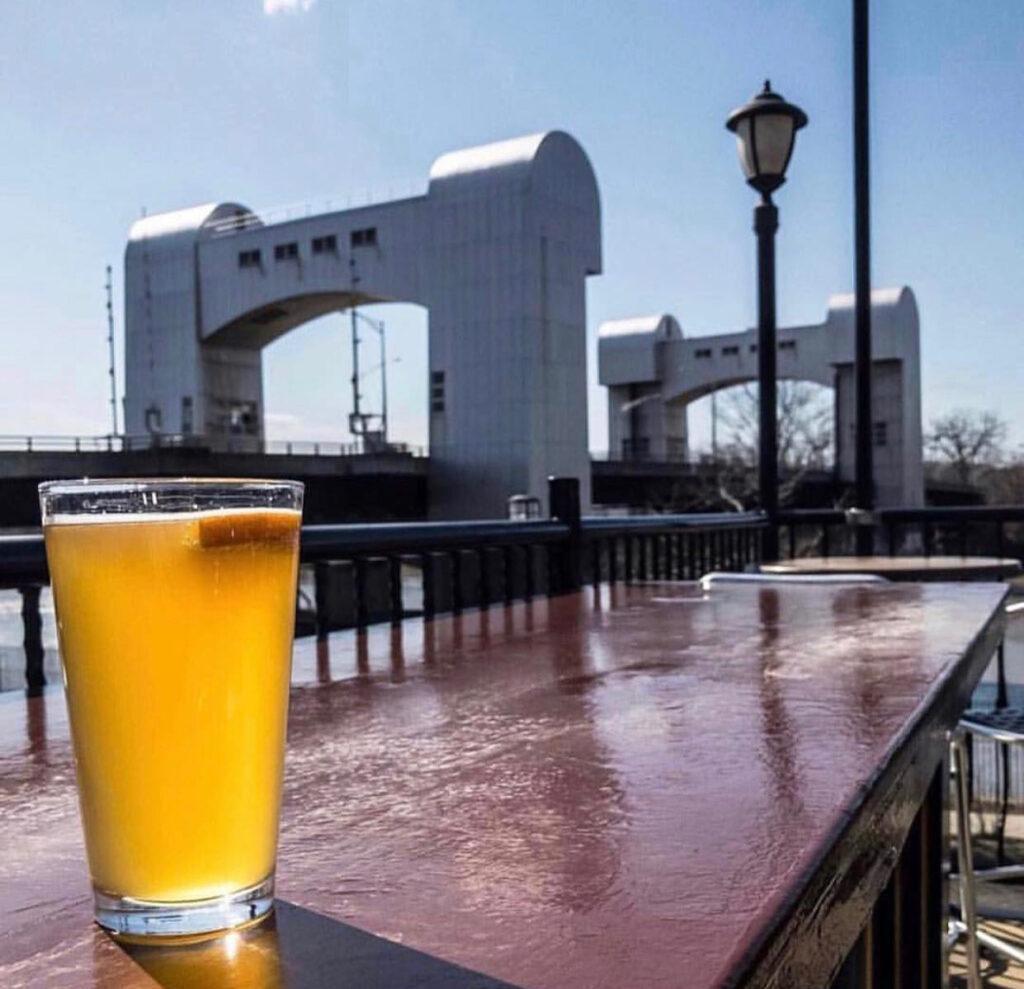 As we drift into the heart of winter, and Covid continues to alter the guidelines of what we can and can't do, many of us are keeping it close to home when it comes to winter adventures this year. As a beer lover that enjoys winter hikes, skiing, and other outdoor activities, I always looked forward to looping in a craft beer experience anytime I ventured out to the North Country or to Vermont.
Since many of us will be "keeping it this local" this winter, let's take a look at the emerging craft beer gem that we call Troy. While Saratoga, NY has certainly earned its title as "The August Place to Be," Troy, NY has emerged as a year-round destination city for lovers of all things craft beer. With a bustling downtown that presents locally owned boutiques, historical buildings, entertainment/restaurant venues, farmers markets, and much more, one can simply park their car downtown and have more than a dozen options within walking distance to grab a great craft beer. Venture a bit north toward central Troy and Lansingburgh, and you'll find a few more craft beer hot-spots. Or shoot down to South Troy and hit the Tipsy Moose and others.
No matter which way you go in Troy, you will find plenty of great craft beer. Here are some of the places that our readers have told us you must visit: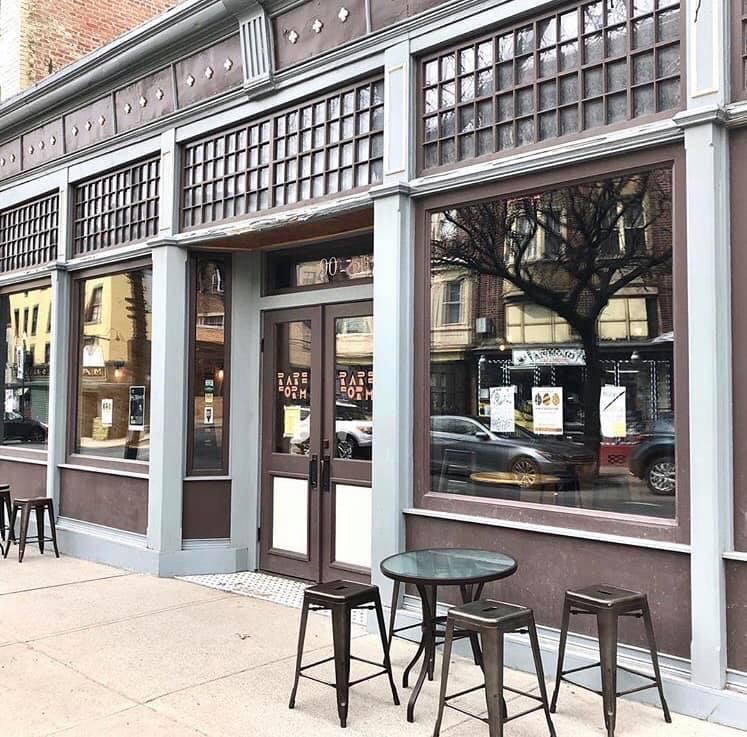 RARE FORM BREWING CO
Address: 90 Congress Street, Troy NY
Hours: M-Thurs: 4PM-10PM, Fri: 4PM-12AM, Sat: 11AM-12AM, Sun: 1PM-7PM
Phone: (518) 326-4303
Founders: Kevin Mullen & Jenny Kemp
Established: May 2014
Vibe: 70s Colorado ski lodge meets Breaking Bad laboratory dressed up in Victorian brick industrial chic.
Food: Handcrafted specialty pizzas with seasonal toppings on sourdough crust made by Ovenbird baking right in Troy. Everyday delicious and half price on Sundays. If you're just looking to snack, we've got the excellent salsa and chip combo from Dreams Aren't This Good, another local food outfit.
Beer Philosophy: The best beer flavors don't just socialize, they high five and hug. Balanced and approachable beers are our motivation; we drink them, we brew them, we serve them. You won't find more flavors in our beer than a chef could fit on a plate. We strive to embrace the culinary aspect of brewing, and as such we offer beers designed with food in mind. Together, they can enhance the sensory experience entirely.
That One Thing: "Our taproom experience is laid back and cool. We've got live music a few times a month with vinyl nights, trivia, and pop-ups in between. Come experience the passion and energy of a brewery on the move."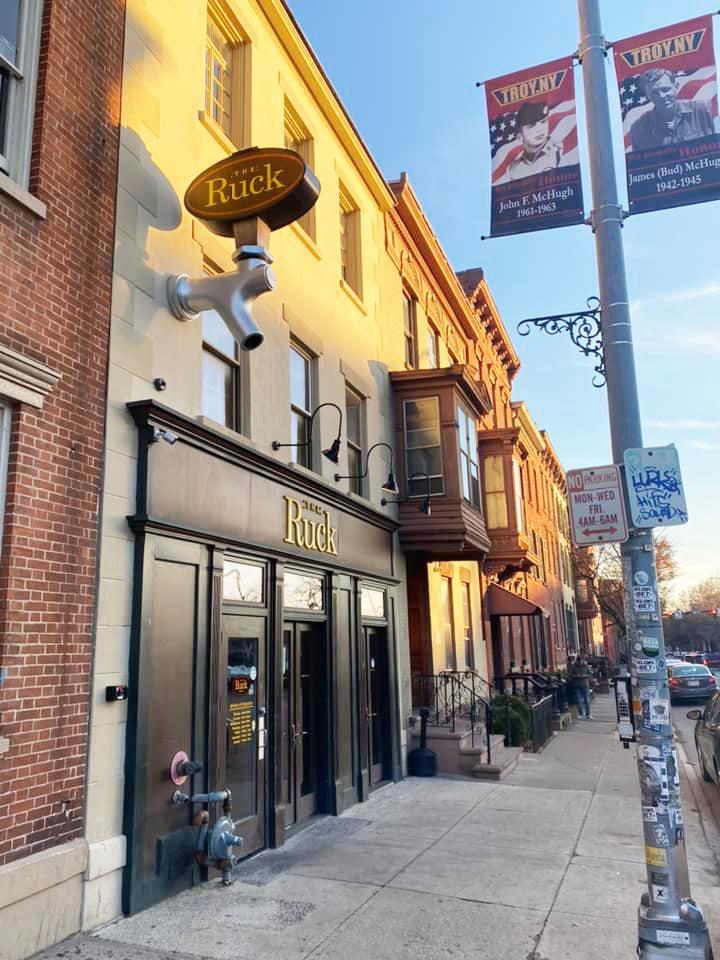 THE RUCK
Address: 104-106 3rd Street Troy, NY 12180
Hours: Open 7 days a week (Holiday hours may vary)
Mon-Thurs: 4pm- Midnight, Fri: Noon-2am, Sat: 11am-2am, Sun: 11am-Midnight
Phone: 518-273-1872
Owner: David Gardell
Established: January 1998, purchased by Gardell in 2004
Vibe: A dark & weathered woodsy interior, 40 + foot long bar, and hundreds of tap handles hanging from the ceiling. With 32 beers on draught that pair with our food offerings, from our dinner table to yours, we hope you eat, drink, be merry, and enjoy!
Food: Each of our signature dishes and dressings are made from scratch, many using beer as an ingredient. Our menu is diverse, from our award winning chicken wings and blue cheese to signature burgers, sandwiches, salads, flatbreads and a variety of vegetarian/vegan options.
Beer Philosophy: We Kick Kegs! You will never know what is next on tap at The Ruck, but what you can expect is an ever rotating lineup of world class beers that are local, regional, national and international.
That One Thing: Beer Education. Our team works with the Cicerone Program and are either a Level 1: Certified Beer Server or a Level 2: Certified Cicerone. We pride ourselves in offering the detailed stories of the people of craft beer and their process. We take The Ruck on the road, bringing our team to meet the brewers and visit their work spaces. We learn from these experiences firsthand and share them with our guests.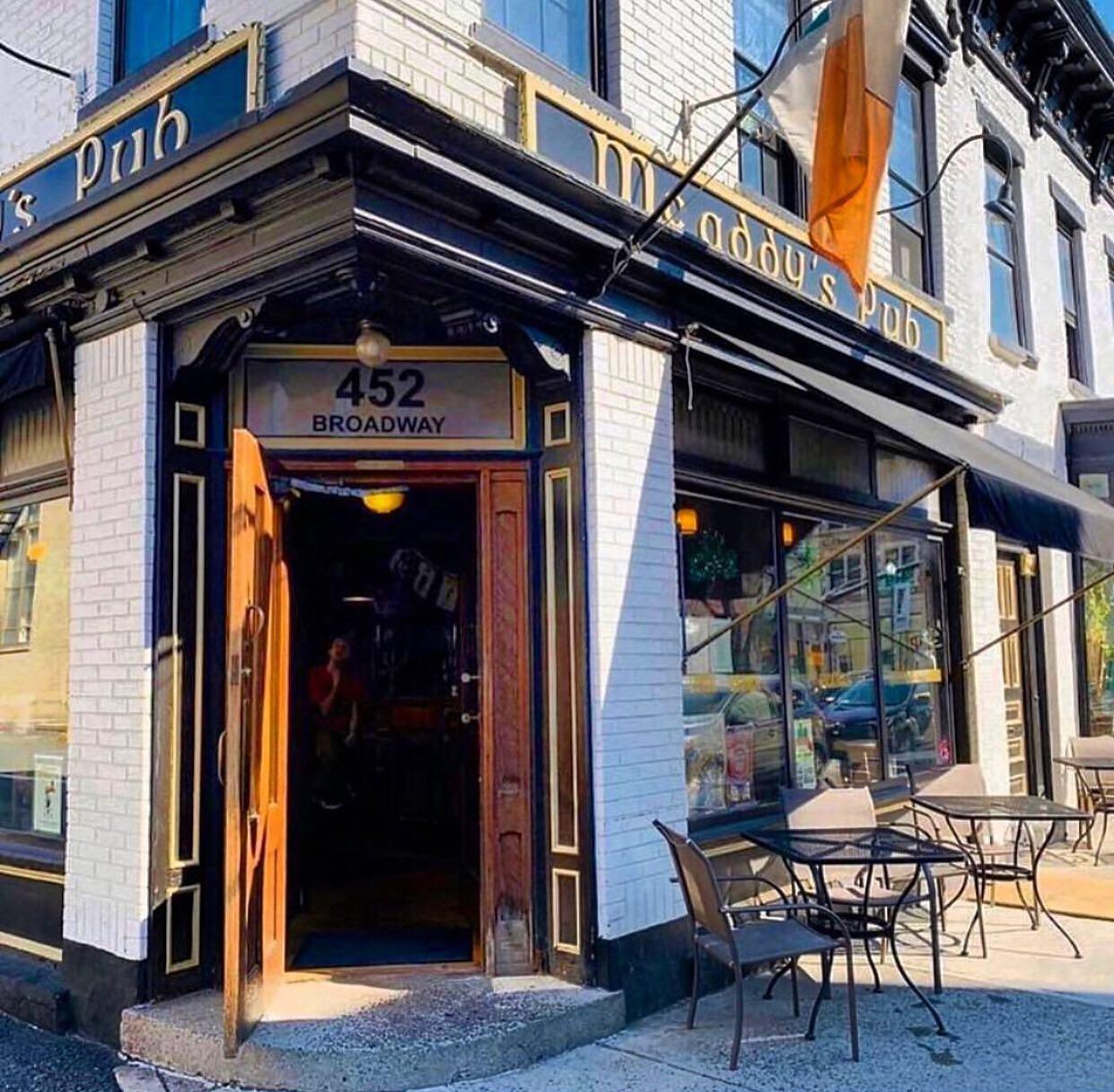 McADDY'S PUB
Address: 452 Broadway
Hours: M-Thurs: Sun 12-8pm, Mon 4-10pm, Tues-Thurs 4-12pm, Fri 4pm-2am, Sat 12pm-2am
Phone: 518-326-0588
Founders: Susie Carrk
Established: March 16, 2018
Vibe: Traditional 1850's Pub, updated with multiple indoor and outdoor dining, drinking, and entertainment options. Cozy, inviting, casual, and family friendly.
Food:  House-made delicious pub fare featuring seasonal monthly specials.
Beer Philosophy: 24 beers on tap, rotating and seasonal draughts. Import staples such as Guinness, Smithwicks, and Harp. Domestic classics such as Utica Club and PBR. Rotating craft beer can options. Happy Hour is daily from 4pm-7pm.
That One Thing: "We strive for a friendly, fun, and welcoming experience to all that work through the door!"  Book your private party by calling 518-326-0588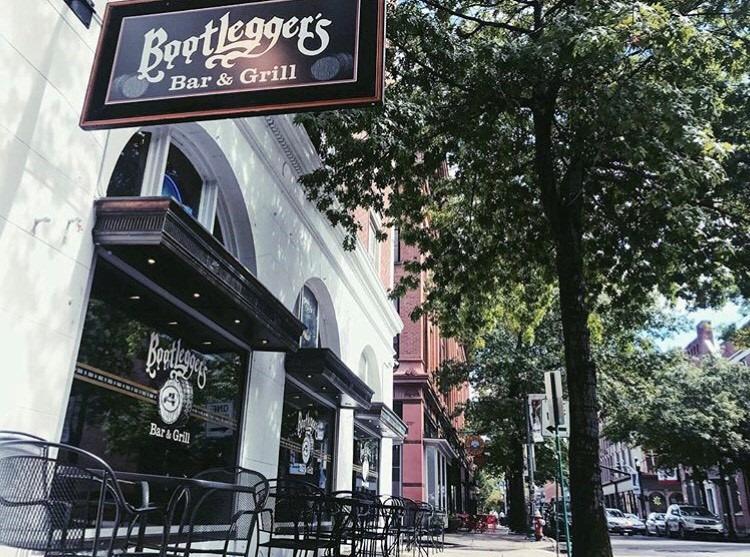 BOOTLEGGERS ON BROADWAY
Address: 200 Broadway, Troy NY 12180
Hours: M-F 3:30-Close, Saturday 12-Close, Sunday 12-Close
Phone: 518-874-4475
Founders: Abby & Nate Rock
Established:2011
Vibe: A second home to most that come in. Lots of woodwork with a wide-open floor plan that leaves plenty of space for any size group.
Food: A large menu with lots of options from appetizers to entrees. From Burgers to Pizzas most everything is made from scratch. Very Large portions with great price points that everyone can afford. A must try:  Homemade Beer Battered Chicken Tenders. By far the best in the capital district! Well, at least we think so.
Beer Philosophy: With 30 beers on tap we cover almost every style and season beer offered at the time. We stay mainstream with a few one offs here and there. When you walk in you will most likely know or recognize our beers on tap. You probably have even tasted them once or twice. We put on what the people want and what sells the most!
That One Thing:  We are Troy's One-Stop-Shop! We offer everything you could want in one place. From homemade food to specialty cocktails, wide beer variety, dancing, dartboards and many TVs to watch your favorite game. So good it should be illegal!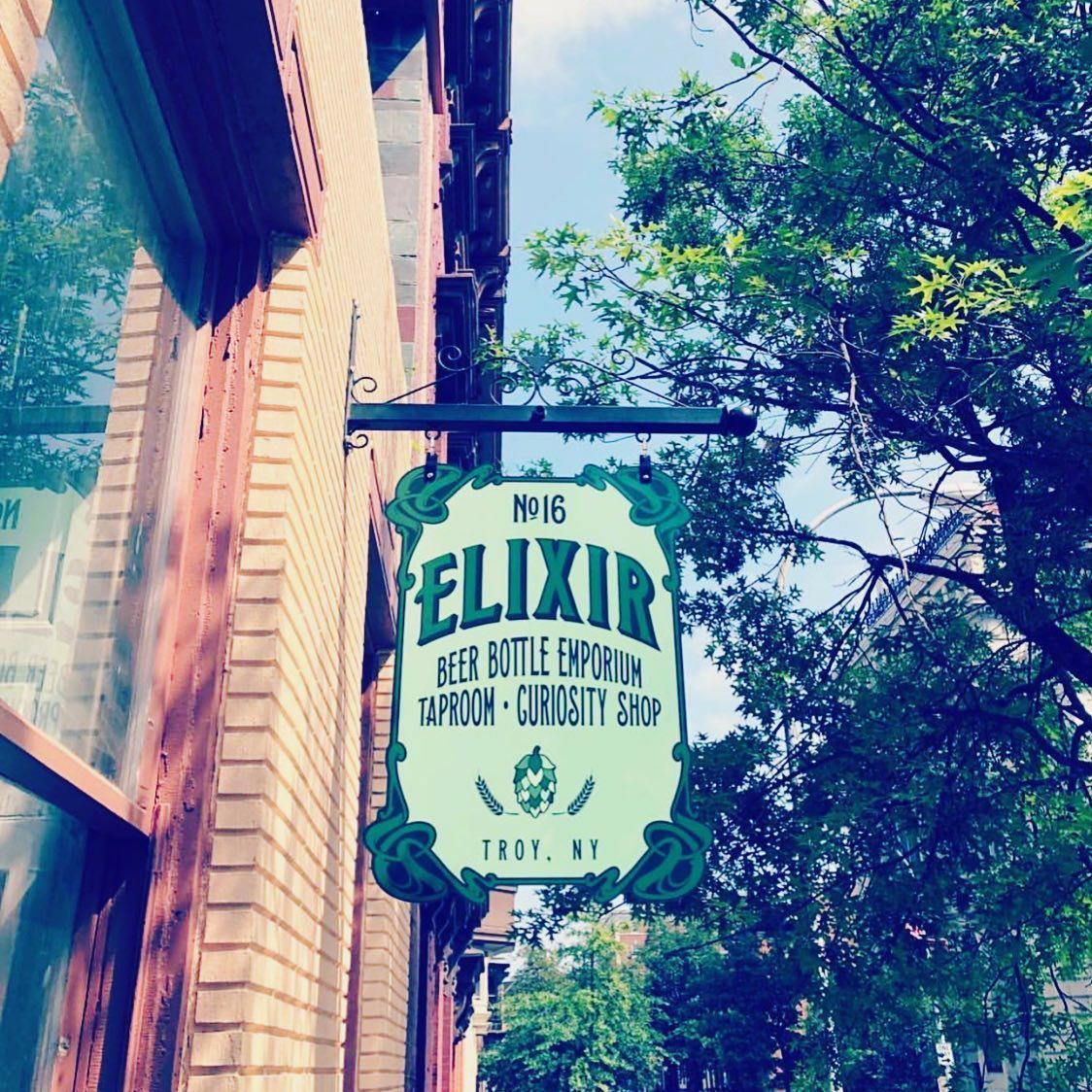 ELIXIR 16
Address: 45 2nd Street Troy, New York 12180
Hours: Wednesday & Thursday 5:00-11:00 Friday 3:00-12:00 Saturday 2:00-12:00
Email: [email protected] or message through Instagram or Facebook @Elixir16Troy
Founder: Megan Reavey
Established: 2017
Vibe: Tucked away in an 1822 Victorian Brownstone, this hidden gem is considered one of Troy's best kept secrets, where it is said that only the brave and curious find their way through the door; therefore, drawing in an eclectic and interesting crowd as diverse as the beer selection we carry. Once inside you will find a welcoming atmosphere, super friendly staff and will quickly feel right at home. Not your typical beer bar vibe, this place breaks the mold. You will find random curiosities, large flowers on the wall, colorful velvet furniture, vintage photos and antiques with stories (just ask!)  and a scattered mix of doctor paraphernalia complete with a doctor's chair and skeleton mascot; a nod to the building's history and former glory as a doctor's office for over 100 years. One thing is for sure, a jaunt in this peculiar gem is just what the doctor portered and it will certainly cure what ales you. Curious? Come and see for yourself! If you can find us;-)
Food: A rotating variety of dumplings imported from the famous Dumpling Galaxy in Queens, NY as well as pop ups and collaborations with local businesses.
Beer Philosophy: Choose your own adventure! With 6 rotating draft lines and mighty coolers colorfully stocked and loaded with over 100 varieties of beer at all times, our beer selection is diverse, rotating constantly and covers all the bases. From the funky and weird to the old faithful staples, while you may be overwhelmed with all of the choices, you will never be bored. In addition to the killer beer list, you will find hard ciders, seltzers, kombuchas and teas as well as wine, prosecco, and all natural canned cocktails; so there truly is something for everyone here.
That One Thing: Elixir 16 has become known around town as a lucky date spot. Its mysterious atmosphere can be romantic. Perusing the many beer selections together can be fun and an enjoyable conversation piece. We also pride ourselves on the lack of screens, promoting real connection and genuine human interaction. In the few years that we have been around, there have been an unusual amount of happy couples born out of dates at Elixir and often come back to share the story. Being a hopeless romantic myself, I love this aspect of the world we created here. If you find yourself here on a date and want a clue as to what the future holds for you, or simply need assistance in choosing which amazing beers to commit to next, ask The Book of Answers.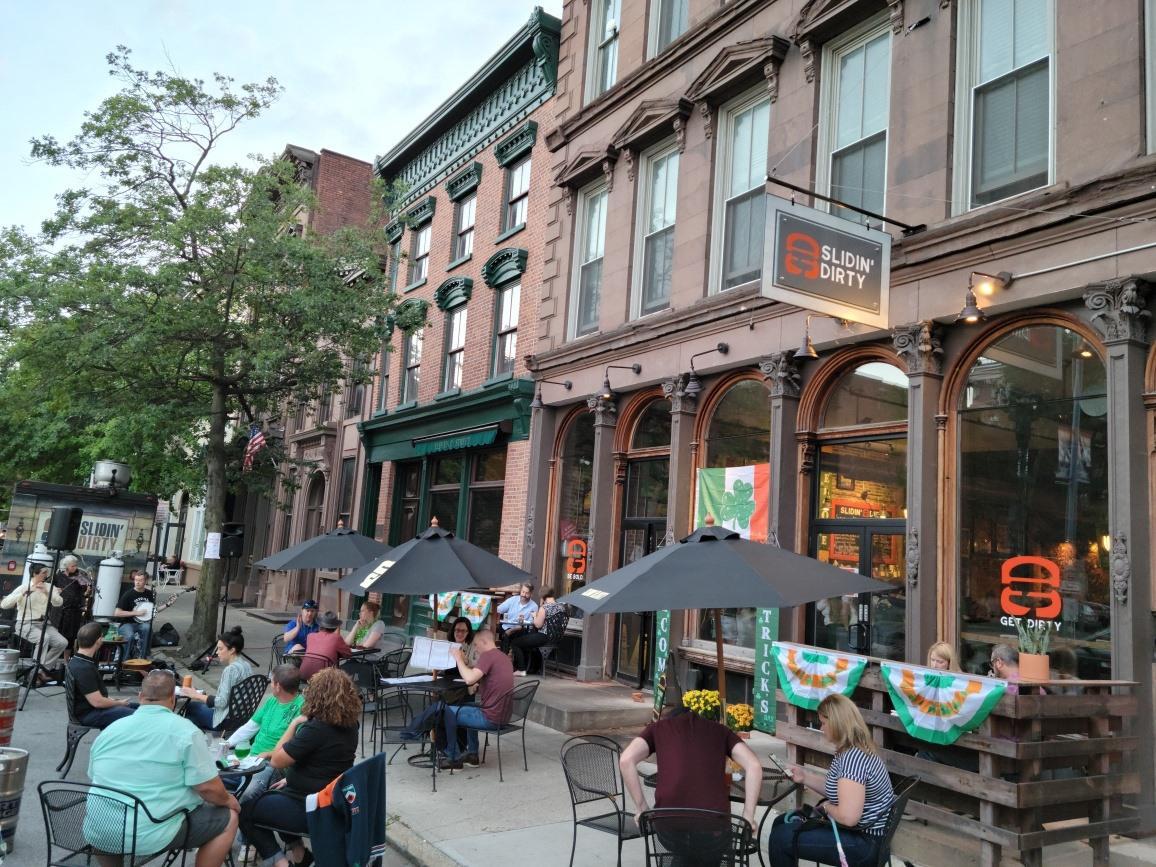 SLIDIN' DIRTY
Address: 9 1st street
Hours: Mon-Thu: 11am-9pm, Fri-Sat: 11am-10pm, Sun: 10am-8pm
Phone: 518.326.8492
Founder: Tim Taney
Established: 2012
Vibe: Post-industrial with natural materials like reclaimed wood and brick. Streetlamps and subway tile offer a unique twist to this 150+ year old building. Concert posters adorn the walls as your attention can't be helped but to be drawn to the 120" projection screen showing live concerts and music videos at all times. Lights down, music up!
Food: The kitchen is the heart and soul of Slidin' Dirty. "We take a burger concept, and we shrink it and twist it." Everything is made from scratch with some signature items like our house-made pickles, bacon jam, avocado fries and duck confit chicken wings. A variety of braised meats, award winning mac and cheese and a vegan menu offers something for the patrons not craving mini burgers.
Beer Philosophy: Keep it local! 10 draft lines which feature all New York craft brews all the time. Our can beer selection includes 30-40 craft beers in a variety of different styles. Although it's mostly local, our can selection does include craft beer from around the world. In addition to the craft beer cans we also have a selection of 'Dad Beer' including PBR, Utica Club and other domestic options. "New York has some of the best craft beer in the country, why look anywhere else."
That One Thing: Our motto is "Get Dirty!." Like a kid on a playground, it's always more fun if you allow yourself to get dirty. When you come to Slidin' don't take yourself too seriously. Let your guard down and allow yourself to get dirty. Have fun with the innuendo that exists throughout our menu and bust the bartenders chops because if you don't bust theirs, they'll bust yours.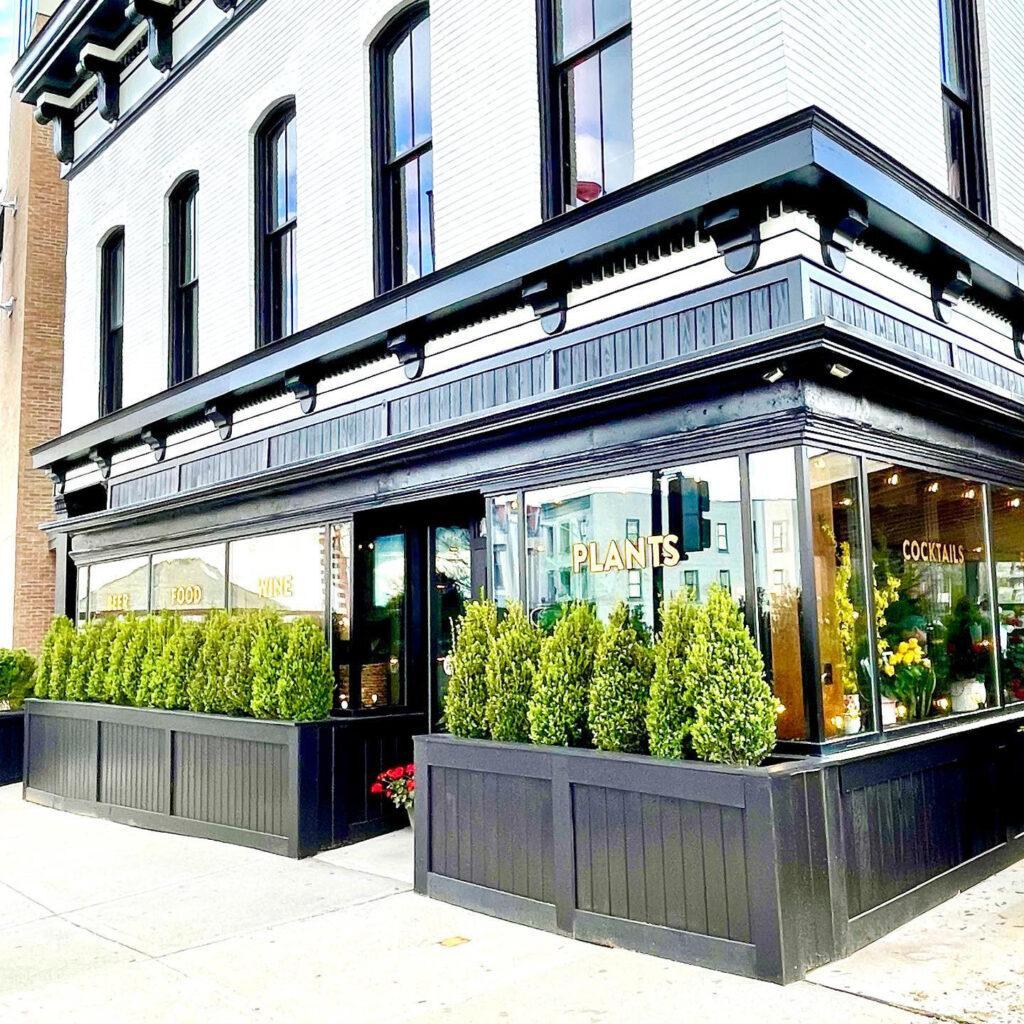 TROY BEER GARDEN & BERLIN LOUNGE

www.thetroybeergarden.com
Address: 2 King Street, Troy NY
Hours: Sunday & Monday Closed, Tuesday – Saturday 4PM – Close
Phone: 518.244.5215
Founder: Matt Baumgartner
Established: 2021
Vibe: Tropical jazz lounge. Photo-worthy cocktails that taste as good as they look, rotating draft beer selection that highlight local breweries. No pushy servers, but our bartenders are as attentive to the floor as they are to the bar. New York City atmosphere with Upstate New York pricing.
Food: Plant-based small plates, evolving with the constantly changing seasons of Upstate New York. Our menu is a sight for sore eyes, tasty options outside black bean patties & salad.
Beer Philosophy: We have 20 "dedicated style" lines pouring the full spectrum of beer, focusing on local options & universally loved classics. We are by no means beer snobs, but we pride ourselves on bringing in tasty brews that reflect seasonal flavors.
That One Thing: Our bar offers a unique experience. Our staff is a joyous bunch that's excited to be a part of your night out. Whether it's a private event or a nervous first date, we are concerned first & foremost with each party leaving with a smile on their face.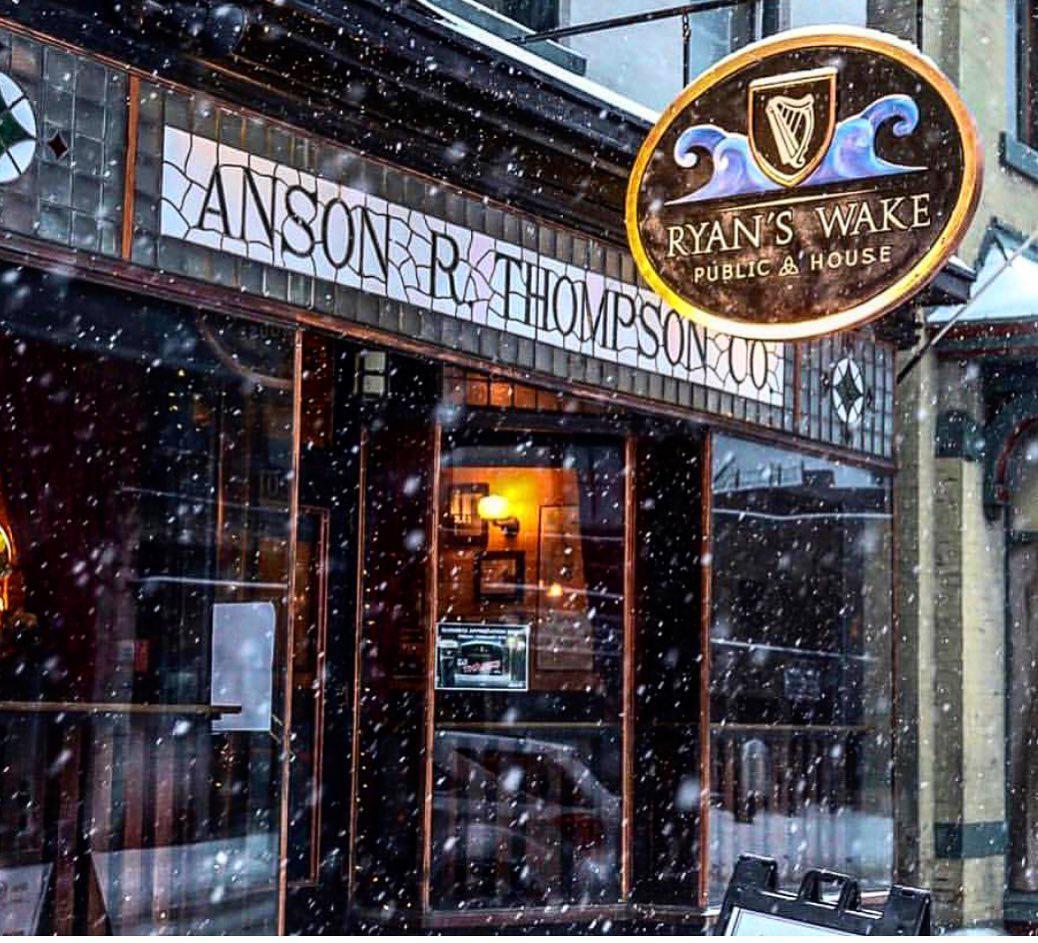 RYAN'S WAKE
http://ryanswake.com/
Address: 403 River St. Troy, NY 12180
Hours: Open Tue, Wed, Thurs @ 4 pm Friday @ 3pm and Sat @2pm. Currently closed on Sundays and Mondays
Phone: 518-270-9253
Founders: Chris Ryan
Established: 2005
Vibe: Irish Pub – Warm and inviting, classic Irish pub feel. Bar is made from Cuban Mahogany circa 1890. Tin ceilings and two decks on the river for the warmer weather. Newly expanded Flynn Side with The Chamberlain Room (event space) added in 2020.
Food: CIA trained chef preparing a well thought out menu with specials daily.
Beer Philosophy: A lineup of Guinness, Smithwicks and Utica Club are mainstays, with a variety of seasonal rotations. We sell beer by the pint, so we keep abv and sessionability in mind when selecting our lineup. Craft beer enthusiasts will easily find something to enjoy.
That One Thing:  Large place with a neighborhood feel. People of all ages congregate here. We celebrate all of life's occasions.
BROWN'S BREWING COMPANY'S TROY TAPROOM 
https://www.brownsbrewing.com/
Address: 417 River Street
Hours: Monday-Tuesday closed, Wednesday-Thursday noon to 9 pm, Friday-Saturday noon to 10 pm, Sunday noon to 8 pm
Phone: 518-273-2337
Founders: Garry and Kelly Brown
Established: 1993
Vibe: Our industrial riverfront taproom is a lively, comfortable, and welcoming environment for craft beer enthusiasts and those new to beer. The setting, beer, food, and staff combine for the complete Brown's experience.
Food: From award-winning wood-fire grilled wings and the best ever chicken sandwich (really, that's the name) to Oatmeal Stout beer pretzels and innovative weekly specials, Brown's Brewing culinary offerings are designed to pair perfectly with their beers.
Beer Philosophy: We continually innovate, experiment boldly, and passionately brew the beer we want to drink with our friends and patrons.
That One Thing: "Beer is life. We pour our hearts into providing the best beer in the best environment"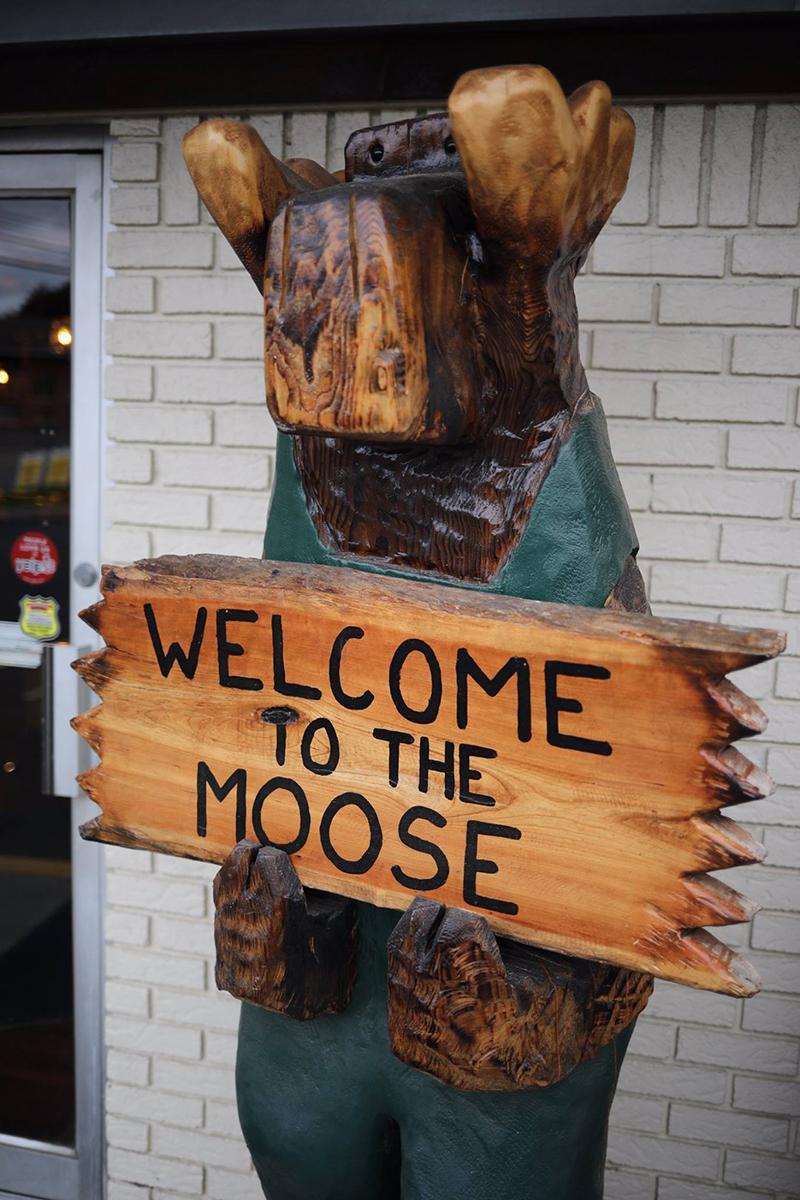 TIPSY MOOSE
Address: 62 Vandenburgh Ave
Hours: Mon-Fri 11:30am-1am, Sat/Sun 10am-1am, Kitchen: open til 10pm, Brunch: 10am-2pm, Sat/Sun
Phone: 518-966 – 8448
Founders: Rob Tario and Brendan Brader
Established: 2016
Vibe: With our warm, cabin-like atmosphere that encourages socializing while eating great food, you'll always find a friendly face at the Tipsy Moose. We are always eager to share our drinks, food, and conversation with you.
Food: Delicious & shareable comfort food
Beer Philosophy: Having 25 draft lines, we are always changing, always experimenting, always searching for the next great craft beer to share with our community. We also have a slew of craft beer offerings available in cans.
That One Thing: Coffee Maple Whiskey… If you know, you know
THE ALE HOUSE
Address: 680 River St. Troy, NY
Hours: Wednesday- Sunday 12- 9pm
Phone: (518) 272-9740
Founders: Robert J. Murphy
Established: 1970
Vibe: Old school neighborhood bar. Low key vibe, friendly staff, loyal regulars, and lots of history.
Food: Quality homemade pub fare. Well known for wings, house-roasted deli meats, smoked BBQ, and daily specials.
Beer Philosophy: 13 draft lines featuring a mix of some heritage craft brands, pub standards as well as local and regional craft breweries. Newly added rotating craft can list features some of NY and Vermont's best beers.
That One Thing: Ale House Wings! Tequila Chipotle wings is a favorite. Pairs nicely with any beverage!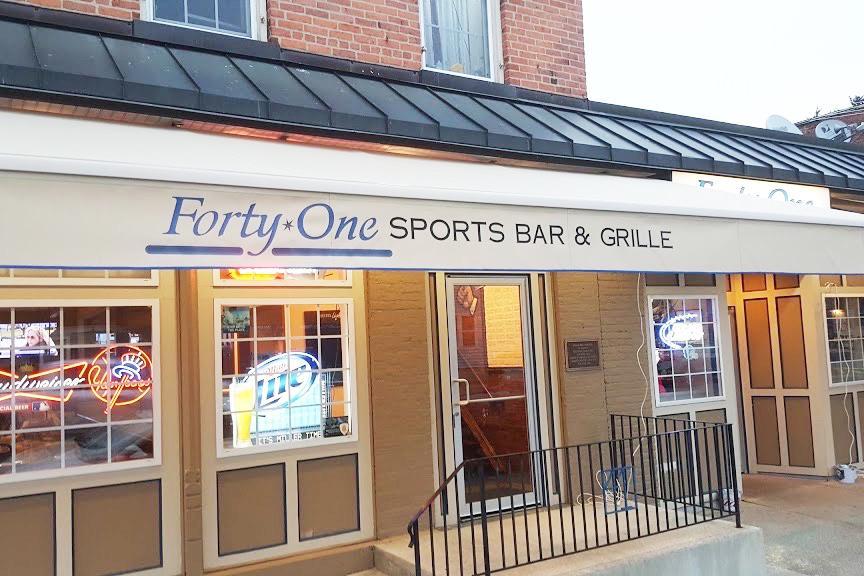 41 SPORTSBAR
Address: 41 112th St Troy-Lansingburgh
Hoursl: Tuesday-Sunday 11:30am-Close. Closed Mondays
Phone: 518-235-4141
founders: Edward Doin & Terry Richard
Established: November 2011
Vibe: We offer over 20 TVs to enjoy your favorite sports. Large bar area with a separate dining room to accommodate all types of groups. We feature live music on the weekends to add to the atmosphere. Often referred to as a "Cheers" type bar, "Where everybody knows your name."
Food: Our menu consists of all your favorite pub items. Our Award Winning Chicken Wings are second to none. The 1/2lb burgers are mouth-watering and our huge, fresh-made sandwiches will have you loosening your belt. Whether you're at Forty One for a just snack or a full-on meal, you will find plenty of food to enjoy.
Beer: We present 16 different beers on tap, rotating 6 of them to offer your favorite seasonal brews. Our frosted glasses are a favorite to all our beer drinkers. We have beer offerings for every connoisseur and palate.
That One Thing: We take pride in offering an individualized touch to all of our guests. Being a "Small Town" sports bar and restaurant, we have an intimate relationship with our guests. Whether it's a group of guys out for the big game, a couple of ladies enjoying cocktails, a date night, or a family dinner, we've got you covered.