Blue Star Brewing Company has become a mainstay over the last 20 plus years, inserting itself into San Antonio as a mainstay of its rich and modern brewing history. Blue Star was started in 1996 by San Antonio resident Joey Villarreal, inspired by his brewing experiments at his neighborhood bar aptly named 'Joey's' years before. For a location, Villareal settled on what is now known as the Blue Star Arts Complex, a thriving center for the arts, dining, and nightlife in a former warehouse district next to the historic King William residential area.
As the owner of a bar, Villarreal couldn't open a microbrewery in the early nineties. So, when brewpubs became legal in 1994, he decided that the new to Texas brewpub concept was the way to go. Joey's passion for beer had been fermenting for years, but he knew that opening a new business, let alone a brewery, could be risky. After reading a few publications about brewpubs, and a trip to Great Lakes Brewing Company in Ohio, Villareal leaped and opened Blue Star Brewing.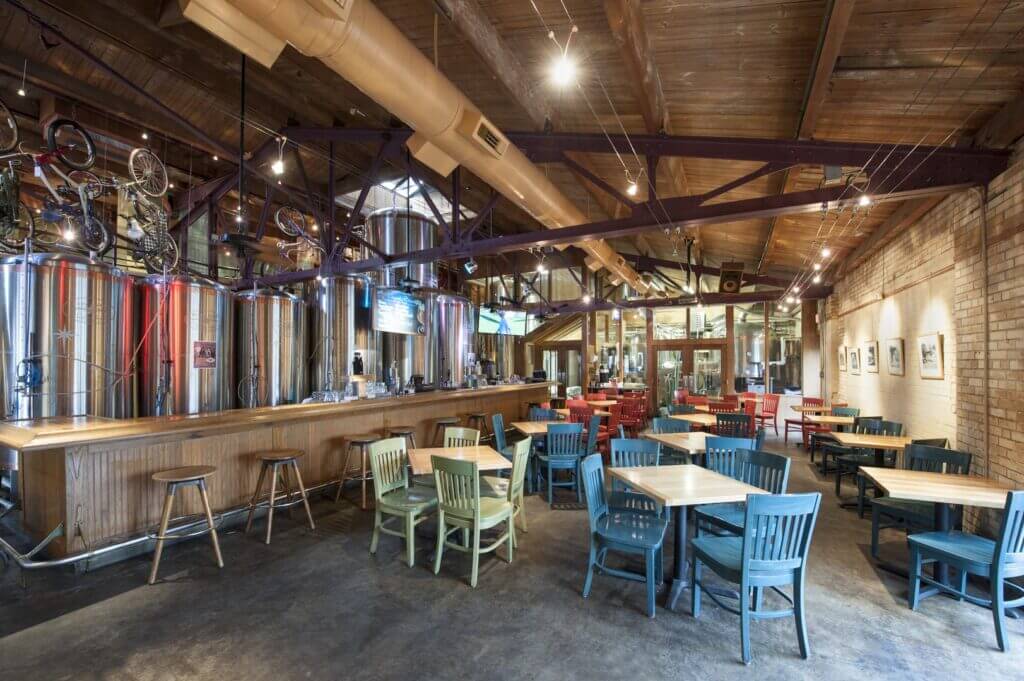 STARTING THE RIGHT WAY
Looking to start the right way, Villareal checked in with the University of California–Davis and its world-renowned brewing program to get him on track. Smart enough to know that he would also need good people around him, he looked to local brewer Charlie Jordan and the University of Texas-San Antonio fermentation science professor Dr. Paul Farnsworth for more tips.
In addition to consulting, Farnsworth helped Joey brew his first cask ale, which became the first brewed cask ale in modern Texas. Originating in England, aged in barrels for additional periods, with adjuncts often added to add complexity. Since cask ales use only a low level of natural carbonation, Blue Star installed the first hand-pumped beer engine to pull the beer out for serving in San Antonio.
Villarreal described his approach to the brewpub as wanting to create as laid back a family atmosphere as possible. He had seen many establishments, like wineries, get into trouble believing that they were only for a select few. Villareal wanted to give the patrons at Blue Star a feeling of not having to worry about whether a beer was an IPA, stout, or a pilsner—just that it is beer. If you want to know more, Villareal is more than happy to oblige with more information about any of his beers.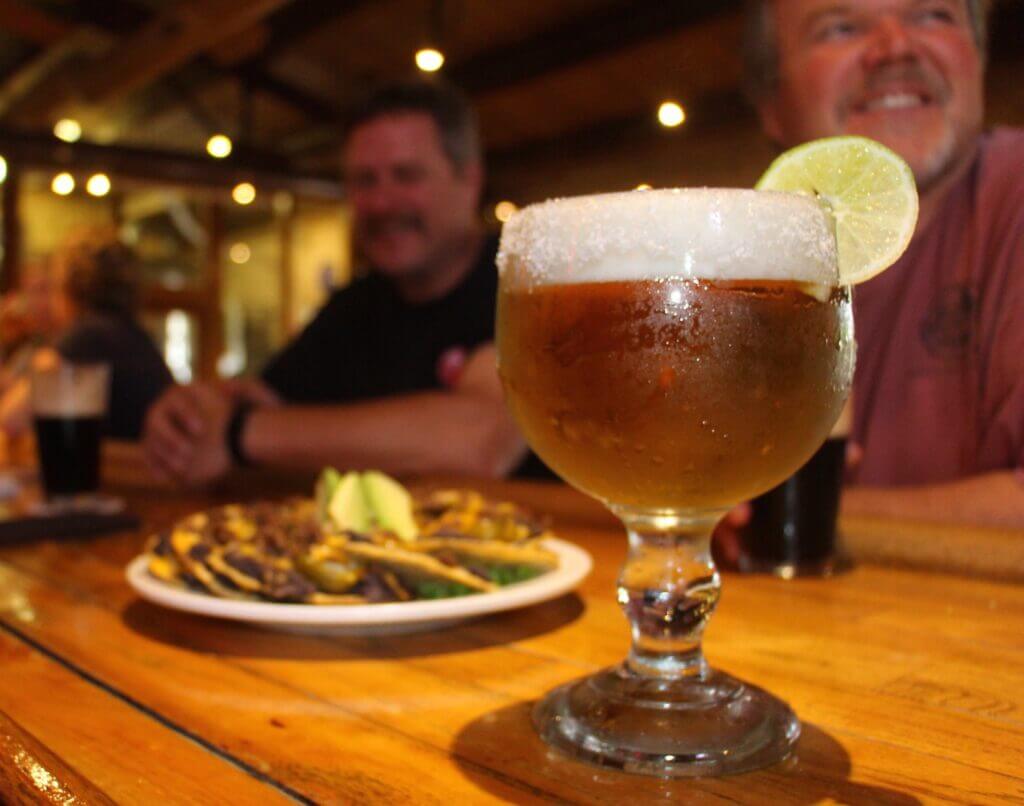 BLUE STAR EXPERIMENTED WITH MANY STYLES IN THE EARLY YEARS
When opening Blue Star, Villarreal picked a location in an old beer storage warehouse. The brewpub's décor maintains much of that original look. He also helped fuel the biking culture in the area and opened Blue Star Bike Shop inside the pub. The bike shop is now a freestanding business next door. Many organized bicycle rides begin and end in the Blue Star parking lot, with thirsty cyclists stopping in for a pint after a ride.
Blue Star experimented with many styles in the early years. After a while, Villareal decided that it was easier to keep his beers simple, focusing on perfecting basic beer styles, focusing on classic European ales and lagers. Typical offerings include a light Mexican-style lager called Texican, Spire Stout, a wheat beer dubbed Wheathead, the signature winter brew King William barley wine, and a series of sour beers, including the tart and fruity Raspberry Geyser, Green Tractor IPA, Cinco Peso Pale Ale, as well as one beer that is always available cask-conditioned and served via that traditional hand pump.
Blue Star gained quite a bit of notoriety in the late nineties when famed beer guru Michael Jackson, known for the internationally famed 'Beer Hunter' T.V. series, as well as numerous books, popped into the Alamo City and stopped into Blue Star. Jackson praised Blue Star's Spire Stout, as well as props to their Euro Pils (sadly no longer part of the lineup).
The kitchen at Blue Star has gone through many changes over the years, from typical pub fare to a high-end gastropub menu. The latest incarnation walks the line between the two concepts, using locally sourced and organic ingredients as much as possible, making all dishes from scratch. Sodas are occasionally brewed on-site and use natural cane sugar. Even the beer has gone organic, with Villareal using organic grains.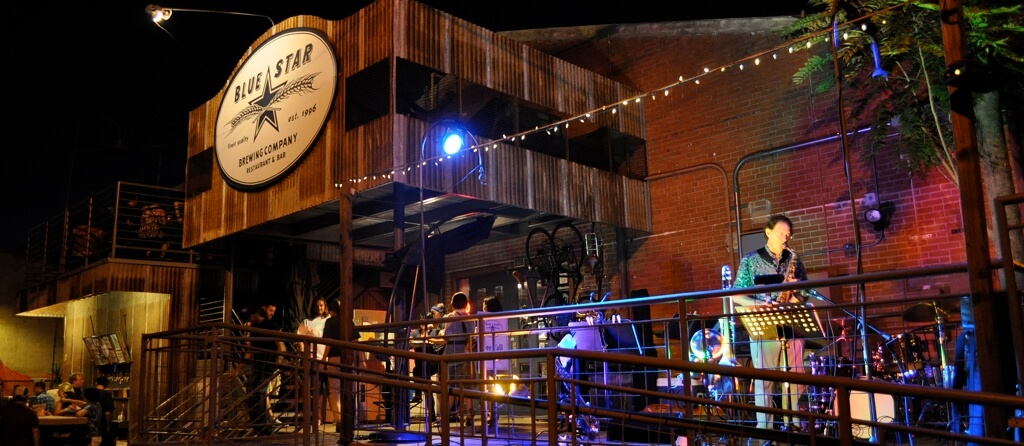 I ALWAYS WANTED TO GROW ORGANIC
Expansion was never on his mind much, an opportunity came knocking in 2019 when North Star Mall, also a staple in San Antonio, asked Villareal if he would be interested in adding a second location of sorts at the North Star Mall. "I saw it as an opportunity," says Villareal. "I grew up here and always thought highly of North Star Mall. When they called, I felt humbled." Villareal says that with the mall keeping a steady business, even during the ongoing Covid-19 pandemic, his humble kiosk at the mall has been doing very well.
For the longest time, Villareal and his wife were content with growing their brewpub organically and cultivating their loyal South San Antonio following. "I always wanted to grow organic," says Villareal. "I never wanted to push really hard," Villareal says he feels that pushing too hard can cause a misread of the market at times.
This approach has served Villareal and his wife well over the years, allowing them to not only weather storms that come their way but also seize opportunities when they arise. Head on over to Blue Star for a cold beer, scratch grub, and a good time.
Blue Star Brewing Company
1414. S Alamo #105
San Antonio, TX 78210
Hours:
Sunday: 11:00 am – 9:00 pm
Monday: 11:00 am – 9:00 pm
Tuesday: 11:00 am – 10:00 pm
Wednesday: 11:00 am – 10:00 pm
Thursday: 11:00 am – 10:00 pm
Friday: 11:00 am – 12:00 am
Saturday: 10:00 am – 12:00 am
Phone: (210) 212-5506