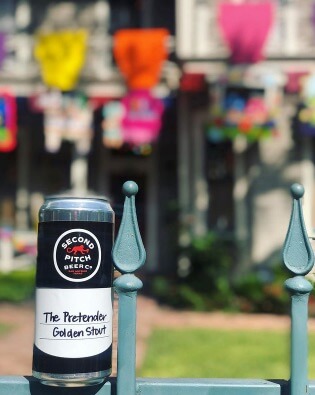 Second Pitch Beer Company's owner and head brewer James Hansen is hoping his brewery will become a destination within San Antonio. The California native started his brewing career cleaning tanks at Devil's Canyon Brewing in San Carlos, California, and would eventually go on to handle production procurement and brewing for Gordon Biersch Brewing Company's production facility.

Hansen met his wife, a San Antonio native, in San Jose, California and after many trips to visit her family, fell in love with the Alamo City. Soon after relocating, Hansen came up with his plan for his brewery, originally named Brew Monkey Beer Co, a name derived from a system he used to work on that was described as being so easy a monkey could use it. With Second Pitch, Hansen takes his decade-plus industry experience and puts it to use on a 15-barrel ABS Systems brewhouse located at 11935 Starcrest Dr. on the Alamo City's Northside, across from the North East Independent School District's Blossom Athletic Center.
Hansen started with five core beers last summer: The aptly named 'Summer Lightning', a honey blonde ale which won a bronze medal medal at the U.S. Open Beer Championships last fall; 'Home Town Lager', a lager in the California Common style; 'Hot Wells', a German-Style Hefeweizen; 'Meet In The Middle', a West Coast inspired IPA; and 'A Man and His Dog', an Irish stout Though Hansen has quickly expanded to 11 different beers on tap, including Not My First Rodeo, a New England IPA, Admiral Stradling's Pub Ale, a English-Style Bitter, and Ironside, a Baltic Porter.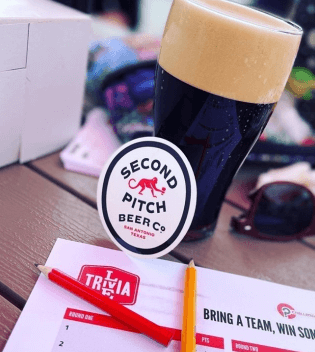 TOO MUCH MONKEY BUSINESS
As if starting a brewery in the middle of a pandemic was not difficult enough, Hansen has been facing another challenge that began just days before his opening last fall. Though he had filed for his name more than five years ago, Hansen received communication from the owners of Suds Monkey Brewing in Dripping Springs, Texas.
Suds Monkey contended that although Hansen had registered his names four years ago, it was a few months after they had filed their name, and Hansen had not opened his brewery until 2020, whereas Suds Monkey began operations more than a few years ago. With each of their logos both containing monkeys, and the names themselves, Suds Monkey was concerned that there would be confusion in the marketplace. With the close geographic proximity of Dripping Springs and San Antonio, Suds Monkey felt that this potential confusion would be exacerbated if customers saw the products side by side.
Hansen felt that the two could co-exist, though after exploring various legal avenues to keep the Brew Monkey name, Hansen ultimately realized that he just did not have the funds to pursue the issue in court. Deciding on a new name was not to going to be easy. After tossing around a few ideas, he settled on Second Pitch. "Once you make a beer," explains Hansen, "you can take the yeast from that batch, and you can create a completely new and different beer from that same yeast, but still retain some of them same character as the first beer. That's what we wanted to do with our name. So, this is our second name. This is our Second Pitch."
The name change officially took place March 27th, though Hansen and crew are already beginning the transition. The new logo will look much like it did before, with only 'Second Pitch Beer Co' substituted in for 'Brew Monkey Beer Co'. Oddly enough, the monkey will remain in the logo, "a concession from Suds Monkey", Hansen advised. Second Pitch planned a party to commemorate the name change and personally introduce customers to it.
WOMEN IN THE BREWHOUSE
Though Hansen and Assistant Brewer Lou Gonzalez handle the day-to-day brewing, Hansen does not plan to keep all the brewing knowledge to himself — he plans to eventually create multiple brewing educational programs for homebrewers and those just looking to learn more about the malted beverage they love. Once such program is 'Women in the Brewhouse', a program that seeks to demystify beer for women in an industry dominated by men. It will be run by brand ambassador Paige Martin. More to follow.
With variants rolling out periodically (in addition to the standards) such as their West Coast session IPA Little Grom', and 'Careless Whisper', a raspberry stout created for Valentine's Day, as well as weekly events like Sunday night BYO vinyl (hosted by taproom manager Alex Arredondo, and Kay Calvin), Second Pitch gives a relaxing atmosphere with a variety of beers for everyone. Put Second Pitch on your list of breweries to check out soon!
ADDRESS
11935 Starcrest Drive
San Antonio, Texas
PHONE
(210) 474-0234
HOURS
WEDNESDAY – FRIDAY: 4PM – 10PM
SATURDAY – SUNDAY: NOON – 10PM